If you need to talk to someone, there is HOPELINE
PLDT- (02)-804 4673 (HOPE)
Mobile-0917-558-4673 (HOPE)
Toll Free 2919 for TM and Globe subscribers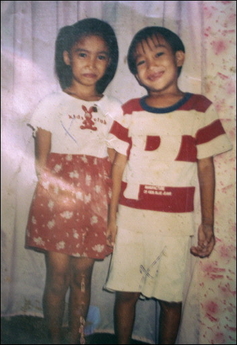 If you read today's papers, Mariannet Amper, a 12 year old girl from Davao died of suicide out of despair for her family's impoverished life. Yesterday, Nel, a 14 year old boy climbed a flyover in Iloilo in a suicide attempt apparently fuelled by rugby. A few weeks back, Julie wrote about Kristen Ariane Cuenca, a third grader who jumped off from the fourth level of a building of Malate Catholic School because of depression. She was only 9 years old.
These stories are alarming since these kids are so young and they all happened in a span of less than one month. To think that in my radio interview last Monday, I received 3 phone inquiries about suicide and depression. I was unprepared to handle suicide questions because I am not an expert in suicide though I have read a lot of materials on the subject matter in the course of my research on grief education. I have also talked to a few parents who lost their child by suicide. Instead, I referred them to a psychiatrist so a diagnosis could be made. There could be more childhood suicide, adolescent suicide or even suicide attempts that are not reported in the news.
Who is to blame? What causes these kids to turn to suicide as the answer to their pain?
What about Mariannet?
In her October 5 entry, Mariannet wrote: "Parang isang buwan na kaming absent. Hindi na kasi nakin (sic) binibilang ang absent ko. Hindi ko namalayan na malapit na pala ang Pasko." [It feels as if we've been absent for a month. They're not counting my absences anymore. I just realized that Christmas is just around the corner.
Mariannet died of suicide because she could not endure their family's financial situation any longer. You remember Belle's story on her humble beginnings? Just like Mariannet, Belle's father was jobless. This did not take away Belle's dream of attaining an education. If she did have some money, she walked to school because it was a choice between transportation or food. Millions of Filipinos are living below poverty level but then not all children are resilient like Belle.
Poverty, per se, did not kill Mariannet.
Health Secretary Francisco Duque is not discounting the possibility "that there could be some pathological underlying reasons" for the suicide, adding that Amper's reaction of taking her life to the problems of hunger and poverty was "unusual."
It doesn't mean, however, that the government should not work against fighting poverty or we should remain indifferent to the poverty situation in the Philippines.
Let's look at Nel's attempted suicide. He says:
"Gusto ko na ring mamatay gusto kong sundan si nanay (I also wanted to die – I wanted to follow my mother)," Nel said.
Instead of pinpointing blame, let's do our small share by educating ourselves on death by suicide. (Our Compassionate Friends have officially adopted the terms ""died by suicide" or ""died of suicide" to replace the commonly used ""committed suicide" or ""completed suicide.")
Dr. Philip Chua enumerates risk factors such as mental problems:
….especially major depressive, psychosis, etc. Other factors include substance abuse, family history of suicide, sexual abuse, delinquency, gay and lesbian youth, runaways, juveniles in detention centers, halfway houses, prisons, group homes. Those high-achievers, who may have rigid perfectionist personalities and impulsive behavior are also at an increased risk.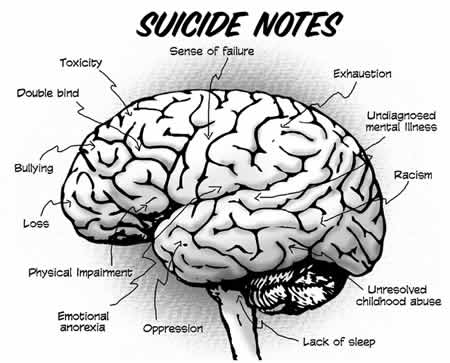 Dr Chua further explains that stressors contribute to suicide are loss of a loved one through divorce, death or break-up of a relationship; interpersonal or family conflicts. School problems, financial dilemma, family violence are stressors that aggravate the situation because they lesson the much-needed support responses to an adolescent crisis.
My suspicion on media displaying acts of suicide can also contribute to suicide ideation. Dr. Chua agrees that television, newspaper or radio coverage of suicide (or exposure to a recent suicide or suicide attempt in the community) can serve as a trigger for vulnerable adolescents to act on suicidal thoughts and plans. This is what is termed as ""cluster suicides."
Our children do not readily talk about their suicidal thoughts. They feel relief when a confidant or a medical professional brings up the subject matter to them. Dr Chua adds that : When this comes up, it is best to ask questions in a nonjudgemental, non-threatening and direct manner, like, ""Have you thought of suicide?" ""Are you thinking about suicide now?" ""Do you have a plan for doing it?" If answer is affirmative, ""What is your plan for committing suicide?" A positive response indicates the need for more professional questioning and assessment of risk factors, and the plan of counseling or therapy is based on the degree of risk.
Here are some points raised by Dr. Chua.
Is depression associated with suicide?Clinical evidences show that depression is very strongly associated with suicide. The symptoms and signs include depressive mood, reduced interest or pleasure, isolation from family and friends, weight loss when not dieting, or weight gain, insomnia or hypersomnia (sleeping a lot), fatigue, diminished ability to think or concentrate, indecisiveness, irritability, unusually argumentative and temperamental behavior, hyperactivity, delinquency, school failure, repeated accidents or injuries, sexual acting out, etc.
What can friends and family members do?Family members and friends, who notice signs of depression and/or suspect suicidal tendency should show understanding and compassion without anger or condescension to the individual in distress. They should reassure the person that his/her current emotional condition is temporary and treatable. They should suggest professional help but this should be done without intimidation or coercion. A ""no-suicide" contract, where the adolescent pledges not to attempt self-destruction, is often helpful but cannot be totally and solely relied upon.
What is the best plan for treatment?If suicidal tendency is suspected, a family member or a friend, who is close to the adolescent, may suggest professional help. Nowadays, a visit to the psychologist or psychiatrist is commonplace. One does not have to be ""crazy" to see psychiatrist. Many politicians, head of states, businessmen, actors and actresses routinely seek counseling for prophylaxis, to prevent, minimize or learn how to handle stressors in life. The counselor will have interview sessions with the adolescent, the family members and friends, most often separately, and make an assessment of the case, and tailor the specific management regimen for the individual. Today, more than ever before, medical science has the mind-boggling sophistication to perform ""wonderful miracles," heretofore unknown to man.
There is just so much taboo associated with mental illness. More than anything else, parents, educators, school counselors and even family doctors need to be aware of suicide as an illness and know when to detect and prevent it. In the US, children with suicide ideation are brought in as an emergency case so that they would be given therapy or medication. Friends and school counselors are encouraged to report any suicide ideation. Sure the private schools are probably on top of the situation. But what are the government doctors doing about it in the Philippines? (UPDATE : Gov't takes responsibility for girl's suicide .
Death by suicide is the most devastating loss among all types of death. One loses a child under very painful circumstances. My heart goes out to these bereaved parents. (Read more on Suicide Awareness and Prevention.)
For Suicide Prevention Hotline in the Philippines
HOPELINE  Hotline- Philippines
PLDT- (02)-804 4673 (HOPE)
Mobile-0917-558-4673 (HOPE)
Toll Free 2919 for TM and Globe subscribers
Related News Reports/blogs that show balanced reporting as of November 15, 2007
1. From gmanews.tv- The tragic life of Mariannet Amper, or why children commit suicide
2. Rina Jimenez-David wrote column on how Media Reporting Suicide
3. Tess Termulo Her Choice Killed Her
4. Michael Tan on Young suicides
5. Ma. Ceres P. Doyo on Suicide has no Heroes
6. Michael Tan on Lifelines
Photo: Mariannet Amper with her brother taken from here