Oh what an adventure watching the Christina Aguilera concert at the Global City last night. My heart refused to calm down after the one and a half hour concert. I had to lie down in bed and relax a bit before sleeping. Those loud thumping amps are bad for my heart. Anyway, thanks to Jenny of Globe Broadband, she spared me some VIP tickets . M was supposed to watch it with a friend but backed out at the last minute . I didn't want to waste two (2) 7,000 plus pesos ($152.00) worth of tickets so I called my sister , Belen who agreed to watch it with me. Jayvee found it funny. I wonder why! Can't a 50 year old woman enjoy a concert?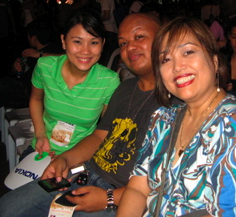 So anyway, Abe and Brian , his younger brother along with Jenny and her fiancee also watched with us . The production numbers were impressive and fantastic. I can't believe she's pregnant as she pranced and cavorted on stage. Oh well, I 've never been watching concerts of foreign artists so I can't really compare. For a lack of a better description, let me point you to her interview about the concert:
As my fans know, I'm so into my visuals and making sure that the image that goes along with my music you know, definitely tells the story and kind of let's my audience's imagination run wild. It takes them out of their elements, whatever their day may consisted of, this is definitely a moment to just relax and enjoy a real show with all elements involved such as using your imagination. My dancers went into training to bring it, my album—it is a double album—and on disc two I've flirted and used different elements of the circus—an old vintage circus in my work and the dancers went into training. I'm so proud of them—learned how to stilt walk, swing over—what is it called now, kind of acrobatics swing, fire throw—there's so many different circus elements that are involved in this show and it's just super fun and the audience's face whenever they see all of it, is just really, really fun. So, it's a fun show. It's really great. It's one that you don't want to miss.
I agree it was a fun fun show.
But what touched me about the concert was Christina's Aguilera's message about domestic violence. The pop star speaks out and penned a song "Oh Mother" about witnessing the abuse her mother suffered at the hands of her father.

In her own little way, christina Aguilera is helping and inspiring others in a similar struggle and not just with domestic violence. She recently filmed a public service announcement that urges people to take action to end violence against women in their communities. Her song "Oh Mother" salutes her mom's courage as a survivor.
Here is a video of her message taken from my camera phone.
Oh Mother and Domestic Violence [1:47m]: Play Now | Play in Popup | Download (80)

After the song number, an "I love you Mom" flashed on the screen .
"Aww" How touching is that!
My heart reached out to her as I could feel her emote on the ravages of domestic violence.
I join Christina Aguilera's and others' "Lifetime's End Violence Against Women campaign", a global effort to end gender violence.
For the Filipino women and children, there is a law that protects us called Republic Act (RA) 9262 ""Anti-Violence Against Women and Children . This cycle of abuse can be broken if women know how to empower themselves. The new law is not against men. It is against men who treat their women as property.
View Photos I took of the Christina Aguilera concert in the Global City, Fort Bonifacio.
Here are the lyrics to her composition "Oh Mother"
Whoa, oh, yeah,
She was so young with such innocent eyes
She always dreamt of a fairytale life
And all the things that your money can't buy
She thought that he was a wonderful guy
Then suddenly, things seemed to change
It was the moment she took on his name
He took his anger out on her face
She kept all of her pain locked away
Oh mother, we're stronger
From all of the tears you have shed
Oh mother, don't look back
Cause he'll never hurt us again
So mother, I thank you
For all that you've done and still do
You got me, I got you
Together we always pull through
We always pull through
We always pull through
Oh mother, oh mother, oh mother
It was the day that he turned on the kids
That she knew she just had to leave him
So many voices inside of her head
Saying over and over and over,
"You deserve much more than this."
She was so sick of believing the lies and trying to hide
Covering the cuts and bruises (cuts and bruises)
So tired of defending her life, she could have died
Fighting for the lives of her children
Oh mother, we're stronger
From all of the tears you have shed (all of the tears you have shed)
Oh mother, don't look back
Cause he'll never hurt us again (he'll never hurt us again)
So mother, I thank you (thank you)
For all that you've done and still do (still do)
You got me, I got you, (yeah you got me and I got you)
Together we always pull through.
Oh mother, oh mother, oh mother
All of your life you have spent
burying hurt and regret
But mama, he'll never touch us again
For everytime he tried to bring you down
Just remember who stood around
It's over, and we're stronger
And we'll never have to go back again
Oh mother, we're stronger
From all of the tears you have shed
Oh mother, don't look back (oh mother don't look back again)
Cause he'll never hurt us again (cause he'll never hurt us again)
So mother, I thank you (and I thank you for all that you've done)
For all that you've done and still do (together we always move on)
You got me, I got you, (you got me, I got you)
Together we always pull through (always pull through)
We always pull through
We always pull through
I love you mom