What gift do I buy for my husband? It was Butch's birthday last Saturday and I was wracking my brains on gift ideas. He likes practical gifts for the house but I have all the small appliances and gadgets. Then, I spotted Kankan Ramos Facebook post on her second coloring book. A lightbulb moment. Adult coloring books are all the rage right now, whether it's for stress relief or simply just to satisfy our inner child.   Good thing there is an  order page to purchase these coloring books. They are so beautiful and all are hand-drawn by Kankan . I am not saying this just because she is a friend. They are so pretty.
I wasn't sure Butch would love the coloring books but I took a chance . If he did not like it, I could easily use it myself.  Surprise! He loved it. In fact, he knew what coloring books were about because he read about it from the New York Times.  I was not able to buy coloring pencils because I was out of town a few days before his birthday. He was so excited to use the coloring book that he bought all the coloring materials : oil pastel, Faber castel highlight pens, water color and crayons.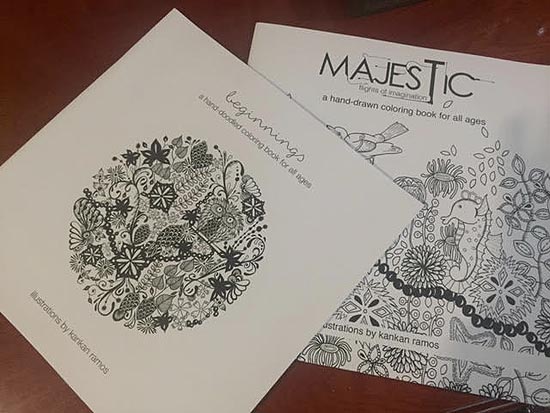 My husband wasted no time  and started a page that will show bursts of colors.  He must have enjoyed watching colors bursting with life from his work and felt so rewarded from the activity . He kept showing it off to me and saying how relaxing it is .  This seemingly ordinary activity  promotes mindfulness and relief from stress.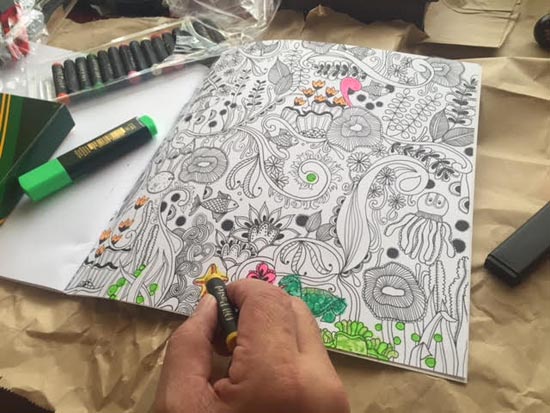 So why is it such a relaxing activity? "You're giving your brain some space and something to focus on that's meditative, that's containing," says art therapist Saba Harouni. Because grown-ups tend to rush through life from one deadline to the next, filling in the lines on a page with colors can help them focus, meditate, and slow down. "When coloring, we activate different areas of our two cerebral hemispheres. The action involves both logic, by which we color forms, and creativity, when mixing and matching colors. This incorporates the areas of the cerebral cortex involved in vision and fine motor skills," psychologist Gloria Martínez Ayala says. "The relaxation that it provides lowers the activity of the amygdala, a basic part of our brain involved in controlling emotion that is affected by stress. It brings out our imagination and takes us back to our childhood, a period in which we most certainly had a lot less stress."
My husband loves the bright, vivid colors he chose for this page.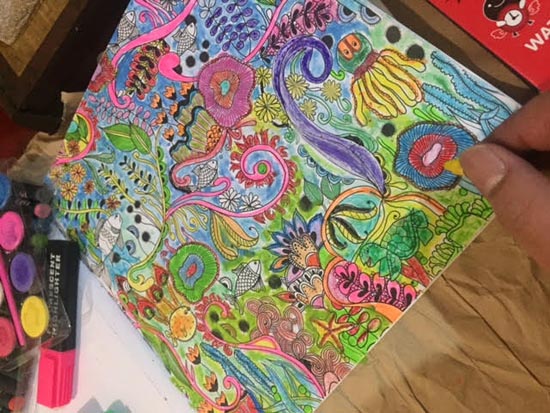 You should try it when you need to de-stress. Psychologist Antoni Martínez agrees . "I recommend it as a relaxation technique. We can use it to enter into a more creative, freer state. I myself have practiced that. I recommend it in a quiet environment, even with chill music. Let the color and the lines flow."
I am so glad that I found a gift for my husband that will  make him stop worrying for a few minutes and to—just keep coloring.
Beginnings and Majestic coloring books are available at Fully Booked and online.  For the Beginnings coloring book, order here and  order the Majestic coloring book here.