by Cathy Dellosa-Ng, as  originally published at the Philippine Online Chronicles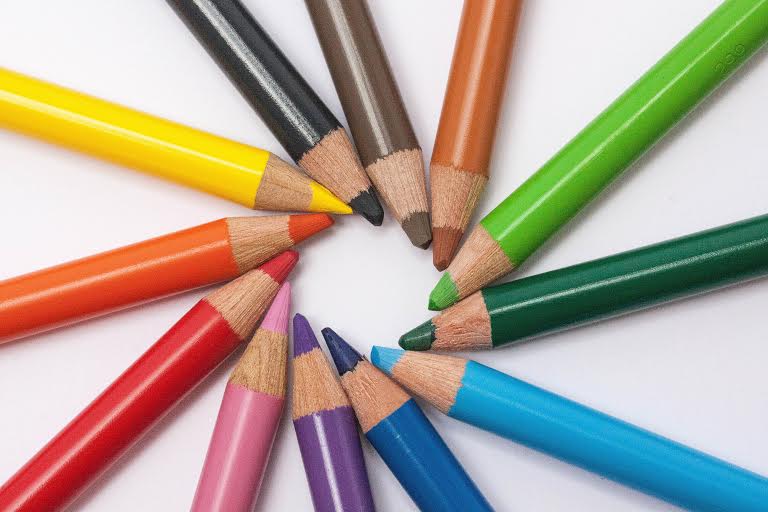 Every child has had to go through the phase of indulging in coloring books like there's no tomorrow. But at some point in life, we eventually outgrow these candy-colored hobbies and move on to other stuff—grown-up stuff. Or do we?
Adult coloring books are all the rage right now, whether it's for stress relief or simply just to satisfy our inner child. Check out why this fad is such a hit among adults, and why you should join in on the fun, too!
Coloring makes the world go round
This unusual phenomenon is already taking over the world. The international bestseller lists are filled with adult coloring books, proving that what were once kiddie activities used to cheer people up in hospitals are now legitimate hobbies that even grown-ups can get into. There's really no shame in that. According to Dover Publishing, they haven't "seen a phenomenon like it in our 30 years of publishing."
Illustrator Johanna Basford has been dominating the charts with her coloring books recently, including her bestselling Secret Garden: An Inky Treasure Hunt and Coloring Book and sophomore book Enchanted Forest: An Inky Quest & Coloring Book. But unlike our favorite coloring books from our childhood years, these adult versions feature more intricate patterns so that they can prove a better challenge for our so-called more mature minds. But even if you're not into arts and crafts, or if you never really got over your "coloring past the lines" phase, these adult coloring books can still be extremely beneficial for you and your overall wellness.
"I'm a grown-up, but I still love coloring books," says novelist Matt Cain. "If I switch off the phone, computer, and TV, and concentrate solely on choosing the right shade of blue, avoiding going over the lines and slowly filling up my page with color, all my other concerns, I've discovered, fade to nothing."
Stop worrying—just keep coloring
While you can color anything just for the heck of it (because watching colors bursting with life from your work is rewarding as it is), this seemingly ordinary activity can promote mindfulness and relief from stress. Illustrator Farrarons says that "In mindfulness, it is encouraged to break patterns in life by introducing variation to avoid the sensation of being on autopilot. Each page has been caringly designed with this in mind, so that the person coloring can hop at random from one pattern to the next. It reminds me of hours spent filling in scenes from a coloring book as a little girl. In the digital age that we are in, surely, it can only be a good thing to pick up a pencil and feel young again."
"You're giving your brain some space and something to focus on that's meditative, that's containing," says art therapist Saba Harouni. Because grown-ups tend to rush through life from one deadline to the next, filling in the lines on a page with colors can help them focus, meditate, and slow down. "When coloring, we activate different areas of our two cerebral hemispheres. The action involves both logic, by which we color forms, and creativity, when mixing and matching colors. This incorporates the areas of the cerebral cortex involved in vision and fine motor skills," psychologist Gloria Martínez Ayala says. "The relaxation that it provides lowers the activity of the amygdala, a basic part of our brain involved in controlling emotion that is affected by stress. It brings out our imagination and takes us back to our childhood, a period in which we most certainly had a lot less stress."
Psychologist Antoni Martínez also agrees. "I recommend it as a relaxation technique. We can use it to enter into a more creative, freer state. I myself have practiced that. I recommend it in a quiet environment, even with chill music. Let the color and the lines flow."
Where to get your fill (of colors)
Our local bookstores carry treasured coloring gems like Mid-Century Modern Mania (P525, Powerbooks) and Creative Therapy: An Anti-Stress Colouring Book (P650, Fully Booked). According to National Book Store's managing director Xandra-Ramos Padilla, a myriad of options abound in National Book Store as well. "Adult coloring books are a global phenomenon. I, myself, enjoy coloring with my daughter or girl friends. I find it very relaxing. You can be creative with your color combinations. Part of the excitement is choosing which coloring materials to use."
Mandala Magic: Amazing Mandalas to Color (P598, Fully Booked) can help you not only to fight off your stress but also to center your mind on the positive. "Art making is a powerful intervention. Neuroscientific research has shown that through the use of art therapy, the human brain can physically change, grow, and rejuvenate," says art therapist Susanne Fincher. "I sometimes give clients one of my mandala coloring books for homework between sessions with me. Coloring mandalas can empower a client to manage thoughts and feelings on their own with the positive activity of coloring, instead of, for example, overeating or abusing substances."
Pretty soon, you can also buy yourself an adult coloring book version of all the drama in Westeros. The popularity of adult coloring books has reached the great George R.R. Martin, so much so that Bantam books announced they would be publishing a mature Game of Thrones coloring book. It "will feature 45 original black and white illustrations, inspired by characters, scenes, locations and other iconic images from Martin's wildly successful 'A Song of Ice and Fire' series," says the company. Is it ironic that one should relieve stress by diving into the bloody world of Game of Thrones? We'll find out soon enough later this year.
Now that you know how coloring books can be good for you, it's time to hit the shelves. Don't worry about being a perfectionist—coloring is supposed to relieve your stress, not add to it. Just choose whatever tool feels right to you, from colored pencils (Prismacolor and Muji have some good ones), colored highlighters, gel pens (remember your Pilot Tec-Pens?), colored markers, or a box of freshly sharpened Crayola crayons. Then, when you're all set, sit yourself down and start coloring!