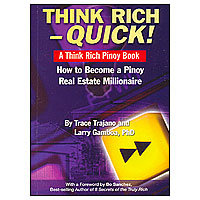 A "Think Rich Pinoy" with a tagline Creating One Million Pinoy Millionaires by 2020 event flashed on my facebook. Clicking the link, I discover it is a Think Rich Pinoy Seminar to be hosted by Larry Gamboa (best selling author of "Think Rich, Pinoy") at Philamlife, Manila on February 16 and 17. I reserve my judgement on the seminar since I've never attended it. The thing is the fee is only Php1,450 pesos which is more affordable than the Make Money Online Seminar that has an entrance fee of Php6000 pesos.
One never can never go wrong in real estate investment. It is a hedge against inflation and a source of passive income. My father, a self-made man, was orphaned during his teens. He survived because his parents left a few coconut lands which gave his five siblings some passive income. More important than acquiring wealth, I learned from my dad the importance of risk-taking, investment and managing personal finances at a young age.
Whether or not one becomes a millionaire has very little to do with the amount of money you make, whether one attends this real estate or the Make Money Online Seminar.
It's the way that you treat money in your daily life. More than grabbing an income opportunity, these seminars need to remind the participants that it is possible to be a millionaire but it's just as important to learn how to manage personal finances.
We can learn some of these lessons from this article on 10 possible reasons you aren't a millionaire:
1. You Care What Your Neighbors Think: If you're competing against them and their material possessions, you're wasting your hard-earned money on toys to impress them instead of building your wealth.
2. You Aren't Patient: Until the era of credit cards, it was difficult to spend more than you had. That is not the case today. If you have credit card debt because you couldn't wait until you had enough money to purchase something in cash, you are making others wealthy while keeping yourself in debt.
3. You Have Bad Habits: Whether it's smoking, drinking, gambling or some other bad habit, the habit is using up a lot of money that could go toward building wealth. Most people don't realize that the cost of their bad habits extends far beyond the immediate cost. Take smoking, for example: It costs a lot more than the pack of cigarettes purchased. It also negatively affects your wealth in the form of higher insurance rates and decreased value of your home.
4. You Have No Goals: It's difficult to build wealth if you haven't taken the time to know what you want. If you haven't set wealth goals, you aren't likely to attain them. You need to do more than state, "I want to be a millionaire." You need to take the time to set saving and investing goals on a yearly basis and come up with a plan for how to achieve those goals.
5. You Haven't Prepared: Bad things happen to the best of people from time to time, and if you haven't prepared for such a thing to happen to you through insurance, any wealth that you might have built can be gone in an instant.
6. You Try to Make a Quick Buck: For the vast majority of us, wealth doesn't come instantly. You may believe that people winning the lottery are a dime a dozen, but the truth is you're far more likely to get struck by lightning than win the lottery. This desire to get rich quickly likely extends into the way you invest, with similar results.
7. You Rely on Others to Take Care of Your Money: You believe that others have more knowledge about money matters, and you rely exclusively on their judgment when deciding where you should invest your money. Unfortunately, most people want to make money themselves, and this is their primary objective when they tell you how to invest your money. Listen to other people's advice to get new ideas, but in the end you should know enough to make your own investing decisions.
8. You Invest in Things You Don't Understand: Your hear that Bob has made a lot of money doing it, and you want to get in on the gravy train. If Bob really did make money, he did so because he understood how the investment worked. Throwing in your money because someone else has made money without fully understanding how the investment works will keep you from being wealthy.
9. You're Financially Afraid: You are so scared of risk that you keep all your money in a savings account that is actually losing money when inflation is put into the equation, yet you refuse to move it to a place where higher rates of return are possible because you're afraid that you will lose money.
10. You Ignore Your Finances: You take the attitude that if you make enough, the finances will take care of themselves. If you currently have debt, it will somehow resolve itself in the future. Unfortunately, it takes planning to become wealthy. It doesn't magically happen to the vast majority of people.
Financial responsibility is an attitude. I can be a billionaire but if I am not responsible, I will lose my money in a week's time. Money goes out to pay necessities and luxuries. Money must come in, in order to go out. How much money needs to come in to equal that which is going out?
Taxes, savings plans, appropriate spending habits that demonstrate an attitude of financial responsibility. Even if we have a contract with someone else to provide for our financial needs, we need to understand the workings of the money earned and spent in our life.
It's my hope that these "Think Rich" or "Make Money Online" seminars show lessons about financial responsibility so that the "One Million Pinoy Millionaires by 2020" is not a short lived dream.