The topic of yesterday's meeting with The Compassionate Friends was "The Creative Ways of Remembering our Loved one". Why do we want to remember? Some well-meaning relatives or friends think that doing this will just bring more pain. On the contrary, we never want to forget our loved one. Luijoe continues to live in my heart and I never want to forget him. I am truly amazed at the various creative projects that some of our compassionate friends have undergone:
Migi's Corner in over 11 hospitals, a play area for sick children
the Maningning Foundation in honor of Maningning Miclat
Calendar of drawings from an 8 year old boy
Poems written in a scrapbook
Mosaic of photos into one big photo
Music created by a beareaved sibling
Soon to be launched "Fallen Cradle" by Agnes Prieto on 21 stories from bereaved parents
Scholarship fund for deserving UP students
A Journal of "letters to heaven" and so much more

In my case, I developed angel-luijoe.net just two weeks after my son died. It was my way of unleashing my grief. A few years later, my hubby set up a memorial chapel. Angels are placed at the table. Angel theme dominates in our family den.
It was only recently that I wrote about how Luijoe died. It was difficult to relive the events but had to write about it because it is part of the 21 stories of "Fallen Cradle". Only in retelling my story that Luijoe continues to live . The book will be launched after Holy Week.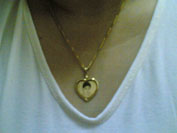 My husband and I wear a necklace with my son's photo engraved on it. Whenever I catch people staring at my necklace, I proudly say it's my son, Luijoe. Sometimes I say he's not here anymore depending on the person. I usually get uncomfortable expressions when I say Luijoe died. But you don't have to worry. I love it when my son 's life or death is acknowledged.
Here's an article on The Creative Use of Grief.