Consider the cold facts of women around the world. Up to 70% of women experience physical and or sexual violence by an intimate partner at some point in their lives. You might ask what is sexual violence?
Sexual violence includes a wide array of non-consensual sexual activities, which may be perpetrated by partners, friends, family, acquaintances, or strangers. Consent is commonly recognized as approval or agreement given without force or coercion. One's ability to consent is affected by age, disability, self-induced or forced intoxication of alcohol or drugs, and language barriers. Legal minors are unable to consent, as may be others who are incapacitated. Sexual violence victims represent a range of ages, but the focus of this article is adults and adolescents.
Sexual violence may include but is not limited to Sexual Assault, Exhibitionism, Voyeurism, Sexual Photography or sexual Harassment. I already talked of physical violence against women. This cycle of abuse can be broken if women know how to empower themselves. The law, Republic Act (RA) 9262 Anti-Violence Against Women and Children is not against men. It is against men who treat their women as property.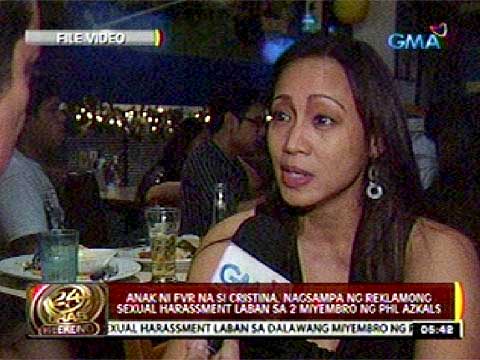 What is a little known fact is that the Philippines has an anti-sexual harassment law passed in 1995. Too bad it came late because when I used was single and employed, I often heard inappropriate sexual remarks addressed to me. I got my fair share of wolf whistles and leering stares. There were times I wished the floor would just open and swallow me up. It is not a comfortable feeling. And no , it is not flattering.
Oh yes, sexual harassment comes in many forms such as unwelcome sexual advances, requests for sexual favors, inappropriate sexual comments and any hostile environment (workplace, school, etc.) where sexual joking, viewing of pornography, and/or degrading images are present.
It is but right that Cristina Ramos filed sexual harassment complaint vs Azkals Moy, Guirado. She elaborates below:
Ramos, a FIFA official who served as commissioner for the friendly, said that the incident happened when she conducted a team check in the Azkals' locker room prior to the match.

""As I called the players individually so that we could check their accreditation cards and kits, Philippine player LEXTON MOY (no. 25) stood by my right side and said in a loud voice 'Must be a B cup,' to which the players laughed loudly," said Ramos in her letter to the AFC. ""As I was the only female in the room, he was apparently referring to my bra size."

""Additionally when I checked Philippine player ANGEL GUIRADO (no. 12) he stood in front of me purposely just wearing his briefs and made no attempts to wear shorts or cover his underwear. Again, the players loudly laughed while I was checking this player."
Senator Pia Cayetano is calling for an investigation "of this incident so this can be put to rest, not only because this is a serious allegation made by Match Commissioner Cristy Ramos, who is a sports official, but also because the Azkals are looked up to by the youth as modern-day heroes and role models" . I bet these men were unaware that their inappropriate sexual comments were against the law. Sexual harassment also applies to all genders and sexual orientation. Look at the following examples.
VERBAL:
Sexual innuendo
Gender specific insults
Suggestive and/or derogatory humour, jokes or comments emphasizing sex, gender-specific traits or sexual orientation
Sexual propositions or invitations
Threats of a sexual nature
Homophobic remarks
Inappropriate or uncalled for comments about one's body or dress
Persistent unwanted contact after the end of a consensual relationship
NON-VERBAL/NON-CONTACT:
Suggestive staring or leering
Suggestive and/or derogatory sounds or gestures emphasizing sex or sexual orientation
Inappropriate displays or distribution of sexually suggestive and/or derogatory pictures, objects, writing or graffiti, including electronic and hard copy forms
Unauthorized distribution of sexually-explicit material involving specific individuals
Persistent unwanted contact after the end of a consensual relationship
Stalking
PHYSICAL CONTACT:
Unnecessary or unwanted physical contact of a sexual nature such as patting, touching, pinching or brushing against a person's body
Persistent unwanted physical contact after the end of a consensual relationship
Sexual harassment is NOT about interactions between consenting adults, mutual attraction or flirtation , consensual relationships and expressions of affection between friends.
It does not mean sexuality or sexual issues may never be discussed in a work or study area or that they cannot be areas of legitimate academic inquiry. Discussions of scholarly research on sexuality in the classroom, for example, would not normally constitute sexual harassment. Of course when the discussion of sexuality veers towards inappropriate in content or presentation style to the setting or the individuals involved, this might create a situation in which sexual harassment may happen.
Cristy Ramos and I are about the same age. I would feel very offended, like any woman would be if that happened to me. So what if you are a handsome man? or an Azkal team member! It is not a comfortable feeling. I bet some men do not want to be sexually harassed too.
However, sexual harassment is most often directed towards women and can sometimes lead to violence. Since it is Women's month in March, I dedicate this entry to all the women in the world. Help us stop violence against women.