Where to Seek Help: Domestic Abuse & Violence Against Women in the Philippines
Today March 8 is International Women's Day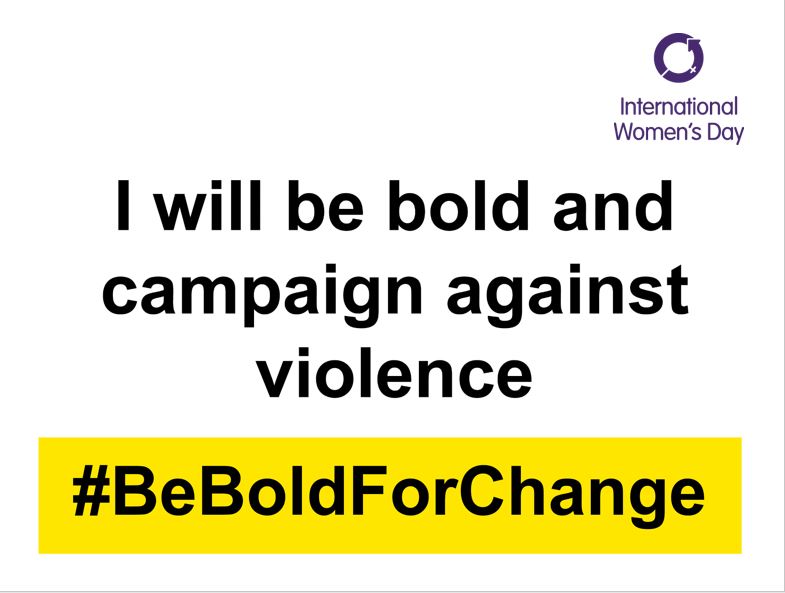 I will be bold and campaign against violence and …
educate youth about positive relationships
challenge those who justify perpetrators and blame victims
donate to groups fighting abuse
speak out against the silence of violence
be vigilant and report violence
campaign for the prevention of violence
abstain from all violence, physical and otherwise
volunteer your help at a local charity
recognize coercive control and redress it
Today, I will share my campaign for the prevention and how to seek help for those suffering from domestic abuse and  violence against women here in my own country, the Philippines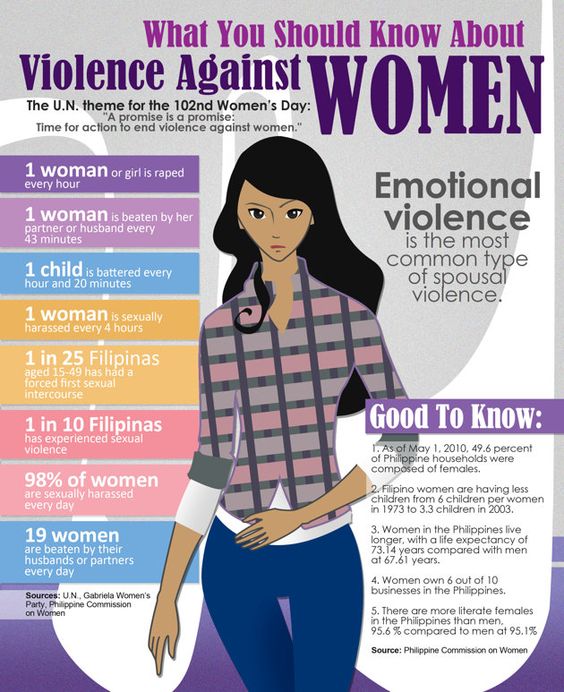 UPDATED
HOTLINE FOR DOMESTIC ABUSE is +632-922-5235 or +632-926-7744
Women's Crisis Center
3F ER-Trauma Extension
Annex Building of the East Avenue Medical Center in Diliman , Quezon City
Electronic violence: Map reports of violence. Submit reports on electronic violence against women at ph. takebackthetech.net
More help numbers to contact :
Department of Social Welfare and Development
(02)931-8101 to 07 or your local social welfare office
NBI Violence Against Women and Children's Desk (02) 523-8231 to 38 or 525-6028
Philippine National Police
723-0401 to 20 or your local police
 Here in the Philippines, one in five Filipino women aged 15-49 has experienced physical violence since age 15. There is more. One in seven women who were married experienced physical violence by their husband. Three in five women who experienced physical or sexual violence reported experiencing depression, anxiety, and anger.
If you know an abused friend or relative or if you yourself are abused, please be empowered. Read on. Contact numbers to seek help below the entry.
—-
"You provoked me", the wife-beater smugly said.
"It is still no reason to hit me" protested the wife.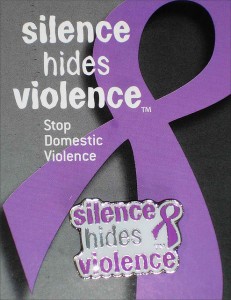 This is a common conversation that occurs between the wife beater and the abused woman. Wife beaters have a specific pattern that can be seen early in a relationship.
Abusive men often are highly romantic, sweet and protective early in their relationships. They lavish their women gifts during courtship. For them, women are trophies to be won over and objects to possess, and not people to enter equal partnerships with.
This cycle of domestic abuse can be broken if women know how to empower themselves. The  law, Republic Act (RA) 9262 "Anti-Violence Against Women and Children (VAWC) is not against men. It is against men who treat their women as property.
The following is a true story of how RA 9262 is working for a battered wife, a close friend who narrated the following events to me (names and certain situations changed):
Maria, a businesswoman has been a battered wife for 15 years. She's married to a successful engineer who is soft-spoken and a Sto. Nino devotee. Who would have imagined that she silently suffered from physical and verbal abuse all these years? I would have never thought and even her own family. Her sister knew of her predicament just recently and got referred to GABRIELA, the same women's group that lobbied for the law to be passed. GABRIELA, in turn advised her to help Maria file for a protection order. But Maria would hear none of it.
Nooo. It was my fault anyway.
How embarrassing.
What will the neighbors think?
I'm a failure.
I can still take it.
Maria coined a lot of excuses.
The battered wife thought that the law will never work but she promised her sister that if her husband resumes his abusive behavior, she will consider the filing of criminal charges.
Everything was nice and dandy for almost a year until her husband succumbed to work-related pressures. That night , he drank way too many beers and just threw a fist at Maria's head without provocation.
Maria saw stars spinning as the blow hit her. Steadying herself, she stood up and ran out of the house. Her husband repeatedly hit her in the arms as she vainly struggled to set free from his hold. In her hurry, she forgot to bring money and her cellphone. She also left her teenage daughter. In desperation, Maria dashed to the barangay office to file a complaint. She remembered RA 9262. Immediately after hearing her complaint, three barangay tanods accompanied her to the house.
"They responded to my plea" she thought.
The barangay tanods negotiated with the husband to allow Maria to enter the house peacefully and get her things.
The next day , she filed for a Barangay Protection Order (BPO) and got it within the hour. Maria went to the East Medical Center earlier and acquired a medico -legal certification which she showed to the barangay captain.
The BPO was served to the husband. Enraged, "How dare she do this to me? How dare she destroy my good name?"
Fearing the wrath of her husband, Maria worried for her future safety. That's when she decided to file for Temporary Protection Order (TPO). Maria was accompanied by a barangay worker to the Women's Assistance Desk at the Police Station where the policewoman (in civilian clothes) prepared her statement. She was told to reproduce 10 copies of the complaint, together with the medico-legal findings, the BPO, the barangay blotter and submit it to the Fiscal's office.
Would you believe it? She was granted her TPO within the day.
Together with a court order, law enforcers visited their conjugal home and ordered the husband to pack up his things and leave the house. After being reassured that her husband already left peacefully, only then did Maria re-enter her home.
Criminal proceedings will follow suit. The protection orders are not a guarantee that Maria will be safe but it will be a deterrent for the husband. Violation of the TPO is punishable with a fine ranging from Five Thousand Pesos (P5,000.00) to Fifty Thousand Pesos (P50,000.00) and/or imprisonment of six (6) months.
Aside from physical abuse, the law also protects women from , psychological or emotional, sexual violence and economic abuse.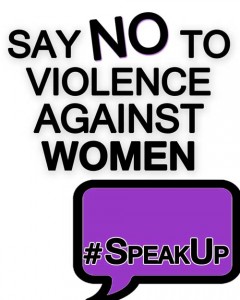 So battered or abused women, married or single, don't despair. Be empowered. There is hope. My friend , Cathy recently wrote a column on Are you a Rihanna? She relates that batterers do not look like batterers at all. So don't be fooled. Cathy has more to say on domestic violence:
The road to this "empowerment" however, is long and narrow. Often the battered spouse takes the abuse for many years before she finally wakes up. There is the cycle of violence to grapple with. As Nina put it so aptly : "Batterers do not look like batterers. They are often very charming and look like they can do no harm." In her case, she said that often, after her husband would abuse her, he would transform into the sweetest, most apologetic person in the world. "I thought then that since he was sorry with my love would be enough able to change him .  Rihanna issue with her. "It's a vicious cycle, and after a while, the battered wife or partner begins to feel like she deserves the beating, and so she continues to believe him and take him back after every apology. It's like an addiction of sorts."
There continues to be a very strong stigma attached to domestic abuse in this country. Either the women refuse to speak up because of "hiya" or because they feel they have no place to go and are more often than not, financially dependent on the abuser. Other family members may refuse to step into the problem because they feel it is not in their place to do so. Other women are told by elders who know no better, "just bear it, he will change." Martyrdom is not a virtue especially if you have children who see the violent acts taking place. Violence should have no room in any family, and it must never be tolerated. As one other battered friend who had found the courage to break out of the cycle once told me, ""What will your ""hiya" do, if the violence escalates and one day all that is left is a lifeless you?" If you find yourself in this situation or know of someone who is, speak up for yourself or speak out for your loved ones.
This also holds true even for unmarried couples. Speak Out Against Domestic Violence!. Under the Republic Act (RA) 9262 ""Anti-Violence Against Women and Children , the victim need not be the one who applies for the protection order. There are roughly 20 victims in one day. Domestic violence is not limited to one social class. Many of the unreported cases belong to women belonging in the upper class of society. The figures could be higher than 20 victims a day.
Violence against women in any form is a crime. But you are not at fault. You did not cause the abuse to occur. You are not alone. Break the silence.
There are laws to protect you. Get help now.
Where to get Help
HOTLINE FOR ABUSED WOMEN is +632-922-5235 or +632-926-7744
Donations in cash and kind are welcome at the Women's Crisis Center, 3F ER-Trauma Extension, Annex Building of the East Avenue Medical Center in Diliman , Quezon City
In Manila, call these numbers to ask for help:
Department of Social Welfare and Development
(02)931-8101 to 07 or your local social welfare office
NBI Violence Against Women and Children's Desk (02) 523-8231 to 38 or 525-6028
Philippine National Police
723-0401 to 20 or your local police
PNP-Women and Children Protection Center
410-3213 or your local barangay women and children's desk

Download The Anti-Violence Against Women and their Children Act of 2004 (Republic Act No. 9262) and other Resources
Republic Act (R.A.) 9262: Law for the Protection of Women and Children
Even if skeptical of the law or afraid of your abusive partner, be prepared for a
Here are valuable resources from Atty Bing Guanzon and Atty. Adrian Sison:
Judge Rebecca Mariano issued a Temporary Protection Order on May 4, 2005, the first Protection Order to be issued under the Anti-Violence Against Women and their Children Act of 2004 or Republic Act No. 9262.

Say "NO" to violence against women. Sign up at www.saynotoviolence.org.
Photo via Flickr