Update: My Earth Hour 2009
Remember Earth Hour 2008?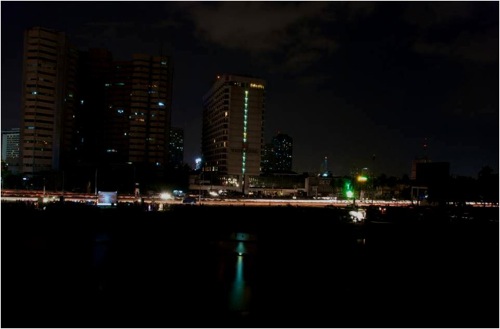 Earth Hour 2008 – Zero Hour at Roxas Boulevard, 8:00 PM
Where were you last year? I remember I was at the SM Mall of Asia and restaurants and other establishments were eagerly awaiting the approach of the Earth Hour. Did you know that last year, we ranked 9th in terms of global sign-ups? Another plus is that last year's Earth Hour initiative generated 56 MWh saved in Luzon alone. We can significantly increase the savings by just participating in Earth Hour 2009.
This year, Earth Hour 2009 is going to be at 8:30 PM on March 28, 2009.
In terms of Earth Hour countdown events, there will be an event at the SM Mall of Asia on March 28, 2009 form 7PM-10PM as well as in Cebu and Davao. Various LGUs nationwide will also be holding their own Earth Hour countdown events.
Taking the first step is as easy as turning off a light. This is an easy task as we keep our lights to a minimum anyway. I am sure you do but Earth Hour 2009 wants to send a message to the world.
By encouraging entire cities to perform this simple act, for just one hour, a strong message is delivered to the world about the urgent need to address climate change, and shows that it is possible for everyone to make a difference.
What happened in last year's Earth Hour? In March 2008, Earth Hour reached 370 cities and towns in more than 35 countries across the globe and has become a fast-growing global sustainability movement. An estimated 50 to 100 million people around the world switched off their lights for Earth Hour in 2008, including an estimated 1 million Filipinos, and global landmarks including the Golden Gate Bridge, Rome's Coliseum, the Coke billboard in Times Square and Jumeirah Hotel in Dubai darkened for one hour. Our very own Manila City Hall Clock Tower, the Mall of Asia, and the Cultural Center of the Philippines were blanketed in meaningful darkness. Today, through the extensive WWF International network, Earth Hour 2009 has gotten commitments from over 70 countries, the number growing each day.
That is truly remarkable as you can see 2008 marked even more participants.
The Philippines will again join millions of communities around the world as we all literally ""turn out the lights" for Earth Hour 2009. WWF, in collaboration with the Department of Energy, The Green Army, and the SWITCH Movement, will turn off lights nationwide – Luzon, Visayas, and Mindanao, aiming for the participation of at least 10 million Filipinos.
Earth Hour 2009 will be a major call to action for every individual, government and business to take responsibility and play a part in ensuring a sustainable future. Iconic buildings and landmarks across the world will go dark. People will join together to celebrate and create a conversation about the future of our planet.
Earth Hour is a message of hope and action. Imagine what we can do if we act together.
Join Earth Hour 2009. Sign up at www.earthhour.org
View the Powerpoint Presentation
HOW CAN YOU BE A PART OF THE EARTH HOUR GLOBAL EVENT?
At 8:30 PM on 28 March 2009, cities and towns all over the world will switch off their lights for one hour—EARTH HOUR—sending a powerful global message that it is possible to take action on global warming.
You can help and participate in this global call to action on global warming by switching off your lights during Earth Hour, and do more by getting more and more people to make a difference on climate change.
1. Switch off lights in major thoroughfares and landmarks in your areas of jurisdiction during Earth Hour, if and when possible.

2. Mobilize your communities to switch off their lights in their households.

3. Mobilize stakeholders in organizing Earth Hour events in your city or community.
For Businesses:
1. Switch off your corporate signages and/or majority or all of the lights at your headquarters and facilities during Earth Hour.

2. Encourage your employees to switch off lights in their households during Earth Hour.

3. Place standard Earth Hour banners/streamers in your building facade and facilities that are seen or accessed by the public as part of awareness building.

4. Use your communication channels to promote Earth Hour.
For the Church/NGOs/Civil Society/Academe:
1. Encourage your networks and communities to switch off the lights in their households during Earth Hour.

2. Mobilize your networks and communities to participate at the Earth Hour Countdown Event to be held at the SM Mall of Asia on March 28, 2009, from 7:00 PM to 10:00 PM.

3. Organize your own Earth Hour event in your community or locality to widen the reach of the campaign, and relate this event with your own environmental programs and other advocacies.

4. Use various communication channels to promote Earth Hour.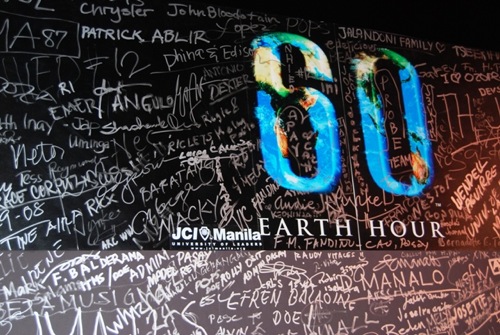 (Photos from Press launch of Earth Hour)
Sign up at www.earthhour.org