My sister Myrna  moved to the US in 1984, and I missed her so much that I often wrote long letters. I took a look at some of my letters and was surprised to read about how I also talked about the political situation in our country in 1984.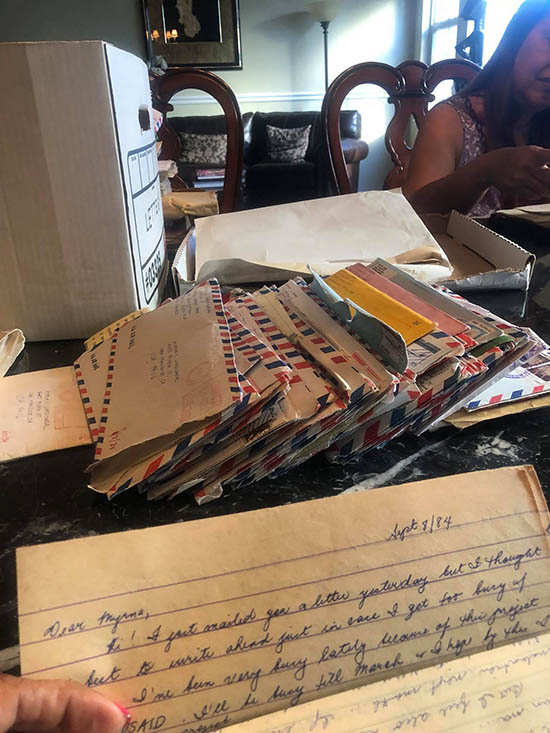 Allow me to share some snippets of a letter I wrote on September 1984 (Italics are current comments)
September 8, 1984 (about inflation and gas scarcity)
Dear Myrna,
I have managed to save 3,000 pesos but this is only worth 1,500 early last year. Well, it's better to save than have no money at all. (Inflation Rate in Philippines averaged 8.41 percent from 1958 until 2018, reaching an all time high of 62.80 percent in September of 1984 )… It's no joke buying food nowadays.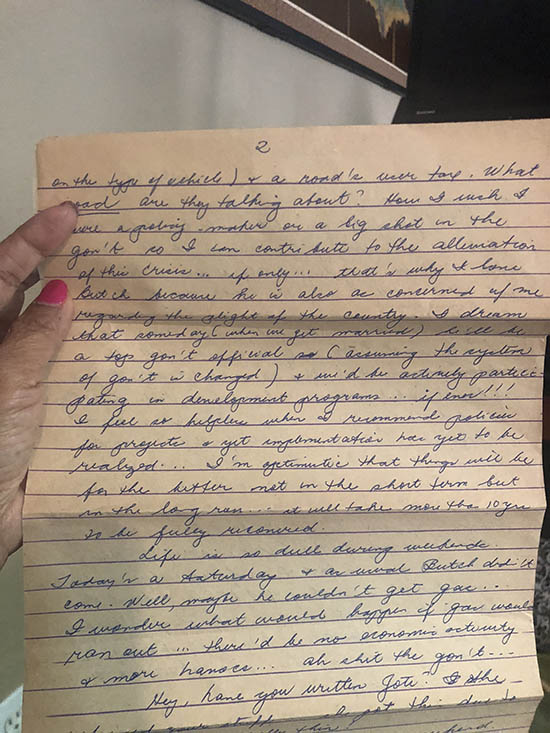 There's another bad news…gasoline supply until Thursday unless the government will give gas dealers a share of the tax included in the price of the gasoline…oh well, the government really worsens the situation by requiring additional taxes. There's going to be an increase in taxes again— the vehicle registration tax (up by 200% to 600% depending on the type of vehicle) and road's user tax. What road are they talking about? How I wish I were a policy-maker or a big shot in government so I can contribute to the alleviation of this crisis…if only…that's why I love Butch because he is also as concerned with me regarding the plight of the country. I dream that someday (when we get married ) he'll be a top government official (assuming the system of government is changed) and we'd be actively participating in development programs if ever!!!!? I feel so helpless when I recommend policies for projects and yet implementation has yet to be realized. I'm optimistic that things will be for the better not in the short term but in the long run…it will take more than 10 years to be fully recovered.
Today's Saturday and as usual Butch didn't come. Well, maybe he couldn't get gas. I wonder what would happen if gas ran out..there'd be no more economic activity and more havoc…ah shit the government.
September 10, 1984 (Typhoon Nitang)
I continue to hear/read so many unfortunate incidents regarding Typhoon Nitang, such as
a pregnant woman was found dead but lying on a tree (In Negros Occidental)
A farm tractor (this is heavy) was found 5 kilometers away
A betamax machine in Surigao was found 3 kilometers away. Of course, out of order
Hospital with no roof in Surigao
There was so many unbelievable stories. The wind must have been so powerful almost like a tornado (remember Wizard of Oz). The government now has a good excuse for diverting present political/economic problems. As Marcos said "Let us think of our country first and ourselves, last". Look who is talking. Everyday, donations come in.
In our house in Cebu, our garage roof and the roof of the  house for the workers were also blown away.
September 25 – on the September 21 rally
What is new here? I learned the bakeshop wasn't operational for 9 days since they didn't have water and electricity for days.
Well, heard about the September 21 rally? They threw water at the rallyists. The water came from the canal..yuk!.
Other disasters…Mayon Volcano eruptions and another earthquake in Ilocos.
September 28 on UP Barricade
Today and yesterday, UP was barricaded by students all over the entrances. I had to sleep over at Butch apartment for two nights because I had lots of work to do.
The present situation is really tense . I feel the tension around. Last night, while I was at Butch apartment, I listened over the radio about a violent rally at "Welcome Rotonda". I knew Butch was there and it really made me nervous hearing all the casualties..some students were shot!. The son of Dean Nemenzo was even shot. Fortunately Butch arrived. What a relief. It has been violent since Sept 21.
---
As for Butch, he's planning to go to Cebu this sem break. He's planning to make pamanhikan this sem break. Hopefully. I feel so restless already. I want to settle down . I feel the need. But I also feel scared. What with another devaluation next month. If ever we get married, I'll make it very very simple so that expenses are minimal.
-end of snippets-
All of these were sent in one email. There was so much happening in one month: the inflation, the scarcity of gas, the devastation of Typhoon Nitang, September 21 rally, the devaluation of the dollar, increase of road taxes. It was like writing a diary and sent in one mail.  I am looking forward to the other things I wrote during the Marcos regime. To be continued,