To live in hearts we leave behind
Is not to die.
~Thomas Campbell, "Hallowed Ground"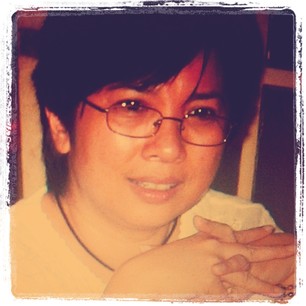 Via Carlos Conde. Original Photo by Alan Robles.
Chit is a batch before me in UP Diliman. I never knew her but word gets around in the campus when one is quite active. Learning of her death through Twitter , it took some time for me to digest it. It came as a shock. We have mutual friends and I cannot imagine how more shocked they are. They are mourning the loss of a dear friend and colleague. The impact of a tragic death from a senseless bus drivers is just too much to comprehend. The taxi she was riding in was rammed by a bus Friday night and another speeding bus nicked the vehicle on Commonwealth Avenue in Quezon City. "But it was the impact from the second bus that pinned the veteran journalist and U.P. professor to death in the cab's backseat."
There have been 21 tragic deaths and around 608 others were injured in more than 2,000 accidents in same Commonwealth avenue last year. I am aware of the 60 kph speed limit imposed by the MMDA on Commonwealth Avenue, a 12.4-kilometer stretch of road and still we have these reckless drivers. Mutual friends were also killed similarly on Valentines day leaving her young teens in shock.
How ironical that three days earlier, President Aquino supported a global campaign to improve road safety for the next 10 years by issuing Proclamation 159.
Will another death bring about a massive road safety campaign in this "killer highway" and then become "ningas cogon" in the end?
Chit loved horoscopes. "Her husband, Roland Simbulan recalled his wife's horoscope (for the zodiac sign Leo) on the day she died: Something will happen today that is not only evolutionary but revolutionary, and will be life-changing."
Perhaps Chit's death will reminds us that we are still alive to carry out some purpose that we ought to re-examine. As she told one of her students, "I hope you will use your skills to turn this country upside down."
It's only when we truly know and understand that we have a limited time on earth — and that we have no way of knowing when our time is up — that we will begin to live each day to the fullest, as if it was the only one we had. – Elisabeth Kubler-Ross