For the month of September, the theme for the Pinoy Moms Network Fam Pics is Potted (anything in a pot). My entry is about my Ceramic Fondue Pot. I gave it as a Christmas present last year to my husband since he is such a cheese lover. The first time I encountered Cheese Fondue was at a Swiss restaurant in Lucerne. While my sister and I dipped and swirled our bread into the cheese in the pot, a group of yodellers went a yodelling in the background. For me the yodelling sounded like nonsense but I guess it was used as a method of communication between mountain peaks, and later became a part of the traditional music of the region.
Tonight called for the Cheese Fondue pot again since it's my daughter's birthday and she's just as crazy over cheese.
I forgot to buy veggies , grapes and other fruits. I just had the bread. You will have to excuse the lapse in the ingredients. I have not been feeling well the past 2 days. Still the cheese tasted so good with the french battard.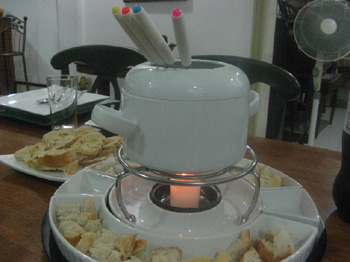 Instead of yodelling, we all sang a "Happy Birthday" .
If you like to make some Cheese Fondue, here is a fondue recipe shared by Felix Guggenheim of Swiss Deli :
1/2 pound of Emmetal Cheese (often referred to as Swiss Cheese, the one with the holes)
1/2 pound of Gruyere Cheese
1 tablespoon of corn starch
1 Garlic Clove
1 cup of dry White Wine
Pepper, Paprika, Nutmeg
1 kg White Bread cut in cubes
Rub the inside of the ceramic fondue pot with the garlic, then discard. Over medium heat melt cubed cheese in the fondue pot. Once it is all melted add strach and steer for another 2 minutes. Then add white wine and seasoning to taste (a little goes a long way). Serve with chunks of bread. Spear with fondue forks or wooden skewers, dip, swirl and enjoy!
Have dill pickles and silver onions on the side. I also add some fresh gound pepper on my cube while waiting for it to cool down.
Edit– Those interested to buy a Fondue set, contact Lynn who owns the PotDog and Crazy Choco Franchise
The contact numbers of PotDog are posted at all PotDog outlets. These are: +63922-8321019 +63917-8321019 +632-7429336 +632-7323046
The other moms who participated in the FamPics