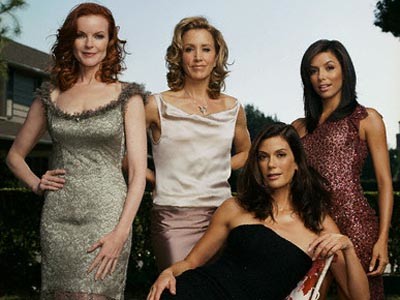 I thought an apology was enough to placate the hurt feelings of our Filipino countrymen over that Desperate Housewives Episode on Some Med School in the Philippines. Today , Friday (October 5, 2007) at 6:00 PM, there is a planned demonstration/picket at ABC Studio, located at 77 West 66th St. between Columbus and Central Park West. To protest ABC's wholesale defamation of Philippine-trained medical professionals, a plan of action has been undertaken in some Fil-Am communities.
1. Many Fil-Am communties throughout the US, like the Northern California National Federation of Filipino American Associations (NaFFAA) regional chapter, are meeting to undertake local mass actions against ABC and the Disney Corporation because of this attack on their community;
2. In San Francisco, the NaFFAA are forming a Philippine Anti-Defamation Coalition working with members of the Philippine Medical Society, the Philippine Nurses Asociation, the Integrated Bar of the Philippines (California Chapter) and other groups and individuals who were educated in the Philippines and who feel that the ABC [tag]Desperate Housewives[/tag] episode will have a profound negative on the public perception of them. They are planning on engaging in creative actions that will impress on ABC the gravity of the slight inflicted on the Filipino community.
3. Benj cites an indignation letter from the members University of the Philippines Medical Alumni Society in America.
Eric Gamboa, MD, doctor-member of UPMAS even said here: How many of you have been asked by your patients "what med school did you go to?" I have. Lotsa times. It seems that if you're not White or if you even have some hint of an accent that you're not as good as the American grads. SO wrong.
So is this taking it overboard?
No.
It is their right to take action over their feelings just as much as some have the right to sneer at their "over-sensitivity". We need to respect their feelings. We need to allow enough room for others and ourselves to have and work through our feelings.
Some call it "going through the process". We can allow room for feelings. We don't have to take all our feelings and others' feelings, so seriously while we or others are in the process of working through them.
If today's rally is their process, it is for a valid reason that is close to their heart
As some of you might know, many of the Philippine-trained doctors are conservative Republicans who are not involved with the Fil-Am community because their high income lifestyles insulate them from the concerns of the rest of the community. This issue is bringing them out and making activists out of many of them. It is making them get a glimpse of the kind of racial profiling that the disadvantaged members of the Fil-American community suffer on a regular basis.
If some of our Filipino brothers take further action other than an apology, let them. It is their process. Let their feelings flow and trust that the flow is taking them to the right direction.