Love is in the air these days. What better way to feature love than through the eyes of a bride in her dream wedding gown. Every wedding gown has its own story to tell. If it could speak, it would be the guardian of memories for the night. It isn't just proof of one's most beautiful state; it is witness to the gamut of our emotions, from the moment it is put on to the time it is returned to the box. Instead of featuring socialites in their fancy wear, why not feature our lovely Filipina bloggers? Guess who is who in these photos!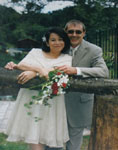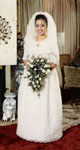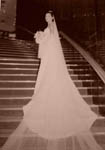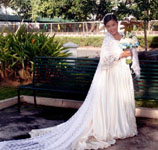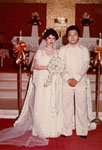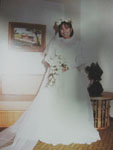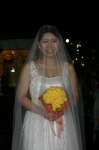 Hint: Visit the wedding gown memories of Gail, Dine, Cookie, Raq, Mec, mine, my sister, Myrna.
Oh and why do I have a wedding gowns blog? Blame it on my brother David in the US. Over a year ago, I went shopping for wedding ideas. David dreamt of having a church wedding with his wife of 15 years and has never gotten around to plan it. Until now, the church wedding remains a dream. I can't blame him. He has four kids and the logistics of the transcontinental travel just overwhelmed him. In the meantime, this blog got traffic hits from the keyword "wedding". Sniffing an opportunity for blog monetization, I installed a wedding blog where Lauren now earns a living writing for dream bridal gowns.
The problem with inviting a blogger to participate in the "wedding gown memories" category is that I assume she got married, wore a wedding gown or even had a fancy wedding ceremony at that. Boohoo. What an embarrassment. I stopped inviting altogether. So if you want to participate in the wedding gown memories, send a digital photo of your wedding gown and a write up to noemidado @ gmail.com.

And while you're at it, why not join the Love Struck Writing Contest?