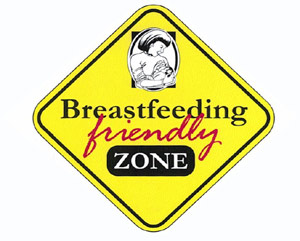 Ah, the predicament of breastfeeding in public. Lauren only drank breast milk for 8 months because infant formula caused her colicky pains. Knowing the difficulty of breastfeeding in public, I usually brought along stored breast milk . The opening of the breastfeeding station in SM Megamall is indeed good news for mothers.
"The breastfeeding culture is now on the brink of extinction," Esguerra warned on Tuesday at the opening of the pioneering nursing station.

The SM project is seen as a significant step toward reviving breastfeeding among Filipinos who, according to the World Health Organization, spend P21.5 billion yearly on infant formula. Giant mall opens 1st breastfeeding station
As a working mother, I pumped enough breastfed milk while I was at work. My boss allowed lactating mothers to store their milk in the office's refrigerator. Hehe, fortunately he never mistook it as his coffee creamer.
I can attest that [tag]breastfeeding[/tag] forms a strong bond between mother and child. It stimulates the release of 'feel-good' hormones and gave me such a relaxing feeling. My second daughter could not drink my breast milk because I just recuperated from Acute Hepatitis B. The pediatrician said that the virus might pass through the breast milk. I can really see the difference especially in our mother-child bonding experience. Also, the inconvenience of washing bottles!
Breast is best!
My sister, (who is part of the Children for Breastfeeding and the Philippine Academy of Lactation Consultants ) wants me to draft a proposal for their website. She thinks I am a web designer but perhaps I can come up with something.