As a blogger, I often try to improve my craft by learning new techniques or reading tips from my role models. I'm sure you feel the same. I also love attending seminars or workshops that help hone my blogging skills. There's one just around the corner. I'd like to invite you to a Flash Fiction Fun Workshop hosted by the Coffee Bean and Tea Leaf.
Feel the Flash Fiction Fun and follow the froth of fresh ideas from formidable experts in their fields like
Ocs Alvarez in Photography
Alfar in Creative Writing
Mike Cabardo in Videography
Limited to 60 bloggers/slots only!
Date: June 24, 2008
Venue: The Coffee Bean and Tea Leaf
Address: Bonifacio High Street, Global City Taguig
Time: 7:00 PM
Bring a digicam/camera and laptop so you can make entries
Oh yes, it's free!
To join the Flash Fiction Workshop, please comment below with the website address of your blog. (Those who signed up in my Shoppng Finds blog need not post a comment.) I will close comments once 60 slots are filled up.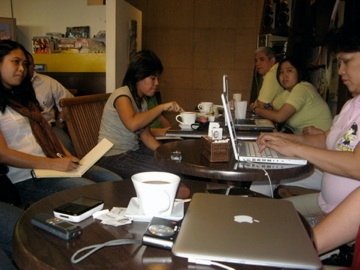 And that's not all. There's a bloggers party on the same week dubbed as Buhay Coke ng Bloggers. What fun!
What: Buhay Coke ng Bloggers with SM Hypermarket (party ito!)
When: June 27, 2008, Friday, 7:00 p.m.
Where: Taste Asia (beside SM Hypermarket) at the Mall of Asia
Why: Para magsaya! Loads of prizes up for grabs!
Come in an angel or devil attire (or wear black, red or white) and get a chance to win more prizes!
To join the Buhay Coke event, kindly REGISTER HERE. All bloggers who register and come also get a case of Coke Zero 330ml.
To join the Coffee Bean and Tea Leaf Flash Fiction Workshop, just comment below with your blog url. Don't forget to bring a digicam/camera and laptop so you can make entries. 🙂
Hope to see you there!