""A leader is one who knows the way, goes the way, and shows the way." John C. Maxwell
Disclosure on Political Affiliations: I do not work for Senator Manny Villar or any other politician. I was only aware of his friendship with Senator Alan Cayetano through my husband when he told me a day before the interview. Ties with Senator Pia Cayetano and Senator Alan Cayetano date back even before they became senators. Former President Fidel V. Ramos is a family friend due to ties from my father-in-law. I used to be a student activist in my UP Diliman days. My political views range from conservative to liberal. I don't have plans to run for public office. Meeting with politicians and writing about their programs is part of my current plans for this blog till 2010. Any endorsements (if any) will be made just a few weeks before Elections 2010.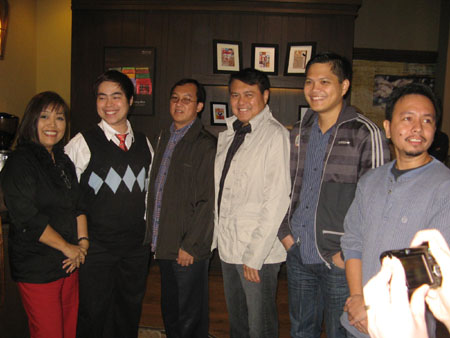 I have always been curious why Senator Manny Villar ranks high in most Presidentiable polls. There must be something he did that made him quite popular with the masses. My helper told me that he is known to help her "kababayan" way down south. Really? All I know about Manny Villar is that he is a successful real estate business man and associated with that C5 mess. Yesterday, I asked my husband what questions to ask Senator Manny Villar. Butch said "ask him about the corruption charges with regards to C5" and added "oh and they are good friends with Alan Cayetano".

The opportunity came today when a few bloggers had an intimate interview with Senator Villar at Bo's Coffee Shop. Present were a few of his staff and his two sons, Paolo, Mark and his daughter, Camille. I thought it quite unusual that he brought his three children and was quite charmed by their humility. No airs at all.
What were the points that struck me in the more than 3 hours conversation?
1. I am not privy to the facts on the C5 corruption but he claims the charges are untrue. He gives the real score on C5 which I will let you judge for yourself. (see his explanation below and the video interview). Even after a year, there is still no evidence of corruption. He never got the money. If ever, the DPWH should be held accountable.
2. I think he should be more supportive of the Reproductive Health Bill even if they are Catholic Couples for Christ. Being a Catholic is a personal choice but as a potential leader, he should be able to dissociate his political and religious beliefs. Besides, the country is not composed of the Catholic faith alone.
3. Like all the other political ads I see on TV, I find them just so sickening and self-serving. I know it is all a marketing strategy. Senator Villar claims that the stories in the ads are all true and the funds come from his pocket. Of course he sets priorities on the beneficiaries. He needs to place ads because he is at a disadvantage compared to other presidentiables that have some "media celebrity" status. Hm. let's see Senator Loren Legarda, Senator Mar Roxas and his fiancee,, Vice President Noli de Castro Chiz Escudero because of FPJ, (edited to correct the fiancee part)
4. I believe him when he says that the country should be ruled by someone with experience in managing people. Senator Villar says he has the experience of being a leader in his own business, the Senate and the Congress.
5. I also support his advocacy on Entrepreneurship which he will launch simultaneously in all sectors of society whether he is a President or not. Apparently, media does not really cover his interest in entrepreneurship. Like Senator Villar, I believe that entrepreneurship values should be encouraged in our society so we can be self-sufficient and stimulate economic growth.
Of course that advocacy remains to be seen. During the photo opportunity, I told Senator Villar that if he becomes President of our country, I will show this photo and remind him of his promises.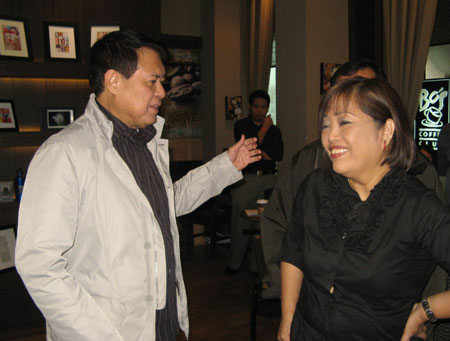 And he reassured me "Don't worry, I will pursue Entrepreneurship even if I am not President" and then thanked me for bringing up the topic of his cause on the small and medium-sized enterprises. I later found out that he authored and passed into law the landmark New Magna Carta for Small and Medium Enterprises (RA 8289) and initiated creative legislation such as the establishment of the Small and Medium Enterprises Stock Exchange and Business One-Stop-Shop centers, the latter he immediately implemented in Las Piñas City with the help of local officials.
It was an enlightening chit-chat. I have more to say but that will come once I've talked to all the Presidentiables.
Manny Villar Platforms and Legislative Performance
Manny Villar Governance Matrix
Senator Manny Villar's Legislative Record
The Real Score of C5
Judge for yourself
C5 the Real Score
Read more from other bloggers who attended: