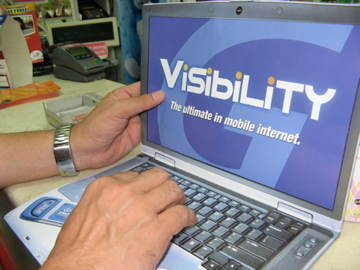 While waiting for our purchase at the drugstore, my husband starts "playing" with his laptop's Globe Visibility Mobile Internet feature. Hehe, how I wish I had [tag]mobile broadband[/tag].
This afternoon, we dropped by at The Hub in Glorietta Mall to see if they could provide a demo for my Macbook. Well, we couldn't because my Macbook needs this Nova Media launch2net (which cost Eur 75 ) to support Huawei E220 USB Modem. Haay. The [tag]Globe Visibility[/tag] sales representative in The Hub have limited knowledge and I am not a very patient person when my questions are answered stupidly. Simple questions on "what is the speed of [tag]GPRS[/tag]/[tag]EDGE[/tag]?" have to be asked from another sales rep. I better visit The Hub in the Podium since Marc swears it has better sales representative. (Edit- Visibility is now compatible with Mac . Software can be downloaded at betterthan3g.com)
I might postpone getting the Visibility [tag]Moblie Internet service[/tag] for now. You know, the only reason I need it is when I vacation in the mountains where my husband's hometown is located 5 hours away from Baguio City. I told him I cannot be internet-less for more than 2 days for economic reasons. Not that I want to be online 24/7 but I just want it there when I need it. The nearest internet cafe is a 30 minutes rough road drive. Travel time to the mountains is no joke and I don't want to just stay there for 2 days and traverse down the rough mountain trail on my third day. I envision lying down in a hammock, enjoying the cool pine scented breeze with my dear husband. That is my ultimate dream vacation.
I am not even sure if Globe has a 3G network in Benguet towns. The National People's Army (NPA) maks it impossible for Globe networks to grow in these far flung areas. "sigh". Smart's 3G alternative seems cumbersome as it needs rotating the antenna to the right direction. Which leads me to the question: connectivity versus convenience. If I have to , I will choose connectivity and use my daughter's laptop.
Now if only I can just test Globe's Visibility mobile internet service before I get locked in the 24 month period.