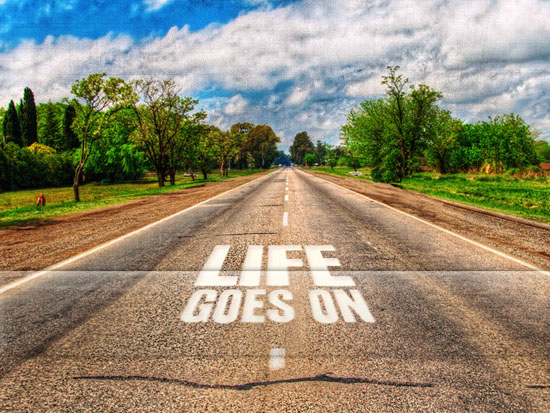 A mother who lost a child often cries out over insensitive remarks. I have heard it countless of times. Consider this conversation from a mother who thought a well-meaning friend was insensitive.
Don't they know? Of course these wonderful, concerned, well-meaning friends don't know. They can only guess how I feel. They haven't personally known (thank God) the disbelief, the shock, the anger, the depression that has filled my heart and soul since my child died. They don't know that the words I need to hear are, ""I know you must be hurting terribly. You had such a good life together, the pain must be awful. You need to express your anger, your frustration. I know it must be hard for you to believe that God is a loving God who will support you through this horrible tragedy." They can't know words aren't necessary, that just being there, holding my hand, crying with me, or listening to me would be much more comforting than words they feel they must say.
I don't think they are insensitive. They just don't know how to comfort or are uncomfortable in facing a person who lost a loved one.
Even one can experience grief in the loss of a presidential candidate in an election.
One often suffers temporary emotional pain in response to loss of anything that is very important to us. Here, losing a dream where we looked up to potential leaders of our country who hold our future and the future  of our children. The pain is a normal internal feeling one experiences in reaction to a loss—the defeat of a candidate in the elections. The winning of certain candidates even made the pain worse in the senatorial slate, which is mostly political dynasties or familiar names.
The defeat of your candidate hurts. This is a loss of a dream you nurtured in your mind for the love of country. It is okay to cry. There is a normal reaction to loss. It is not a sign of weakness. I needed to tell myself that: feel, acknowledge, and express my emotions with an attitude of acceptance and compassion. The time will come when you can handle it with a sense of loving acceptance.How do you fare when you come across a bereaved? What do you say? You don't say "Life should go on". The grief journey is a process and when a loss or death is just so recent, mourning and moving on is not possible.
Do not ask them to deny their tears. Allow them to wash their inner wounds and speed the healing of their heart. In time, life goes on.
Grief is cyclical, much the same way the seasons change. Saying "life should go on" when grief is so fresh is like diminishing the grief of these victims.
Not everyone will follow the same journey. Some move on to their new life (without their loved one) ahead than others. The bereaved, in their own individual ways, gradually get better at bearing their loss. Mainly, the pain simply softens with the passage of time.
Moving on means that we live a new normal, never forgetting the love and memories of our beloved. Moving on says nothing about forgetting our loved one, not missing them or not wishing they were still with us, many years after the death. It says we will think and feel differently about having lost him or her.
Here are other words that are not comforting to those who have lost a loved one:
"It's a good way to die."
Don't they know there is no good way for a child to die? Can't they understand there's nothing good about his being snatched away from our life?
"Remember, everything is God's will."
Don't they know I can't understand how God could cause me such despair? Don't they understand that I can't accept this as God's will?
"All things work together for good for those who love God."
Don't they know I'm not sure I can love a God who robbed me of my child? Can't they understand I'm very angry at God, who treated me so unfairly?
"Your child is better off. He's gone to Heaven, where he will have eternal peace."
Don't they know I can't be relieved to know Hess in Heaven when I ache so to have him back? Can't they understand that his death is an injustice, not a godsend?
"Count your blessings."
Don't they know that in this state of mind I can't in my wildest dreams consider all this pain, this anger, this emptiness, this frustration a blessing?
"If you look around you, you'll find someone worse off than you are."
Don't they know right now I can't imagine anyone worse off than I am?
"Think of all your precious memories."
Don't they know how much it hurts to live with nothing more than memories? Can't they understand that because our love was so great, the pain is more intense?
"Keep your chin up."
Don't they know how hard it is to do that when I really want to cry, to wail, and to scream at the injustice that has been dealt me?
"You must put it all behind you and get on with your life."
Don't they know we don't hurt by choice when our children die? I haven't met a bereaved parent yet who wasn't really weary of hurting.
"Time will heal."
Don't they know how time is dragging for me now, that every minute seems like an hour and every hour like a day? Can't they understand how frightening it is to face the rest of my life without my child?
"If there's anything I can do, let me know."
Don't they know they shouldn't wait for me to ""let them know?" Can't they understand that my mind is so numb I can't even think of what needs to be done?