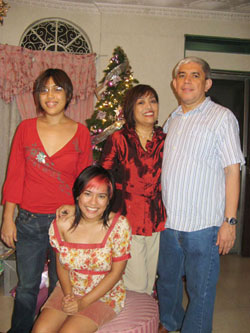 [tag]Christmas Day[/tag] has just begun. The season flows. Magic is in the air. The girls are giddy after gift opening. The hubby is mushy and romantic. It's a wonderful start of the day. For others, the holidays can be lonely and difficult. You are not the exception if you find yourselves facing a less-than-ideal holiday. How easy, but untrue to tell ourselves the rest of world is experiencing the perfect holiday and we're alone in conflict. We can do something about it. Create our own holiday agenda. Buy yourself a gift. Find someone to whom you can give. Unleash your loving , nurturing self and give in to the holiday spirit. Go with the flow.
If I could give each of you a gift I would want to give you the gift of peace, as much peace as you can possibly find. If you find your situation is less than ideal, I hope you take what's good and let go of the rest.
Enjoy and cherish this holiday.
I am going to let the photos speak for itself. Click Christmas Eve/Day 2006 photos