I promised M that I would get her the [tag]Harry Potter Book 7[/tag] ( [tag]Harry Potter and the Deathly Hallows[/tag] ) at 7:00 AM on July 21, 2007 which is the same opening time as UK's midnight release. The problem was I didn't reserve the book. See, I never reserved Book 5 and Book 6 and still managed to get a copy on Opening day at the National Bookstore Katipunan Branch. I never believed in getting a reservation because I will get a copy of the book anyway. The thing is M wanted to get a copy by 7:00 AM even if I have to summon my "bitch" (assertive) powers. I never use my "bitch powers" if there are rules in place. I don't think I can get a copy at that time without any reservation.
Dine comes to the rescue. While I was at the mediation yesterday afternoon, she offered to reserve a copy for me. Isn't she sweet?
What a teamwork Dine and I are! And what moms do for the love of their daughters? Even if it means waking up at 6:00 A.M.
I arrived at National Bookstore Katipunan branch near Ateneo at around 6:30 AM. Dine was nowhere in sight. No problem, I will queue for her.

Oh for the love of our kids, we'd do anything for them. My daughter managed to get the book in less than 20 minutes after Opening Time. Well she didn't get it exactly 7:00 AM but we were there at 7:00 AM.
What joy!


M and Monica (daughter of Dine) while waiting in line.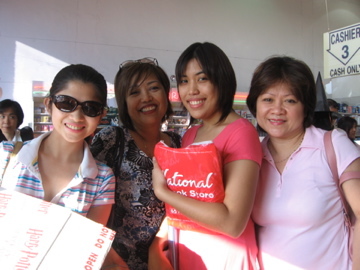 The grateful daughters with their stage moms. (Photo Courtesy of Dine)

Of course, I can't go home empty handed. I got an empty Harry Potter Book 7 box for posterity.
More photos of our [tag]Harry Potter Book 7 Release Day[/tag] Adventure
Who else got their books on Release Day, 7:00 AM on July 21, 2007 or in the same time zone?
Harry Potter and the Deathly Hallows Book 7 by Dine
Harry Potter dragged me out of Bed by Aileen
What does Harry Potter have that I don't? by Marc Villanueva
Harry Potter- Yes we waited until 12 midnight to buy the book by Liza