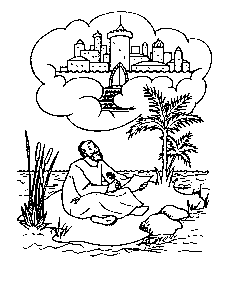 Almost 7 years ago, my adorable son sat beside me while I worked on my computer.
With both hands planted firmly on my cheeks, he asked, ""Where is Heaven? Are the clouds heaven?"
Unsure of the answer, I mustered to say something based on what I learned from my Grade school [tag]Religion[/tag] subject…
""I'm not sure if the clouds are heaven, but it's somewhere up there and hell is down there," I said, kissing his fat cheeks.
Luijoe asked all of these questions two weeks before his untimely death.
What a lame answer! I wish I knew more what heaven is like.
Luijoe never tired of asking the same questions over and over again, as though reassuring himself that there were angels that protected him and that heaven was a beautiful place to go when someone died.
As I wrote in the book , Fallen Cradle, it seemed that my son was preparing himself for heaven even fearful he would go to hell because like any little boy, he could also be naughty.
""I don't want to go to hell," he hugged me.
I hugged him back, said he was a good boy, and promised that he would never go to hell.
Reflecting back on his death, I firmly believe that Heaven is a real place. It is impossible for us to envision what heaven will be like. Of course , no one from the dead came back to say that "Heaven is beautiful…Heaven is full of Joy…Heaven isn't boring….Heaven is a real place". Being humans, we only understand the here and now.
I imagine heaven to be a wonderful reunion of sorts with my loved ones. Only [tag]God[/tag] knows if I deserve to be in heaven . But for the sake of discussion, let's just assume I will end up in heaven ( I know I have to deserve this). I imagine myself entering Heaven's gate, with my son, my mother, my dad, my brothers Oscar and Ruben with their arms wide open. I know my body will not be like this. It will be an eternal body and our loved ones will surely know who I am even in this form. Heaven will be more beautiful than we can comprehend and conceive.
Upon entering [tag]heaven[/tag], we will find the absence of evil, ruin, decay or sorrow.
Upon entering heaven, we will find God's presence.
Upon entering heaven, we will find worship as a lifestyle.
Upon entering heaven, we shall find our Father's house and inheritance.
Everytime I pass by the lovely house that Luijoe promised to buy me one day, I imagine that this house might be what he is preparing for me right now in heaven. And I need to deserve it.
In the meantime, I continue to work on my faith in God through my mission and advocacy. I want to go to heaven to be reunited with my son and loved ones who went ahead of me. My life here on Earth is only temporary.
Heaven is where we belong one day. Forever.
And as tears cascade once again….
He will wipe every tear from their eyes. There will be no more death or mourning or crying or pain for the old order of things has passed away

Revelation 21:4