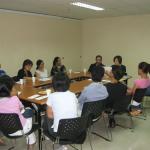 It is hard to imagine when we are in the midst of heavy grief that any good will ever come out of it. What we have lost is not replaceable , any more than the loss of a child is made up for the birth of another child. I have been witness to the unimaginable pain of four bereaved mothers who lost their only child/children. When the Compassionate Friends launched formally in January 2006, a sudden dearth of parents wanted to meet up for coffee. Those who were not within Metro Manila , just wanted to talk over the phone. And so this was how I met four courageous women who were in their mid-thirties. (Some events were changed to protect their identity)
Mom no. 1 lost her only child, a 6 year old girl through leukemia
Mom no. 2 lost her two children (a girl and boy) in the same year.
Mom no. 3 lost her eldest and only son/child through stillbirth
Mom no. 4 lost her eldest and only son after a failed congenital heart operation.
(Now don't think this is all depressing… let me just finish)
When I heard their stories, I felt really down. How awful to lose all your children like that! In fact, I had to destress myself with a therapist for the first few months . I wasn't used to handling grief stories like this. I am not a counsellor and I can only relate on what I've gained from my own grief recovery. In my early grief, I still had two children to be thankful for but I was not any near as courageous as these women. These four women lost their only child/children with slim chances of conceiving as their fertile years decrease with age.
As I talked with these women, I recalled our plans to conceive another child a few months after Luijoe died. After consulting a fertility doctor with my test results, she declared I was fit to conceive at 43 years old. The problem was my husband who I felt was looking for a replacement child. It is the wrong reason for having another child. No wonder I couldn't conceive. I easily get pregnant but this time, our attempts failed miserably. The plan to have another child was set aside.
I listened intently to their pain.
With tears in their eyes, each of them found the words to describe their losses. It was clear that they wanted another child to love but that it was hard to conceive. Then I told them about our failure to have another child because of the wrong reason. Our loved one is irreplaceable, we all agreed. To be honest, I never thought anything will come out of their plan
To my surprise, a few months later, mom no. 1 and mom no. 2 sent me a text message that they were pregnant. What joy! Then a few months later, mom no. 3 and mom no. 4 suddenly couldn't attend our meetings because of difficult pregnancy.
To cut the story short, all of these 4 women bore healthy sons .
Mom no. 4 just recently gave birth last saturday at exactly 4:00 PM which happened to coincide with our monthly meeting. All of us offered a thanksgiving prayer for her. I am just so happy that these moms pulled through. It wasn't easy getting pregnant. Fears of "what ifs" often crept up in their minds but like the mystery of the deaths of our young children, those fears were replaced with faith.
See, their stories bring some comfort to think about the oneness of creation. Can we, in the air that surrounds us, the sunshine that bathes us with warmth and light, the life that surges in our own being, imagine the presence of our loved one?
I am reminded that what I adore, admire and draw from Mother is inherent in the Earth. My mother's spirit can be recalled simply by placing my hands on the black humus of mountains or the lean sands of desert. Her love. her warmth and her breath, even her arms around me– are the waves , the wind, sunlight and water- Terry Tempest Williams
Oh yes, it's true …I feel my son's presence right here where the sun shines through my window pane as I type this blog entry.