Have you ever dreamt of being a winner, racing on to the finish line? One of my favorite shows is the Amazing Race. Whenever I see the contestants running from one stop to the next, I feel like I am hanging on the edge of my seat . A wave of adrenalin hits me as if I am right there with them. Even if I know I will never be qualified to join , my mind conjures up scenarios that I am actually rushing to the next stop. I want to be there. Yes, it is my dream to win in a race.

Though Amazing Race is a far-fetched dream, it does not stop me from taking up physical challenges. The Detour: The Island Cove Adventure sponsored by Yehey and Island Cove was a perfect opportunity. Can I really make it?

I assessed myself. What do I have?
I exercise almost daily for the past 4 years.
I have the drive and passion.
I like adventure.
What are my limitations?
My heart condition does not allow me to push beyond 135 beats a minute.
My ankle fracture in 2005 causes me to be imbalanced at times
I am overweight which impedes my speed in running.
Ack, I was not too keen anymore seeing I was the oldest among the bloggers. Surely no one would want to team up with me now. (Leira and Sire assured me earlier that they would join me. How sweet!) The blogventurers (as Yehey coins it) were expected to participate in this whole day sun-soaked event. A test of our speed and skill awaited us as we face the DETOUR challenge and overcome thrilling obstacles in each exciting Island Cove destination!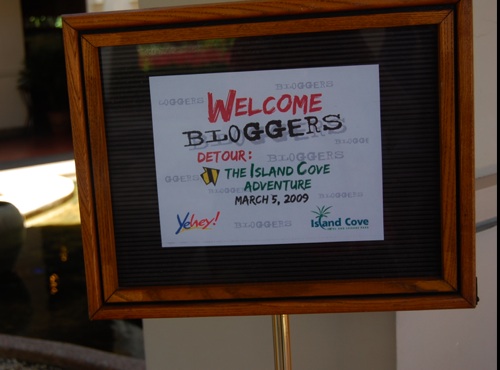 The musical score of "Amazing Race" played all throughout the restaurant as we refreshed ourselves with chilled Orange drinks for the upcoming morning tour of Island Cove. The beat of the music felt like a subliminal message for our subconscious mind to rev up for the adventure ahead of us. I was fidgeting on my seat trying to make excuses not to join, meekly offering to document the race with my Nikon D-40. Before I could holler that announcement to the world, luck through a fishbowl destined me to be a team leader together with Dante, Marcelle, Jennifer, Jonas and Carl. Woe me! How can I ever survive this race?
Yes, we were 6 teams. Team members were also picked from a fishbowl swimming with yellow-colored paper.
My disappointment shifted to hope when my enthusiastic and awesome team members rallied around, that yes, we are going to be winners. For the Win, we yelled!
Yes, we can!

What more can I ask? Let me introduce the spectacular team members:
1. Earth Rullan of earthlingorgeous.com
Winning Factor: My wit, my charm and my flexibility.
2. Abbie Maquiling of discoveringpinas.blogspot.com
Winning Factor: I'm no quitter unless I have no other options. =)
3. Christopher Aquino of lifeonapencil.blogspot.com
Winning Factor: competitive "never say die" attitude and the hunger to achieve greater things in life.
4. Montsch Acosta of Techsterr.com
Winning Factor: Persistent. To be persistent means to stick to a purpose or aim; to never give up what one has set out to do; to have perseverance.
I'd like to add that my wining factor is my compassion and empathy. With all that spunk and enthusiasm radiating from the team, I felt we were destined to be winners.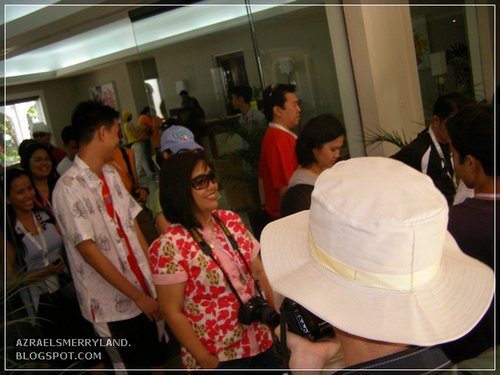 Photo Credits to Azrael
The assembly of blogventurers started at the hotel lobby at around 1:30PM. Wearing Havaianas slippers, camera draped on my neck, shades, shorts and a bright pink polo, I eagerly awaited my fate.
First Stop- Grab our survival kits at the Hotel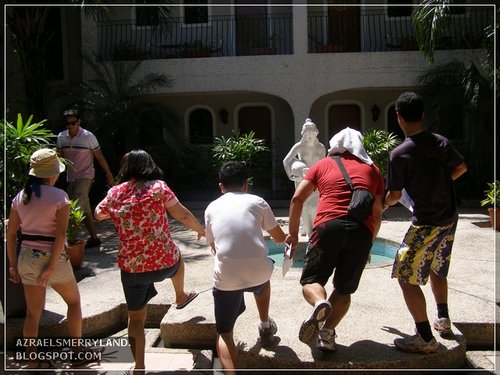 Photo Credits to Azrael
The race started as I clambered to get the first clue. "Get our colors and survival kit in one of the 113 rooms in the Tricia Miranda Hotel of Island Cove". My team rushed towards the stairs while I trailed behind wondering if I could ever catch up with them. Upon reaching the stairs, Chris already held out our color: RED! We were the first team to get our color theme and our bag containing our survival kit. Checking the inside of our bag, we grabbed the red scarves to tie around our heads so the marshalls could easily identify our team. I carried the red flags need for the stops. Each team received a blue card to get to the next stop and upon reaching that stop, we got another card for the tasks. Following instructions were crucial to avoid being smacked of penalty.
Though we didn't know it at that time, let me just show you the map of the obstacles we had to traverse to reach to our stops.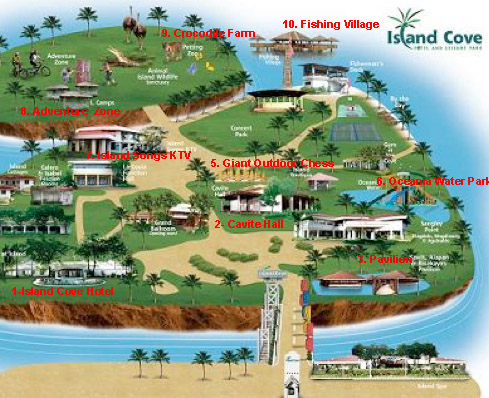 Second Stop- Cavite Hall for the Sack Race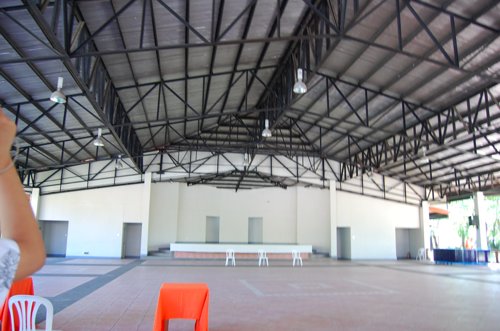 Huffing and puffing, I found myself running as fast as I could to Cavite Hall. I could feel my heart pounding like crazy and my head hurting from the burst of speed. I ignored the scorching summer sun slapping on my cheeks as I dashed to our stop.
I must…I must…reach it fast
Yehey, we were the first team to arrive the first stop but Oh no! A sack race! How will I ever win this race? The last time I played Sack Race, I was a lightweight 20 year old. Still, I managed to jump baby hops as I held on dearly to the white sack even if it took me ages to reach the goal.
Third Stop- Look for half the mask at the Alapan Pavilion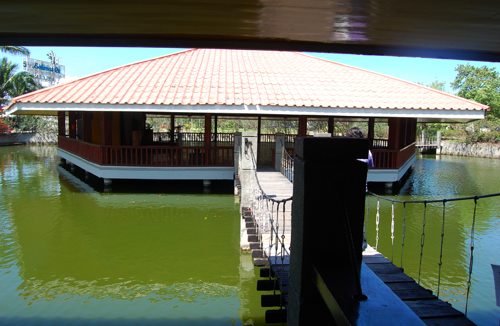 Our team mistook the next stop and ran off to the Fishing Village because the clue said "floating hut". Luckily, we realized our mistake before we reached it. A penalty awaited us because Montsch held half a mask even before our task card was given out to us.
Fourth Stop- Fear Factor Eating Challenge at the Sangley Point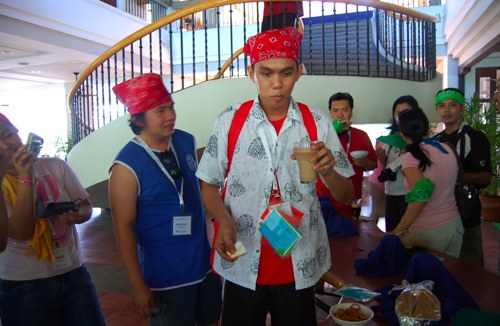 The next challenge didn't seem difficult. One team member with a huge appetite will do and Chris gladly volunteered. Lucky for Chris as he got a choco drink and Spicy Isaw. He ended just swallowing the food instead of chewing it. I heard others ate pig's brain, snails and frog. At this point, our team ranked in second place because Jenny's Green Team was ahead of us.
Did I tell you that I always ended up on the tail end as my team members ran like spring chickens to each stop? Still, the task could be carried out even if I arrived last at the stop.
Fifth Stop- Pool Challenge at the Oceania Water Park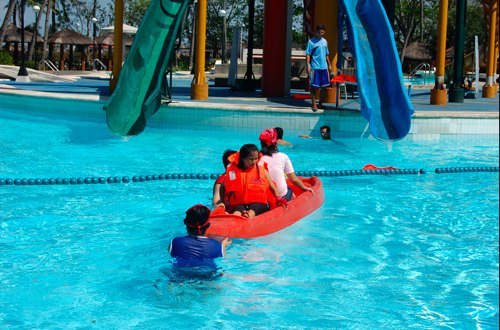 Good thing, only four team members were needed here. Two to slide and two to ride the kayak. As soon as the two guys slid down, they pushed the kayak to the end of the pool. That was quick but alas, Chris couldn't locate his slippers and we looked for it first before running off to the next stop.
Sixth Stop- Giant Outdoor Chess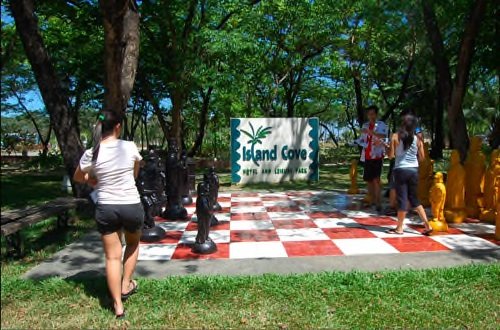 My feet ached from all the running and I was just glad this challenge was easy. Playing Chess was a breeze.
Seventh Stop- Island Songs KTV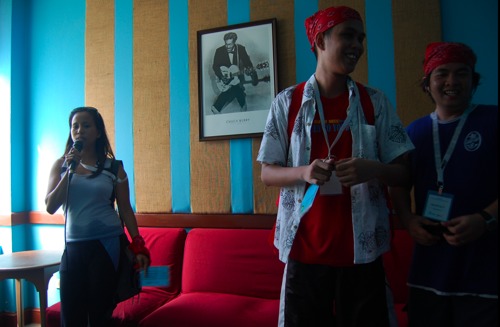 Our team wasted no time in racing towards the cool airconditioned comfort of the Island Songs KTV building. Only one team member can sing here. Earth picked a song from a fishbowl and surprise, the selected song turned out to be"I will Survive" which is aptly known as our theme song as you continue reading on. The highest score among all the teams get a special prize. As Earth belted out to "I will survive", we all cheered and sashayed to the rhythm of the song.
The final score? 99 . Excellent!
We were almost a few stops away from the final destination when a major challenge hit us. Chris suffered a muscle spasm on both shins which made walking almost impossible. The drastic change from hot-to-cold-to-hot temperature may have caused this muscle spasm.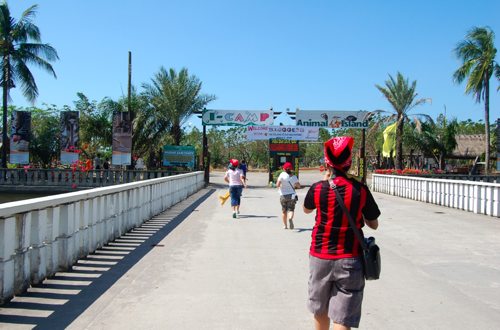 We were allowed to bike towards the Animal Island and take our next stop. There were not enough pedicabs to take us there and I was not too confident using the bicycle so I chose to walk-run instead.
Eighth Stop- Animal Island for Target Shooting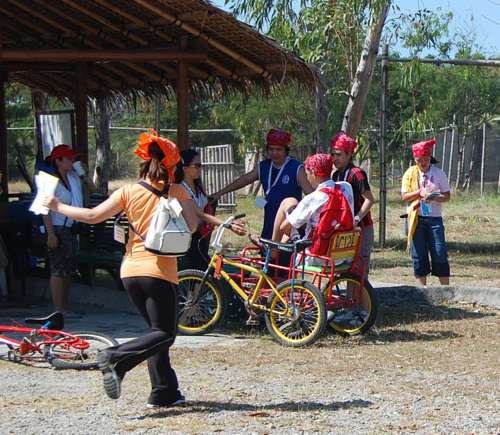 But we had to attend to Chris. Stopping by the hut beside the Adventure zone, Yehey administered first aid measure to Chris' legs.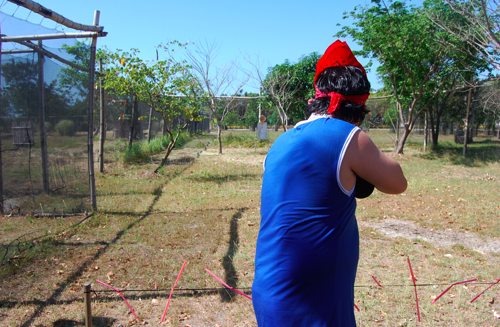 While Chris was being treated, Montsch went ahead to shoot the target.
Now this is the part where I think is the most physically daunting task of the entire race. From the Adventure zone, we had to go to our 9th stop at the Crocodile Farm. Let me tell you that the Crocodile Farm is a good half a kilometer away. Chris, still unable to walk rode on the pedicab that Earth pedaled.
The heat of the afternoon sun seemed daunting. As I walked on the sandy ground, I felt the heat emanating from the ground up to my waist. "So this is what hell feels like!" as I felt my skin burning from the heat. I searched for shade but there was none to be found. I half-ran and half-walked all the way to the Crocodile Farm and espied the Green Team leaving in a tram to their final stop.
boo hoo. There goes our first place and I dragged my weary self to the door.
Ninth Stop- Crocodile Farm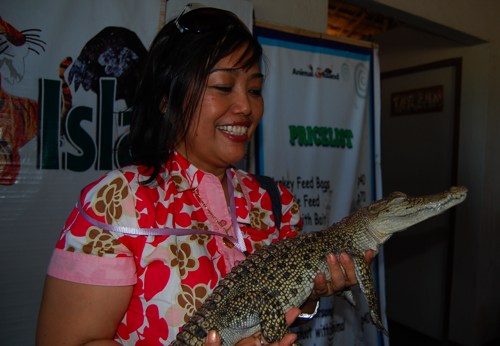 We had the choice to feed the monkeys or have a team photo with the baby alligator. Good thing we chose the photo ops because the monkeys refused the bananas given by the other team.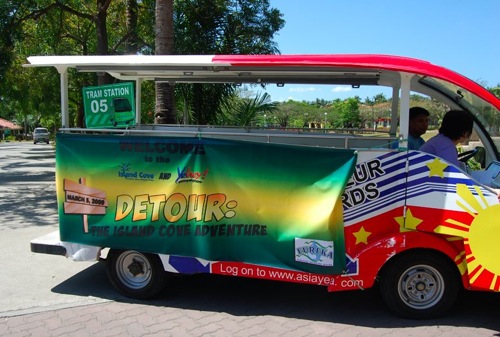 The Orange Team and our Red Team were fighting for the second or third place but I didn't really mind who got who. We had reached this far anyway. All I could think of was an icy cold drink! My body ached from all that jumping, running and clambering. I just wanted to sit down in comfort.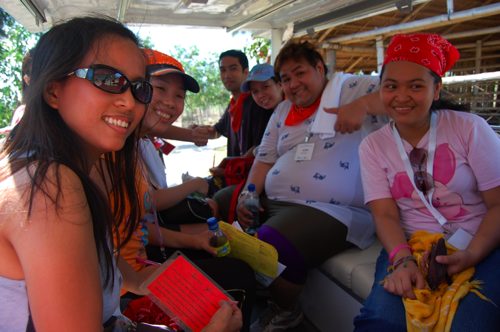 Tenth Stop- Fishing Village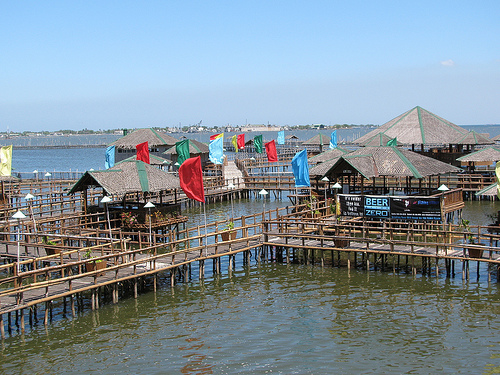 Photo Credit to Karla Redor
Rushing down the tram, the Orange team managed to run to the Fishing Village before us. Montsch had to help Chris walk through the bamboo bridge leading to the Fishing Village.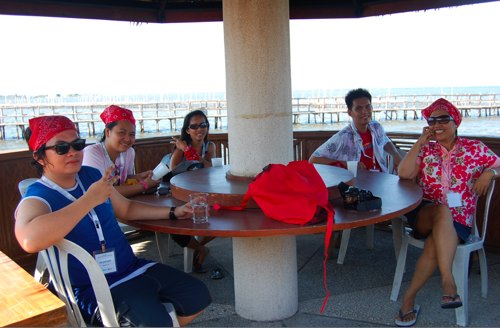 True enough, the Green Team arrived first, then the Orange team. And then us, the Red Team clocking in at 1 hour and 7 minutes. Not bad! I heaved a sigh of relief as I sat down on my chair, basking in the cool breeze from Manila Bay.
Yes, we got Third Place and a Special Prize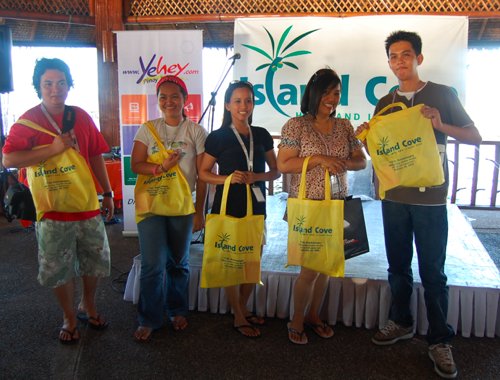 Sure, we got third place but we got a special prize for singing I will Survive and garnering the highest videoke score of 99.
Not bad for a 51 year old team leader and an injured team member.
A lot of the race depended on skill, speed and doing what we can do to move forward, but then there came a point where we couldn't do anything when an injury took place. Empathy toward the injured is the priority. Then, we just had to let the race take its course. The Red Team played the game really well with their positive attitude, and even showed true sportsmanship. Winning 3rd place in the Island Cove Adventure is simply phenomenal. It really pushed us way beyond our comfort zones and expectations, and even lasting to the final stop is an achievement in itself.
I might not be able to join the Amazing Race but I survived this awesome adventure by tapping my winning factor.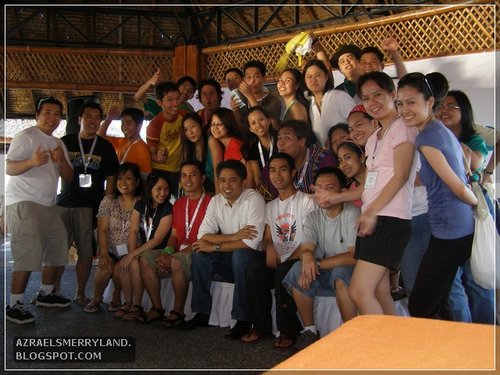 The Rest of the Blogventurers with Island Cove's Managing Director Gilbert Remulla
Photo Credits to Azrael
More Photos at the Island Cove Gallery
Related Photos and Blog Entries
Earth
Karla
Lace
Jane
Fitz
Jenny (Green Team)
Fung Yu
Photos
Chris A
Azrael Multiply Photos
Hannah's Photos
Aerin's Multiply Photos
Edelweiza Photos
Jenny
(Please comment below if you know of other related photos and links)