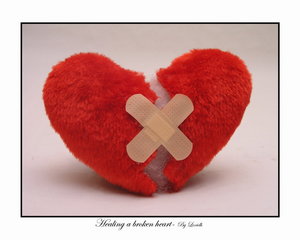 Remember how we mothers ease the pain of our toddler's scraped knee? I remember blowing the wound and caressing my little girl's leg…. "There it will go away now" . My little girl would then wail "baaand-aiiiid" thinking the band-aid can patch the pain. What happens when this little girl is now an adult, nursing a broken heart? How can a band-aid now patch the gaping hole in her heart?
Yesterday night, my daughter went home from her dorm. She informed me beforehand that she had a problem but she will tell me in person. My husband and I couldn't sleep thinking it could be serious. Eventually we lifted our worries to God and soon fell into a deep slumber. What could we do anyway at 12 midnight?
We broke off! I stared at my lovely daughter with her sad eyes upon me as I sat on her bed.
Oh no was all I could say. I couldn't believe it. The boy was just at our home last weekend. They had been together for more than 2 years. But then, I also recalled Butch and I broke off on our second year. I had outgrown him. I was already a working girl and he still had to graduate from his bachelor's degree (he is younger than me). I tried to recall the pain of breaking up and what I did to alleviate it. Doing something new and keeping busy was what kept me going.
I told her that her dad and I had two break-ups in our 7 year steady relationship. "Relationships are not easy, my dear. It hurts because you love him. You are going to grieve the loss of a relationship. Feelings of sadness , anger, acceptance and moving on will be part of the healing process. Just like I often say to the newly bereaved parents, you will start looking for your "new normal". A life without your loved one. That is the moving on phase where you live the life of being single again. The "we" that was there before is now broken." I didn't have to talk much as all she wanted was my unconditional love.
"I'll enroll you in that pottery class every weekend. Try something new.", I suggested.
She warmed up to the idea. "that sounds like a great activity that I can start".
I know she will need to figure things out for herself without mommy. Her mommy can only hug her and say "things will be better. Keep on praying for guidance"
I love you mom.
My heart breaks as I see her forlorn expression.
Unfortunately, I can't mend her broken heart. She is grieving the loss. The "band-aid" she needs is just within her reach. In time , she will heal. I believe the terms "grieving" and "healing" are synonymous. As she grieves, she heals.