Mothers will do everything to save their child. Veronica Nyamod must have been so tired, walking wearily for more than four hours just to bring her frail one-year-old son , Stephen Nyamod to a clinic near Reke, South Sudan. A BBC report wrote a story on a South Sudanese village two months ago where mothers and children resorted to eating water lilies . South Sudan faces a food crisis. A clinic run by the International Rescue Committee has been treating up to 16 children every week ever since 1.1 million people including 550,000 children were forced to flee their homes due to the fighting between government and rebel forces.
Despite the treatment that Stephen received from the clinic, he failed to show signs of improvement. Stephen weighs only 5kg (11 pounds) and has been losing weight. Such a heartbreaking image of a child who weighs just as much a three month old baby. His mother tries to soothe him as he cries at the doctor's clinic.
"I only want him to get better. I am lucky we got to the clinic in time. We didn't have enough food back in the village. There are so many other sick and malnourished children there", the mother was quoted in a BBC report.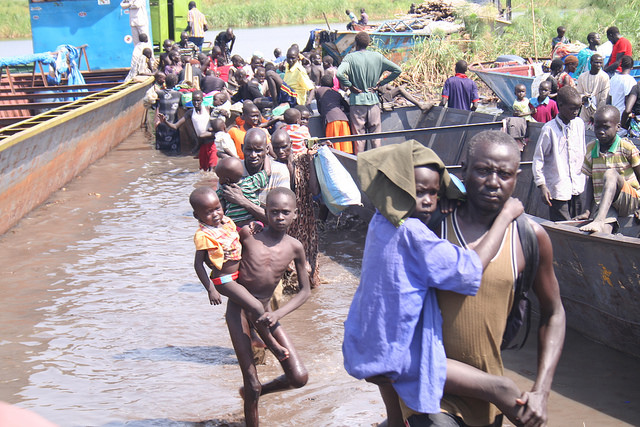 The warning signs were everywhere. The conflict forced famers to flee their homes and now missed the planting season. The United Nations Security Council expressed "grave concern" about the situation and described it as "currently … the worst [food insecurity situation] in the world."
When you hear such terrible news, one begins to ask is there anything one can do?
Action is being taken now before it is too late.
UNICEF ,the world's leading advocate for children warned that up to 50,000 children could die of malnutrition by the end of 2014 if they do not receive help.
UNICEF and partners have screened more than 60,000 children against malnutrition and immunised more than 260,000 children against measles, which can be deadly in an emergency.
UNICEF aims to distribute hygiene kits and safe water for cooking and drinking to 450,000 displaced people . UNICEF is also providing safe places for children to learn and play, and reuniting children separated from their families. There is so much work to be done and UNICEF can't do its work without your help.
Children are dying. More will die soon if we turn our backs on their pleas for help. You can help the vulnerable children with the care and resources they need to survive this food crisis in South Sudan . Every donation will go a long way .

Here is how you can DONATE to help UNICEF meet the urgent needs of children in South Sudan.
Photo via Flickr. Some rights reserved