""When you look outward you dream, and when you look inward you awaken" Brian Quebengco, founder of and ""chief inoventor" at Inovent Inc.
"Mom, let me look at the third eye at the back of your head", one of my daughters used to dig into my hair whenever I berated her. See, I use to joke around with them that a third eye rests at the back of my head where it is possible for me to see everything they do behind my back. Of course, moms are just good at multitasking which is no secret at all. I even have this strange habit of lounging on the couch with my macbook, turning on the TV and working. Productivity hits me the highest when I am in this TV/laptop mode.
You can just imagine the excitement I felt as I watched the unveiling of the beta prototype of the Ilumina LCD iTV today, on Independence Day. This is something I want to own. More than the discovery of an innovative TV, I felt proud to be a Filipino as I talked to Brian Quebengco, the founder of and "chief inoventor" at Inovent Inc., creators of the Ilumina LCD Interactive Television (iTV).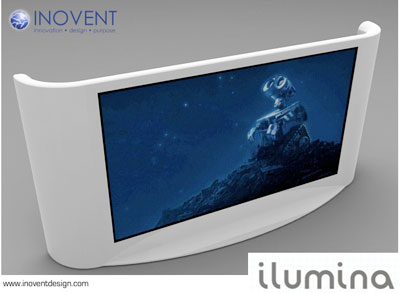 This interactive TV is exciting because it is invented (innovated) by Filipinos and is the world's first fully integrated TV. Think of the possibility of the modern Filipino family whose loved one is an OFW who will be able to talk to her/his family right there in the living room. Talk about connecting families. That's pretty much exciting, don't you think? I won't bore you with the technical details but if you care, I wrote about it in my Tech Gadgets blog over here.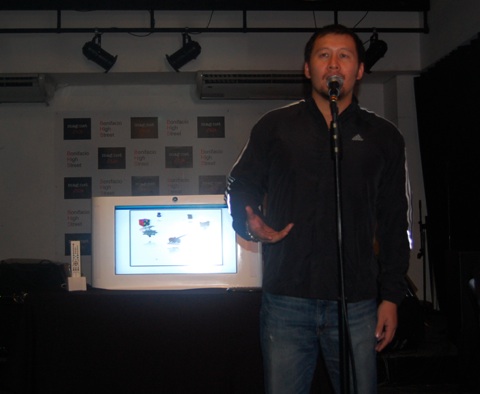 What actually touched me is Brian Quebengco's inspiring journey as he survived through spates of depression and found the life he loves. He shared his story on TV and magazine interviews. I've often talked of suicide and mental illness myths in the Philippines. Depression is not mere sadness, dear folks. Prayers alone cannot totally eliminate depression because it's a chemical imbalance in the brain. The sad thing is mental illness is still considered taboo in our country but Brian wants to help others through his story.
In this interview, Brian says
Surprisingly, I was a depressed kid. I was alone and my empathy was ""skies the roof". I was very sensitive. My parents are loving parents. They were like any other parent. But when they scold me, like any normal parent, I get so emotional about it. So I grew up being very depressed out of that, not their fault, to the point that I attempted suicide when I was 18. I attempted suicide again when I was 24, which made me end up in the basement of Makati Med. I spent my whole years trying to fight my depression, and I realized one day that I should stop fixing my weaknesses but rather just focus on my strengths, which has always been there. That changed my life. At 29, that was the tipping point in my life. I started focusing on my strengths. I voraciously read, even to this day. I am 33 now. I have read around 400 books, just to master and know myself and know a lot more about…
He transformed his depression into something creative and innovative, like this Ilumina LCD iTV. Brian found his passion. He was not afraid to leave his comfort zone. His voluntary work as a strengths coach uses strengths psychology. As a strengths coach, he focuses on what's best in people. He focuses on their talents, or recurring patterns of thought, feeling and behavior that they can apply productively. There is a part of him that does it on the corporate side, but he also does it on a volunteering side to just share with regular people.
Brian believes everyone is meant to do something special in this world. "I mean there's greatness in being the best janitor, there's greatness in being the best waitress or accountant. For me, I just found that this is my calling. This is where I am best at. I just spend a lot of time understanding myself. I always say this to people, ""You first have to look inward before you move forward." And for any entrepreneur, although we have to constantly move forward, we should never stop looking inward. "
My purpose in life are two things–to bring out the best in people and to champion Philippine ideas. That would be my two personal purpose.
You are not just looking at the world's first fully integrated TV invented by a team of Filipino young Filipino engineers, industrial designers and programming experts. I see proud Filipinos who want to champion Philippine ideas and promote it on the world stage. Brian's passion is to share the best of the Philippines to everybody.
Brian focused on his strength to bring out the best in him and in the process learned to be happy with his life. You now see the product of that focus— the Ilumina LCD iTV.
The prospect of the Ilumima LCD iTV is indeed very exciting, especially since I'm very fond of multitasking. My typical evenings will surely change as I seat in front of the TV, catching up with local news, world news, or celebrity gossip while I write blog entries and update my social networking sites on the Macbook on my lap.
Now, that won't stop my "third eye" from checking the activities in my household.
Today's Unveiling of the Ilumina LCD iTV