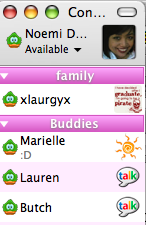 Thank God it's Friday but it's a lonely night for us. We miss the two girls. Usually they are home for the weekend but they have exams tomorrow. It is more convenient for them to be near their school. It's funny how [tag]Google Talk[/tag] can make the distance so near. I discovered that the kids prefer communication via instant messaging as it can be less intrusive than communication via phone. It's so funny . Butch is a door away busy chatting with the two girls. I'm at my cozy nook busy reading some blogs in my Google Reader. We're in four different computers happily chatting and catching up with their lives. Usually we talk about the antics of their pet cats who are without their masters. Sometimes, they gripe about their schoolwork. We exchange photos , youtube videos like Nora , the piano playing cat or even links. I love how the kids can still reach out to me using Google Talk. I am fascinated at how technology can bridge communication lines even closer.
I use the [tag]Adium[/tag], a pretty Mac free instant messaging application for Mac OS X that can connect to [tag]AIM[/tag], MSN, Yahoo, and ICQ. The [tag]ICQ[/tag] was the first messaging application I used. I think it was 1997. In fact my ICQ number (641900) is still around . One time, it was stolen by some Russian dude. I begged him to return it. Surprisingly, he sent it back to me with a note that if he can hack the password again, he won't return it. Next was the AOL Instant Messenger then MSN and finally Yahoo Messenger. I love how I can chat via webcam to my siblings in the US.
Today , I still have all those messaging applications but prefer Google Talk.
And so a typical message from Butch ends this way…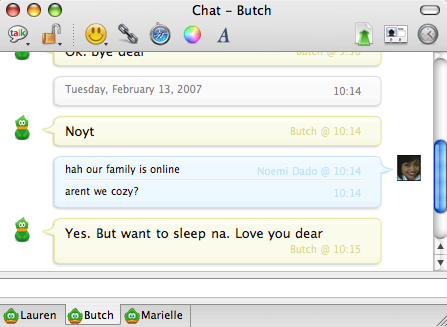 He never fails to say he loves me any time of the day, in any form or medium. To think he is just in another room. Hehe. What a romantic husband. I love my husband.
Time to sleep. I can hear him holler.