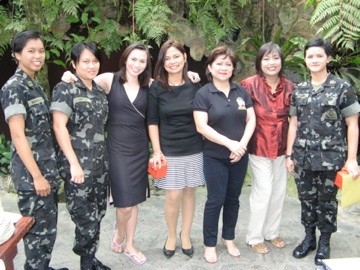 It seems FilipinaImages.com is getting more attention these days. Perhaps because March is International Women's Month. The black "Yan ang Filipina" shirt customized by wikipilipinas refused to fit me. I felt like a "suman". So I ditched that and wore something that won't make me look ten pounds heavier on TV. I had to drag my lethargic body at 6:00 AM thinking the She-Ka TV magazine (aired over NBN 4) was at 7:00 AM. At the last minute, the show was pushed to 8:00 AM. It was worth it.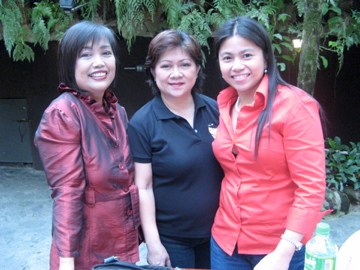 Aside from promoting the Wikipilipinas Filipina Stories contest (extended March 15) , we got to meet some of the guests like the Honorable Councilor Dorothy "Doray" Delarmente who also owns a blog at Doralicious and three women marines.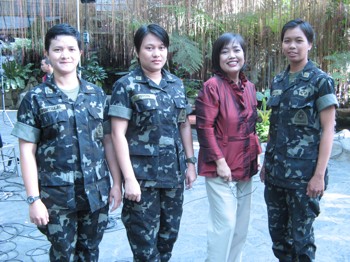 It's my first time to meet brave Filipina women from the Marines who related their airborne, driving the APC (tank?) and being part of the Trillanes- Manila Peninsula operations. What an honor! I wonder what it'd be like to drive one of those huge tanks. I learned they are now open to recruitment of more marines. (Email them at [email protected] or all (632) 8932121 loc 901 or 991)
If the marines don't appeal to you, perhaps join us in the celebration of women's month, here are a few Women Activities for the rest of March.
March 8 (Saturday) 8:30am – 12:00nn
Venue: UP Theater
Event: National Women's Day Celebration (headed by NCRFW)
20 minutes presentation: An overview of wikiPilipinas.org & Filipiniana.net; A Call for more entries to the Filipina Writing Contest
Attendees: 2000 students, NGOs
March 11 (Tuesday)
Event: UP Centennial Lecture of Dr. Carol Sobritchea
An overview of wikiPilipinas.org & Filipiniana.net; A Call for more entries to the Filipina Writing Contest
March 13 (Thursday)
Venue: Batangas Provincial Capitol, Batangas City
Event: A short message from Vibal Foundation announcing its Women Portal Projects and the partnership with NCRFW to local women leaders and government officials
March 24 – March 26 (Monday to Wednesday)
Venue: Miriam College
Event: Women's Studies International Conference
An overview of wikiPilipinas.org & Filipiniana.net; Filipiniana.net will sponsor one lecture for its (Filipiniana.net Lecture Series) featuring Dr. Carol Sobritchea, the director of the UP Center for Women's Studies; Announcement of Filipina Writing Stories winners
Photos
1. With the hosts of She-ka, Isa Litton, Atty Marissa Manolo
2. Dine with Councilor Doray Delarmente
3. FilipinaImages.com segment