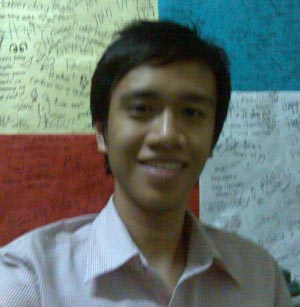 ([tag]Cris Anthony Mendez[/tag] via his friendster account)
For the past days, my rollercoaster emotions got caught up with my own Justice for my son crusade. I will write about this soon. The news on the Hazing eyed in death of graduating UP student outraged and saddened me because it was a senseless death. (more news in here, here and Cris Mendez Dead, Justice for the Boy When?).
I knew the name of the fraternity even before the mainstream media picked it up. How? My husband is a frat man at the same campus and text messages circulated freely that Sigma Rho is suspected to be the fraternity behind the hazing. I asked my husband how could fraternities use this type of violent method to determine their qualified brods. Why can't they just have non-physical initiation rites like implementing worthwhile projects? . My 2 girls overheard my suggestion and laughed "mom, this is a frat. It is not a macho thing to start projects". What baffles me , how come, in this day and age, fraternities still find it necessary? It is barbaric.
Justice might have to wait as the Quezon City Police District Criminal Investigation and Detection Unit (QCPD-CIDU) claimed that Dr. Francisco Cruz who reportedly brought Cris Mendez to the Veterans Memorial Medical Center (VMMC) had gone into hiding.
Until yesterday, members of the fraternity, believed to have knowledge of how Mendez died, remained silent. A student, requesting anonymity, told the Inquirer the fraternity met Wednesday evening at an undisclosed location presumably to discuss the incident.
It saddens me to hear of UP students keeping silent about what they know of [tag]Cris Mendez[/tag]' death. Shouldn't they be just as guilty as those who beat the life out of Cris? If indeed Sigma Rho fraternity was involved in Cris death, then I hope that Sigma Rho alumni will uphold its traditions and accomplishments. As a fraternity based at the UP College of Law, Sigma Rho understands that there are laws and due process.
A Statement on the Death of Cris Anthony Garcia Mendez by Sergio S. Cao, Chancellor of UP Diliman says that are doing their best to bring justice to Cris.
We sternly urge the officers, members and alumni of the concerned fraternity to extend their full support and cooperation to the University and the authorities to swiftly bring this case to its just and proper resolution.

Rules and regulations governing the conduct of student organizations have been in place and strictly enforced since 1976, way before the passage of Republic Act No. 8049, or the Anti-Hazing Law in 1995. Successive UPD administrations have added teeth to these measures to make them even more responsive to the dynamics of the current interaction among these student organizations.

Yet the culture of violence continues to exist. It has to stop.

We therefore appeal to the fraternities, particularly their alumni, to take the lead in transforming the culture of violence into more productive endeavors to benefit the University and society.
The whole UP community should cooperate and seek the justice that is due to Cris.
Condolences continue to pour in at Cris Mendez Friendster account. Twenty-year-old Cris Anthony Mendez was a regular guy who ""wanted to meet everyone."Picking up a line from a Tagalog movie, he would describe himself as ""Parang karinderia na bukas sa lahat ng gustong kumain."
A violent death put an end to Cris short and happy life.
My heart goes out to the family of Cris Mendez. As a mother, losing a child is the worst nightmare anyone can ever imagine. Having lost my own son to sudden death, I tell you the pain is indescribable and struck me to the core of my heart. You would not even wish it on your enemy. His death will seem unreal to Cris' family, the excruciating pain is like nothing they have ever felt. My thoughts about what they are going through just brings me buckets of tears. It will never stop hurting. My condolences to the mother and family members of Cris Mendez.
Nothing can bring their son back to them again but justice over their son's death will save the future lives of your children.
Justice for Cris Anthony Mendez.
Read the Statement of The Jester-in-Exile On the Death of Cris Mendez
For up to date news: Read The true barbarians of UP (always UPDATED)
More on Cris Mendez
Blogs
Forums
Peyups.com Part 1
Peyups.com Part 2
Philmug
Videos
Justice for CA Mendez
Probe – Karahasan sa Loob ng Kapatiran
News Features
The Cris Mendez Case= Inquirer Special Report
Miriam eyes Senate probe of UP stude hazing death
QCPD promises deeper probe of UP student's hazing death
QC cops to UP alumnus: Talk and save yourself
Suspected hazing victim laid to rest
Frat Hazing sa UP kinundena
UP Students seek justice for frat hazing victim
Death puts end to short, happy life of Cris
Unang Hirit's video feed on Cris's death