When there was only one computer in the house , shared by all of the family members, the computer virus eluded us. That's because I am such an obsessive compulsive over any files invading my computer. The last time I encountered a computer virus was in 1993 (1994) due to my husband's files from the law office. The kids know that a virus can crash the PC so at an early age, they learned to be careful. A crashed computer means no computer.
Now I don't know why M of all people brought in a virus from the UP Psych lab. She's quite fastidious when it comes to her computer. At first, she complained that the wifi in her dad's laptop kept shutting down. Then when she brought her PC from the dorm , the black box exhibited the same symptons as the IBM thinkpad,
*ding ding* my mind raced. "It's a virus"
"Mom can you fix it?"
Downloading the latest AVG proved futile. The explorer crashes as you click it. Even using online virus check crashes the browser. Any word with AVG or virus causes the computer to crash. Strange virus indeed. She can't even view her blog entry on that weird virus.

M is not alone with her problem. All her classmates' laptop suffered the similar fate. I surfed around the internet and exhausted every means to find the solution. To M's utter disappointment, I could not fix it. My solution was "reformat and reinstall windows". Maybe she thought I could wave a wand and fix it just like that. She was resigned to my solution two days after she thought about it.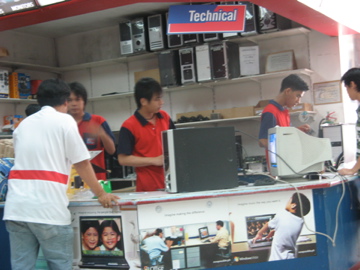 Now she or I could easily reformat and reinstall it but she preferred that I send it over to PC Express Katipunan, where she purchased it. I didn't want to do it for her because I'd end up installing every software for her. Fortunately, the reinstallation went smoothly. I will just wait for M to get back from Baguio so she can reactivate her Windows.
Next in line was Butch' laptop. It was a breeze but I stupidly threw the drivers CD of the wireless card so I had to search for it online.
Everyone is happy now! Butch has his laptop by his nightstand table whenever he needs it while my macbook is no longer wedged between us as we share it to check email or the web.
Next time a virus infects their PCs, I'll let them do the dirty work.
Anyway while waiting at the PC Express, I requested for a quote on a new desktop fitted with a Core 2 Duo processor, the latest Windows Vista Home Edition, fax-printer and huge 300+ GB hard drive. My old desktop decided to retire at the age of 6 years old so it was about time to buy a new PC or an iMAC. The iMAC 's white color would blend really well in my white themed workstation but it's so expensive Nice but not a must-have. Anyway, I got my quote and it reached 60,000 pesos or $1,250.00. The Windows Vista Home (Full version) cost 11,750 pesos alone or $245.00. I might get the OEM version which is just 4,000 pesos something.
This new desktop is like the bottom of my expense list . My new home is still bare of furnishings and yet Lauren is having a small housewarming party later in the afternoom. That's because her room is almost furnished. Lucky for her.