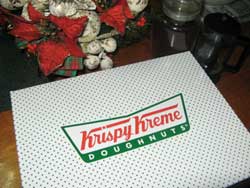 [tag]Krispy Kreme Doughnuts[/tag] arrive in Manila. Sort of. A dozen Krispy Kreme doughnuts were delivered at my doorstep today. What will I do with all these golden glazed doughnuts? I called up my daughters at the dorm if they wanted Krispy Kreme Doughnuts. "Of course, send it over", my daughters yelled. "We will microwave it here"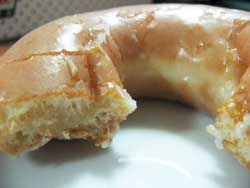 I haven't tried their favorite method of eating doughnuts aka microwave style. Maybe it's the warmth and soft texture that adds to the pleasurable eating experience. Doughnuts are their number 1 comfort food. The 12 golden glazed doughnuts look perfectly glazed. Glazed doughnuts of Dunkin Doughnuts or Go Nuts look sloppily glazed to me. Hehe, there goes my compulsive-obsessive nature.
It has been years since I last tasted a Krispy Kreme doughnut. Sipping my aromatic Kenya Coffee brew, I took my first bite. The first thing that I notice is the very tender texture of the doughnut. The taste is practically the same if one compares Go Nuts and Cello's. I can feel my blood sugar rising because Krispy Kreme Doughnuts are just too sweet. One doughnut is all you need to eat to get over the doughnut cravings. Later on, I will have to bike for 30 minutes to burn this excess sugar. Krispy Kreme better come up with a sugar free version.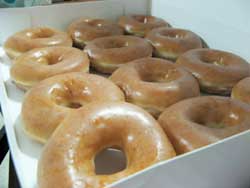 Looking at the brochure, the price of 30 pesos a piece is quite high if you compare that to Go Nuts 18 pesos per doughnut and even Cello's at 20 pesos per doughnut. The higher price makes up for the fact that you can only eat one piece of Krispy Kreme doughnuts. Like I said earlier, the super sweet doughnuts will stop you from taking a second serving. With Go Nuts, one tends to eat two or three doughnuts. With the pricing structure of doughnuts, I can just imagine the huge profit margin that Cello's in Katipunan Avenue and Go Nuts Donuts are making since they are not franchised.
We used to have a bakeshop (called Sally's Bakeshop , named after my late mom) in the early sixties till early 2000. At the height of Dunkin Doughnuts popularity, Griffith Laboratories, the supplier of Dunkin Doughnut's mix offered our bakeshop the opportunity to offer doughnuts with the same quality as Dunkin Doughnuts in Cebu. During the early eighties, we were told that daily Dunkin Doughnuts sale reached 200,000 pesos. The figures just made us dizzy. We grabbed the opportunity immediately. My brother who was the manager of our bakeshop named it "Smackin Donuts". The success of our "Smackin Donuts" was short lived because imports were difficult to get during the Ninoy Aquino assasination. Our supply was cut but we continued the doughnut product line with another recipe we concoted in the kitchen.
That's why I know how much these doughnut shops earn. With Krispy Kreme Doughnuts coming into the picture, competition gets even tougher but I am pretty sure none of these doughnut shops will close down.
News from Krispy Kreme
Krispy Kreme Doughnuts will be launched at the City Center in the Fort (Near Serendra) on Thursday, November 30. at 8:30 am. First customer to ring the cash register will win a one year supply of Original Glazed Doughnuts. Free Limited edition Krispy Kreme original t-shirt to the first 500 customers. Lots of raffle prizes (6 months free doughnuts, 3 months free doughnuts and 1 month free doughnuts) for the 2nd up to 500th customers.
Thanks Krispy Kreme Philippines for the free samples of these Golden Glazed Doughnuts before opening date.