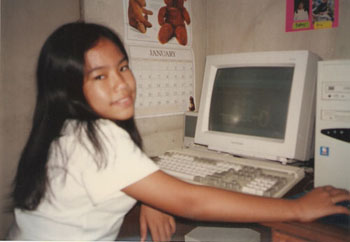 Lauren told me to scrounge around for her photo as a 10 year old using the computer because it was needed for a magazine article. As some of you might know, Lauren started an online journal (not called blogs then) on December 1996 so the photo had to be around that time. Oh no! It's like looking for a needle in a haystack. For days, I poured over stacks of photos because I have not been organizing them for the past 12 years. I finally found the photos of her in various poses with the computer. My geeky little Lauren.
Lauren was 9 years old while M was 8 years old when I had an internet connection at home. Between the 2 girls, Lauren used the internet a lot more than M. My internet service provider in 1995 was Virtual Asia. For 500 pesos a month, I had 15 internet hours. Geesh, it was terribly expensive to get wired during those days. The internet at home was mainly used for email purposes as I wanted to save my precious internet hours. One summer day in 1996 , 9 year old Lauren got bored and demanded to go online to search for penpals. I foresaw the need to strike a balance for the wonders of the internet with the responsibility for accountability, self-discipline, and safety. The best defense I had was to make exploring the online world a family affair. Together, we surfed and discovered two kid sites , the kidscom.com and kidpub.com. What caught their interest in kidscom was the graffiti wall that served as a chat room but it wasn't in real time. The kidspub was a fun place to submit writings. Lauren was raring to get her creative juices started with the kidspub. The thing was they wanted her to submit the articles in HTML.
What is HTML? Can you teach me? I asked my computer supplier. He said we needed to learn HTML on our own. There were no tutorials that time but the site showed the HTML codes. Both of us learned HTML by trial and error using the angelfire.com site. One day , she decided to start her own keypals club together with her online friends from kidscom which eventually found a permanent home at World Kids Network. This is going to cost money, I thought. I called up Virtual Asia to negotiate for free internet time just so Lauren could build her site. Fortunately, they granted her all the hours she needed. (Virtual Asia sponsored Lauren from 1997-2000 until we got cable internet in late 1999). That same year, she wrote her first journal entry in raw HTML code.
I got invited to head the Internet Safety section of World Kids Network and was assigned the name Robotica. (so yes, I might have entered late in the Philippine Blogosphere scene but I've been quietly working in the sidelines) The internet was such a novelty during those days that parents were both afraid and excited about its benefits for the kids. (The Children's Online Privacy Protection Act (COPPA) , a United States federal law was enacted only in 1998. ) The World Kids site gathered parents from all over the world to contribute to the guidelines for young internet users. The website owners taught us how to use the File Transfer Protocol and develop web pages. From that training, we in turn taught the kids on how to develop their clubs and correct any grammatical errors or spelling in their sites. How else will they learn, right?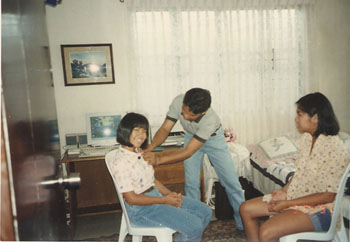 Meanwhile in the Philippines, word got around that Lauren started a Keypals Club International (KCI) . It piqued the interest of 5 and Up, a local kids show. The reporter interviewed Lauren on how she started her club. They weren't interested in her online journal back then. Static websites were the trend in the mid-nineties .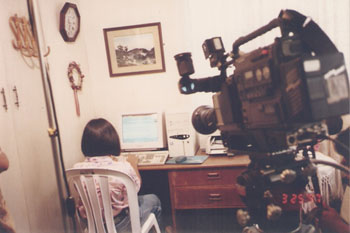 The reporter asked Lauren to demonstrate the use of the internet..how to surf…how to chat…After the segment, Lauren lamented "Oh they just interviewed me because it's cute to watch a 10 year old surf the internet". How true. Even Lauren's homeroom teacher chastised her for talking about the internet. I believe the teacher was just ignorant or intimidated about it. After all, in 1996, there were only 12,000 internet users in the Philippines. Lauren felt like an alien talking about the wonders of the internet while her teacher gaped at her in disbelief. In 1996, it wasn't cool to be online. Think loserdom. In her autobiography for a school requirement, Lauren sadly wrote:
The bad part about the Internet was that everyone in my fifth grade class thought that I was some weirdo that just stepped out of a UFO and said, ""Welcome to technology." And to make matters worse, my homeroom teacher made everything twice as complicated as it was.

One time, I was just looking down and she said, ""You're sleeping again." I couldn't say I was only looking down on the floor because she might go on and on and make a speech there on talking back to teachers. So I said, ""I slept late last night." Then she said, ""Thinking of your computer again?"

Hel-lo?! Just because I had a computer doesn't mean that I think about it every spare moment of my time!! People like her made me so mad. And some of my classmates always asked me, ""How's your computer?" Blah, blah, blah.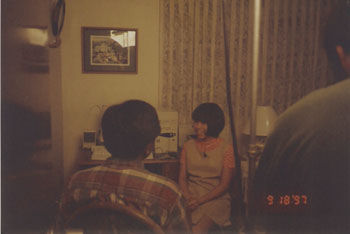 A few months later, PROBE Team called 11 year old Lauren for a Generation Net segment conducted by Howie Severino. Lauren wrote in this journal entry .
Anyway, the PROBE reporter, Howie Severino asked moi how I started KCI and the difference between the 'Net and real life. Of course, most of you know how KCI started so I wouldn't go into that one. But you don't know the answer to question #2 so I'll say it. In real life, I'm shy whenever I just get introduced to someone. But in the Net, when I get introduced to someone, I'm in my super yakking power.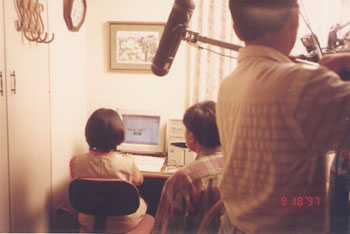 After the segment was aired, Lauren wrote a short article about it on her website Generation Next, Generation Net:
A decade ago, the world was totally different. Nail polish were red or pink, those little peace signs were everywhere, everyone were wearing flowers all over their clothes and the Beatles rocked the house. Now, nail polish are in practically any colour, smileys are everywhere and Boyzone rules. Now the people from the last decade says we're the generation next. Is it true? It sure is. And we're not just the generation next but the generation net.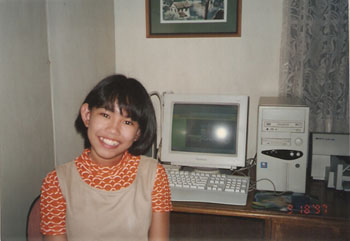 Today, Lauren and the generation net kids are in their early twenties. Yet I often wonder if exposing Lauren to the internet at a young age helped mold her character and personality in a positive way. Sometimes I think she is too loud on the net. Then she appeases me "I am just loud online but, I'm really conservative". I get comfort in the thought that my 2 girls were guided properly in the use of the internet and have the advantage of being exposed to global thinking , varied ethnicities , cultures and religion which they might not have learned in the classroom.
Lauren often tells me she is neither "Traditional Filipino" nor "Western" in her thinking. I believe it's good combination to imbibe the positive traits of cultures around the world. As I ponder about all my misgivings, I just realized that everything I learned about the internet, my online business and blogs was because of Lauren.
So you see? That's an example of what the generation gap does. I think what you should do to avoid this is to let your folks know about what's going on! Like about the latest in music, fashion, sports, etc. It's going to take some time but soon, your parents will finally accept it. And they'll be able to understand you better.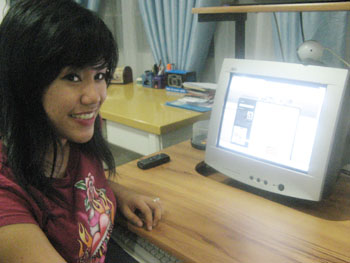 My then 10 year old Lauren taught me a lot about being a mother in this technology-driven digital world. Is it any wonder that 12 years later, I am a 50 year old tech-savvy mom?
I am curious on how our moms in this Web 2.0 era conduct their internet activities with their kids? Do you surf and learn the technologies together?