Momblogger, my online name is more popular than this blog. I never imagined that blogging would open doors to a new life, a new career , a new normal as a social media practitioner. This blog post is a throwback. Six years ago, the Polytechnic University of the Philippines (PUP) selected me, Mom Blogger as "the Best Blog". My past recognition was mostly about this blog's grief journey so this award is memorable.
—-
Tired with my hectic day yesterday, I sipped fruit tea at the gym's lounge. I didn't realize I fell asleep until a phone call from Noel awakened me.   He prodded me to check my email, and I told him I will do it once I reach home. Maybe he could not contain his excitement because he then told me I received an award from the PUP Mabini Media Awards. Still dazed from my catnap , I asked "Are you sure it's me?"
Noel said : "Yes, mom blogger… check the email"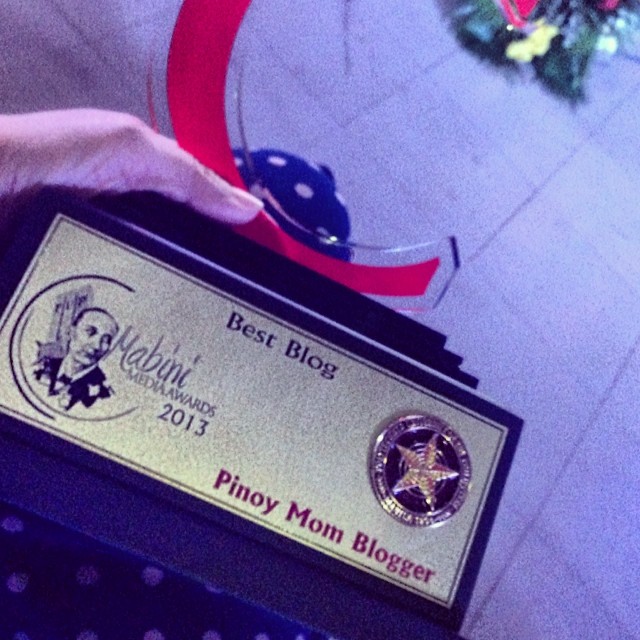 I checked my email and indeed it was true but I still remained skeptical . I was only addressed as "Mom Blogger" on the letter. Maybe because I am known for my social media name more than my real name.
In 2013, the Polytechnic University of the Philippines, through the College of Communication, launched its first media recognition called the PUP Mabini Media Awards. With over 40 categories in five media flat forms – television, radio, print, advertising and online media –the award giving body commends outstanding programs and individuals in the said fields.

We are proud to announce that from more than 12,000 voters, you won the Best Blog

In this view, may we invite you to the awarding ceremonies on February 13, 2014, 2:00 p.m. at the PUP Bulwagang Balagtas, NALLRC. The awarding ceremonies coincide with the 3rd Young Communicators' Congress of the College of Communication.
I sent an SMS to Polytechnic University of the Philippines (PUP) Dean Edna T. Bernabe to verify if indeed the award was true . I finally got a confirmation at around midnight today.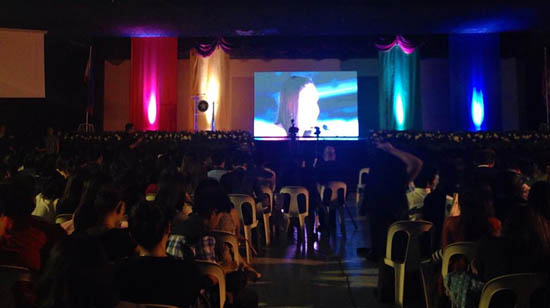 I didn't realize the Awarding ceremonies and the 3rd Young Communicators' Congress would be this huge and grand. I nearly teared as I walked down the aisle because of the awesome music. I recorded my reaction in my Bubbly Audio post.
I was told by the Dean that the students decided on the nominees. The selection of winners came from the voice of some 12, 436 students of PUP who voted by their Student Information System (SIS) account. I am grateful to the PUP students for recognizing my work on social media. My role as mom blogger is to nuture not only my family but the community so that the future citizens will have a better future. This fourth award is such a big honor because I did not have to solicit and ask friends to vote for me (unlike other nominations where popularity voting counts). The last honor given to me was seven years ago as "Winner, Best Website, Blogs Category- 10th Philippine Web Awards- November 23, 2007".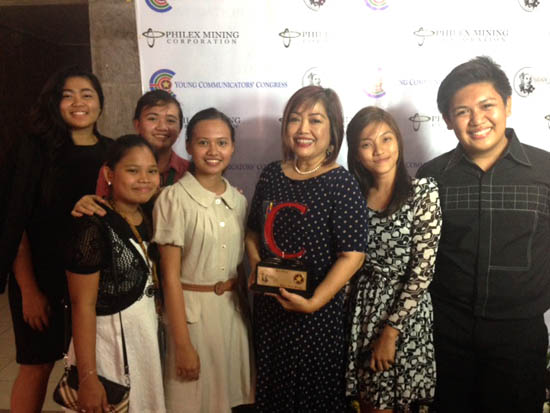 Thank you so much , PUP community.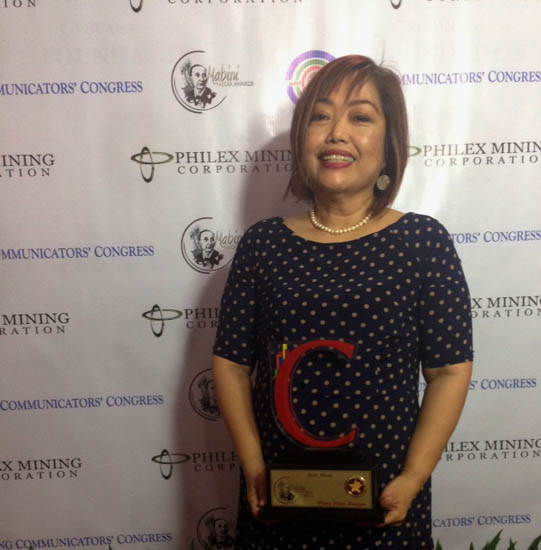 The other winners:
In the new media category, the other winners were : ABS CBN – Best news portal ; Google – Best Search Engine and Facebook- Best Social Media.
Kudos to all the awardees of the 1st PUP Mabini Media Awards.
( I will get the complete list of winners but here are some of the photos I took)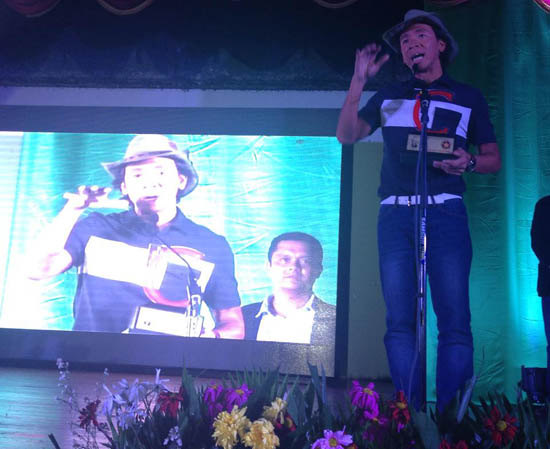 Kim Atienza for Best Television Educational Program – Matanglawin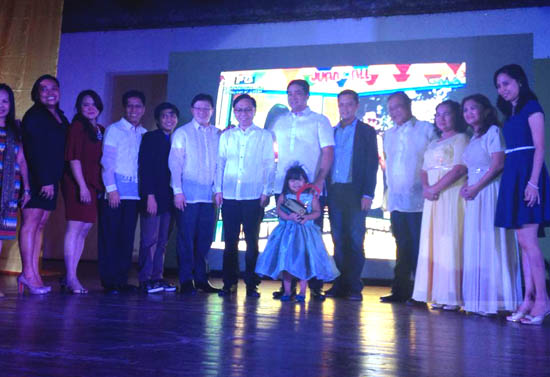 Eat Bulaga, Best Noontime show
Here is the acceptance speech from Ryzza Mae from my Bubbly Post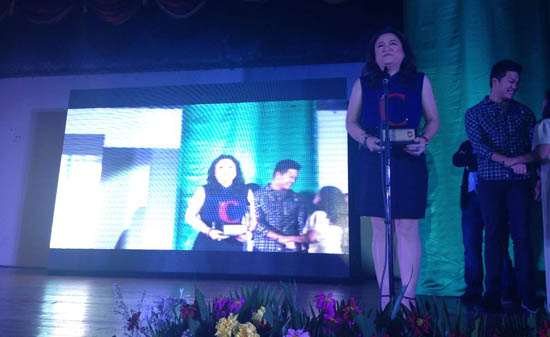 Umagang Kay Ganda, Best Morning Show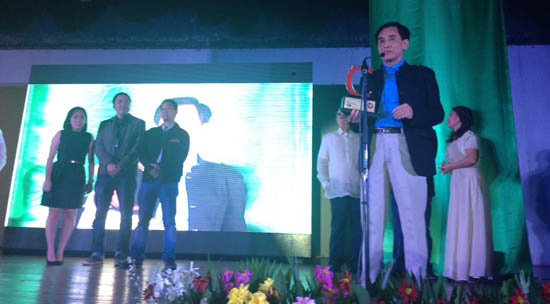 SOCO,Best TV Public Affairs Program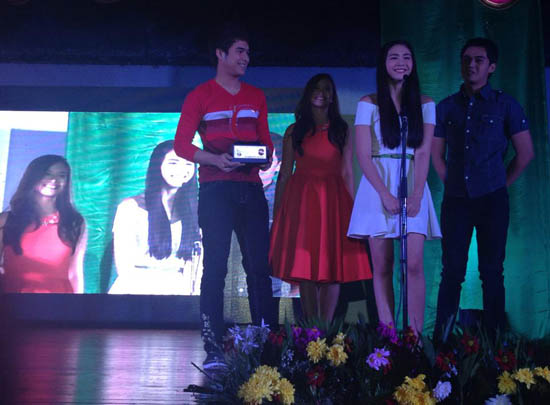 Be Careful with my Heart, Best Television Drama Program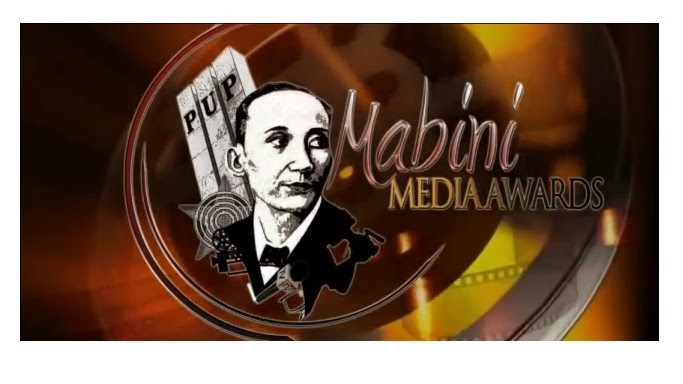 42 categories within five media, the winners are as follows.
via marcacepalaganas.blogspot.com
PUP Mabini Awards for Radio:
Best Radio News Program : Gising Pilipinas!- DZMM
Best Radio Public Service Program: Aksyon Ngayon- DZMM
Best Radio News Commentary Program: Dos Por Dos- DZMM
Best News Program Host: Ricky Rosales
Best Public Service Program Host: Julius Babao
Best Radio News Commentary Program Host: Anthony Taberna
Best FM Radio Program: True Love Conversation (TLC)- 90.7 Love Radio
Best Male Radio Jock: Papa Jack- 90.7 Love Radio
Best Female Radio Jock: Nicole Hyala- 90.7 Love Radio
AM Radio Station of the Year: DZMM- ABS-CBN
FM Radio Station of the Year: 90.7 Love Radio- Manila Broadcasting Company
PUP Mabini Awards for Print:
Best Broadsheet Newspaper: MANILA BULLETIN
Best Tabloid Newspaper: Pilipino Star Ngayon
Best Entertainment Magazine: Yes Magazine- Summit Media
Best Fashion and Lifestyle Magazine: Candy Magazine- Summit Media
PUP Mabini Awards for Print:

Best Blog: Pinoy Mom Blogger
Best Online News Portal: www.abs-cbnnews.com
Best Social Network: Facebook
Best Search Engine: Google.com
PUP Mabini Awards for Advertising:
Best Inspirational Advertisement: Hurray for Today- McDonald's
Best Family- Oriented Advertisement: Kuya- McDonald's
Best Advocacy Campaign: Choose Philippines- ABS-CBN
PUP Mabini Awards for Television: (News and Public Affairs)
Best Television News Program: TV Patrol- ABS-CBN
Best Television Magazine Program: Kapuso Mo, Jessica Soho- GMA
Best Television Public Service Program: Wish Ko Lang- GMA
Best Television Public Affairs Program: Scene of the Crime Operatives (SOCO)- ABS-CBN
Best Television Documentary Program: I Witness- GMA
Best Television Morning Program: Umagang Kay Ganda- ABS- CBN
Best Television Male News Anchor: Ted Failon of TV Patrol- ABS-CBN
Best Television Female News Anchor: Jessica Soho of State of the Nation- GMA News TV
Best Television Male News Reporter: Jay Taruc- GMA News TV
Best Television Female News Reporter: Gretchen Malalad- ABS-CBN
Best Television Magazine Program Host: Jessica Soho of Kapuso Mo, Jessica Soho- GMA
Best Television Public Affairs Program Host: Mel Tiangco of Power House- GMA News TV
PUP Mabini Awards for Television: (Entertainment)
Best Television Drama Program: Be Careful with My Heart- ABS-CBN
Best Television Comedy Program: Bubble Gang- GMA
Best Television Variety Program: Eat Bulaga- GMA and Tape
Best Television Educational Program: Matanglawin- ABS-CBN
Best Television Entertainment Talk Program: Gandang Gabi, Vice- ABS-CBN
Best Television Reality Program: Pilipinas Got Talent- ABS-CBN
PUP Mabini Awards Station of the Year: ABS-CBN