Going out of our homes is challenging these days, especially for those without transportation. Other places observe enhanced community quarantine (ECQ) that limits movement outside their homes. But with the crisis lie opportunities for enterprising Filipinos, who filled in the needs of people while making money at the same time. Shopping for necessities is very convenient for those with access to a community group on Facebook or Viber. It's a win-win situation for all of us as we struggle to cope with our "new normal."
My husband and I celebrated our 35th wedding anniversary a few days ago and I wanted it to be extra special. How do I now order a cake?  Booking from GrabFood or Lalamove often failed me at the start of the Luzon lockdown, so I ditched that alternative. Viber and Facebook Marketplaces sold goods or offered services, but delivery costs were not worth it if the items cost less than one thousand pesos.  I turned to my village community group on Facebook.  Settings set to private and a threaded conversation allows ease of use. Over 4,000 members comprise our village marketplace. Vendors or personal shoppers from adjacent villages joined to add to the diversity of products and services. One of them could deliver cakes from a well-known bakery. I realized that the enterprising neighbor adds on a service fee, but that's fine with me.  Helping a neighbor is helping my community. And it helped that the cake made my husband smile.
For the past six weeks, I purchased two electric fans, a prepaid Wi-Fi for backup, pork, fish, vegetables, chicken, neoprene face masks, face shields, kimchi and many more. The value-added benefit of our village marketplace is that they bring most items to the house without additional costs.  I am impressed at the items sold such as prepared meals, home-baked bread, kakanin, lumpia, fruits and snacks. Someone sells shrimp, Korean food, pet food and even rubbing alcohol. Another provides cleaning services for air conditioning units and even plumbing services.  "Pabili" services (errand services such as "Buy/get this for me and deliver to me, please!") are thriving in my community marketplace. Examples are pa-grocery, pabayad bills and pabili (errands such as grocery shopping, bill payments and buying something.) How helpful to our senior citizens or those who don't have a ride. I ordered from a neighbor who collects pizza orders and delivers them on cash on a delivery basis. An advantage of a Facebook community group is that the honor system works. If a buyer or seller doesn't fulfill his promise, the entire group would know about it (without mentioning names). Everyone strives to be a good neighbor.
Buy or sell new and used items are on the Facebook Marketplace. A friend got a few products from there and the sellers she encountered are reliable. "You could check their profiles to see if they're legit. You could also report erring sellers/buyers to Facebook. It's also location specific, which is a useful way to narrow your search," she said. I limited my search to a 5-kilometer radius when I canvassed for an LED TV. Getting quotations from five sellers helped me narrow down my choice. The problem was that our security guards refused entry because it is not an essential item or service. I had to drive outside the guard house to pick up my order.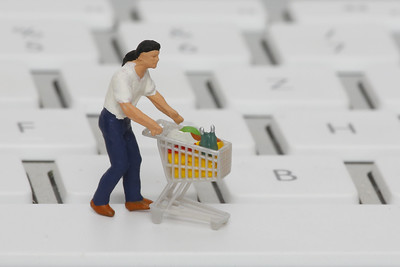 Over 7,500 members are at the Pasig Residents' Viber Marketplace, where I browse for things I might need. Scrolling through so many posts is tiring. One tip to backread posts is to look for the media library and check out the posted infographics. The admin created an excel sheet that categorized food, drinks, donation, grocery, health, hotlines, LPG, market and others. The only time I used this marketplace was when I bought vitamin C with zinc capsules from an online pharmacy in Manila. Most of the drugstores ran out of stock, and this one could send through a courier where I had to shoulder the P240 delivery cost. The question is, how reliable are these sellers? The best recourse is to communicate with the vendor and canvass other sources. Know your product and weigh opportunity costs.
Friends have used Lazada and Carousell for their shopping essentials, but I have yet to purchase from these platforms. I still prefer the village marketplace because this is my community sharing resources. The community is not just a group of people living in one place. Neighbors help each other. I want to help the mothers who comprise a bulk of the sellers. Entrepreneurship may not be for everyone but, perhaps some mothers could harness the power of technology to seek innovative ways to augment household income. Many are out there searching for great deals and a variety of products. Imagine the possibilities of the market.
Happy Mother's Day.
First published in Sunday Business & IT, May 10, 2020