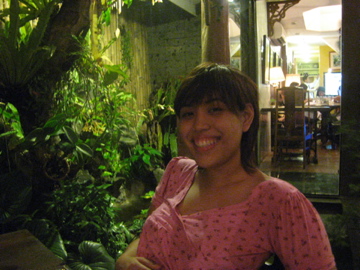 For those who have been reading my blog for the longest time now, I refer to my second daughter as M. I think I have mentioned before how M is such a private person, opting to keep a private blog for her close friends. She used to own two domains during her high school years. Her blog had amazing and original graphics. In fact , she churned out new designs every week. Quite a prolific web designer. I begged her to design customized headers for my blog and even willing to pay for it. I remember teaching her Adobe Photoshop basics when she was a pre-teen and she became quite adept at it, more than I could ever be.
It mystified me why she suddenly chose to have a private blog. And then out of the blue, the mystery is over.
M is not a mystery anymore. Why?
M launched a public blog marielli.misteryosa.com which is hosted by Shari at her award winning blog, the misteryosa.com. That is a mystery in itself too. Why did M choose to be hosted by Shari when I have a small webhosting outfit? You will have to unravel that mystery by visiting M's blog. Spread the link love marielli.misteryosa.com.
I know I'm shamelessly plugging but let's help new bloggers or resurrected bloggers.