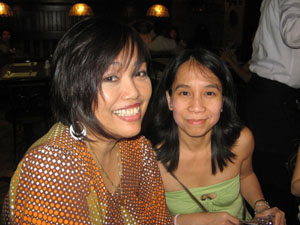 As a little girl, I often thought adults talked too seriously. I figured in my little girl's mind that it must be boring to be all grown-up. When mom's friends converged at our home for afternoon chit-chat, the conversations revolved around gardening, orchids, roses, baking and other household matters. I am sure they had fun too.

Modern Day Filipina Mother
Now that I am a modern-day mom in this digital age, I am like my mom except…I wonder what mom would think as I gush over Raquel's organic tomato farm produce in Germany. Never mind if I don't actually talk to Raq in person but I still get to admire her tomato produce as I browse photos in her blog on farm produce or read further on about Raq's tips on taking care of orchids. Imagine the beauty of the blogging medium as moms can easily show off their home and garden tips. Mom would probably be intimidated with today's barrage of digital computerized appliances and social media. Now that Raq is in the Philippines for vacation, I finally meet up with this prolific blogger together with her husband two lovely girls.
I wonder what my kids are thinking now. Is a mom's life boring? Of course not!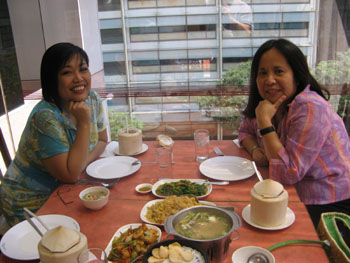 Meeting Betty, a college schoolmate over 30 years ago, in Singapore last November proved to be a revelation. It's confirmed. I was a quiet person, perhaps comparing myself to my sister, Lorna who was also close to Betty and my roommates. Both of us belonged to the College of Home Economics and look at where we are now. Betty manages her own employment agency at Singapore's Tanglin Shopping Centre which is mainly for maids, Malaysian workers and other sourcing jobs for hotels and restaurants while I run my online business. My virtual office is located anywhere in the world.
It's true that I still play a role in the household just like in the old days. In addition to bringing in part of the paycheck, I balance the checking account and pay all the monthly bills. I am the family chauffeur. Exercise and blogging about entertainment, shopping, food, recipes, tech gadgets spice up my life. I balance work with fun and pleasure and move around in diverse offline and online social circles.
Truth and Accountability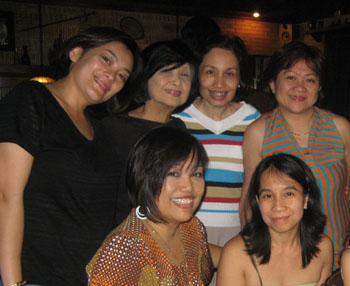 Every so often, I meet up with mom bloggers. An opportunity arrived during Dine's 50th birthday celebration where Chats, Annamanila, Jane, Raquel and I met up in Katipunan's branch of The Old Spaghetti House.
Perhaps it was Dine's experience with the Truth and Accountability Mass or Katipunan Avenue, the venue of our meetup but part of the evening we, the mom bloggers felt like the Katipunera as we discussed the current state of the nation and our outrage and indignation at the official response to the recent revelations on the National Broadband Network (NBN-ZTE) controversy.
Though our children may view President Macapagal-Arroyo's inaction on the disclosures about the scrapped National Broadband Network (NBN) project as a serious topic, it involves the future of their country. As mothers, do we just sit down and watch our country deteriorate and fall to corruption? And do nothing about it? The dilemma is what actions can we take in our own little way? It's so easy to turn a blind eye and live within our comfort zone. How convenient it is to just watch the news in the sidelines, continue with our household jobs and watch all the scenes unfold us and wish it woud just go away magically.
Katipunera ka ba?
Today's modern day mothers' cry is not far from the truth and freedom fight that Gregoria de Jesus (the original Katipunera) advocated! If there is A Call to the Filipino Youth to Stand Up for Truth, the Filipina Mothers can also make a stand. Let's be heard! Let's go out of our comfort zone.
In the meantime, I will continue to educate myself on the current issues, discuss them with my children, blog and see how I can participate in the truth and freedom fight that our Katipuneras did in the past.
Yes, I will make a barrage of noise about Truth, Accountability and Reform in the streets and in the world wide web of cyberspace!
I choose not to turn a blind eye or a deaf ear, but to be active, vigilant and responsible in demanding accountability from our institutions. It is only in doing so that we may prevent anarchy.
Call for Action
I feel that it is Tama Na Sobra Na (I've had enough). What can you do?
If you are at a loss, here are some ways you can participate.
1. Invitation to a FREE Concert for Truth, Accountability and Reform
Monday, February 25, 2008
4-8PM
Ateneo de Manila University
Loyola Heights, Quezon City (between Gates 2 & 3)
2. Possible Actions spelled out at Manalangin. Manindigan. Makialam ng SIMBAHANG LINGKOD NG BAYAN
For TRUTH:
1. Join public expressions demanding the E.O. 464 revocation which blocks the process of searching for the truth.

2. Keep up-to-date with developments. Attend KWENTONG BAYAN (National Situationer) this February 23 (Sat) 1:00 p.m. at the Ateneo Grade School auditorium. Resource persons include:

Sen. Kiko Pangilinan
Prof. Winnie Monsod
Cabinet Secretary Ricardo Saludo

With a message from former President Cory Aquino
(For reservations given the limited slots available, please call tel. 426-6101 local 3440/3441)

3. Write to Romulo Neri and other Ateneo Alumni and communicate our demand for the whole truth. Secretary Neri's contact infos:
Tel.#: +63 (02) 9100823; 6332713
Fax # +63 (02) 6355829
Website: http://www.ched.gov.ph

4 Disseminate credible statements through internet (emails, blogs, websites etc.) to guide fellow Filipinos in different parts of the world. For other details, visit http://simbahanglingkod.multiply.com or www.slb.ph.
5 Launch and/or support signature campaigns for truth.
6. Organize fora/conferences about the national situation in general or the ZTE scam in particular. SLB can help with invitation for resource persons.

For ACCOUNTABILITY
Support the proposal for an Independent Counsel to ensure closer investigation and prosecution of guilty parties. We channel our forces to the Senate for this resolution. Then we monitor the Ombudsman and the Department of Justice and even the Courts to ascertain that we have the right Independent Counsel who is not only an outstanding member of the bar with vast experience in the field of prosecution, but he must also be a person with irreproachable integrity, probity and independence. For inquiries, you may call the Ateneo School of Government or Simbahang Lingkod ng Bayan.

For REFORM
1. Join small groups of discernment/discussion sessions as a concrete response to the CBCP call. You may also call SLB at locals 3440 / 3441 / hotline SUN-8600-SLB, should you wish to join these sessions.

2. Write to lawmakers and push for the review and revision of the Government Procurement Act. For a complete directory, visit http://www.senate.gov.ph/senators/sen14th.asp and http://www.news.ops.gov.ph/congress-dir.htm.

3. Organize your communities and hold dialogues with your local government officials. Demand from our elected officials their stand on the ZTE scandal and make them commit to the call for truth, accountability and reform. Make public the statements of your communities and/or officials.

4. Academic officials may write to all the school's alumni the call for reform. Organize an Alumni gathering and discuss the ZTE scandal. Make them commit to the general public's clamor for change. Make public the commitments of your institution especially the roles the alumni will take.
3. Join the press con of UP Alumni (spearheaded by UP Samasa Alumni), tomorrow, Feb 22, 11AM at the Lamesa Grill Trinoma. The presscon will focus on transparency, truth and good governance. it will also be a venue for donations to the Sanctuary Fund for whistle blowers and truth advocates like Jun Lozada.
4. Join Team RP, a youth-led initiative to advocate and proactively work towards the fight for Truth, Accountability and Reform in our government. It is led by college students and young professionals who want to see genuine reform in our country especially in our government leaders today.
Related Blog Entries From Mothers
1. Annamanila on Taking Responsibility
2. Dine on Truth and Accountability Mass at Ateneo
3. Jane on Our Youth are the Hope of this Land
4. Dine on In Search for the Truth–The D Spot Opens its doors to your opinions, suggestions, reactions, atbp
5. Cathy on What is 130 Million to you?