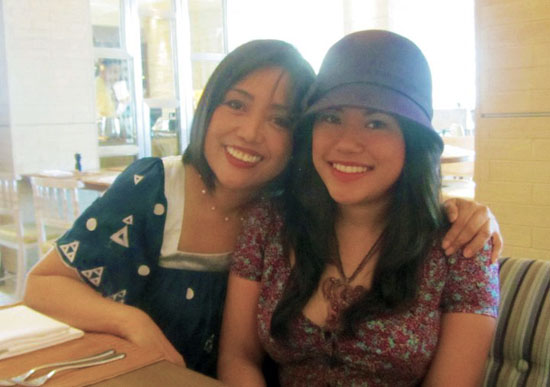 Meet my daughter. Of course you know her by now. She is part of Bloggers United, the first bloggers-only bazaar that was created to promote a sense of camaraderie and community among bloggers and their readers. The first bazaar, held on May 2011, was so successful that a second bazaar was quickly organized in partnership with the country's largest online shopping website, Multiply Philippines.
The thing is she will be in Singapore for business so I volunteered to man her booth.
So yes, me…the momblogger, the mom of blogger Lauren will be there to sell her stuff. (See Lauren's blog post on this). Our house is cozy and not much closet space so she has to unclog her closet by selling her stuff. Though previously owned by her, trust that each item is of good quality. I will be selling a few of my clothes too (size medium to large). Some of them I just wore once because I hate repeating clothes if they have already been photographed and shown in Facebook.
What: Bloggers United 2
When: Saturday, December 3
Time: 11:00 AM till 3:00 PM ( the bazaar is till 10:00 PM but I have to leave early to attend a scheduled party)
Where: Treston International College, University Parkway District , 32nd street corner C-5 Road , Bonifacio Global City (See map below)
What else?: Entrance fee of 100 pesos
Click teaser photos of some items
Why should you go?
1. You will meet fashion bloggers and of course me! Some of Cebu's very own fashion bloggers which include Kryz Uy, Eden Villarba, designer Yves Camingue, Gillian Uang and Mildred Zapanta and a few more will be part of this bazaar
2. I will give away volume discounts. A dress is around 200 pesos. (Volume discount of 2 for 300 or 3 for 500)
For tops, it is 100 pesos each, 2 for 180, 3 for 250
3. I will give early bird give-aways (for purchases 500 pesos and above) until supply last. Please come early because I can only man the booth until 3:00 PM. My helper will stay until 7 PM though.
4. This event is the perfect opportunity for both bloggers and their adoring readers to mingle and personally interact with each other. Fun contests and exciting giveaways from sponsors and entertaining performances from bloggers (Walkie Talkies, Reese & Vica) themselves .
5. Part of the proceeds from this event will go to the GMA Kapuso Foundation (http://www.kapusofoundation.com/) for its school building project, a small but significant step to improve the Filipino youth's access to education.
This is a one-day-only event that you shouldn't really miss! This is the perfect shopping day this Christmas because the most affordable and most fashionable clothes, accessories and footwear will be up for grabs. See you there. Look for me at iambourgeois.com / beautyoverfifty.net booth
Here is the map to go to Treston International College,Taguig City