Congrats my dear sister! Myrna Lardizabal de Vera is the 2014 mayor of the City of Hercules, CA. It's her second time around. She is also the SIXTH Filipino American to become the mayor of this dynamic city. Congratulations!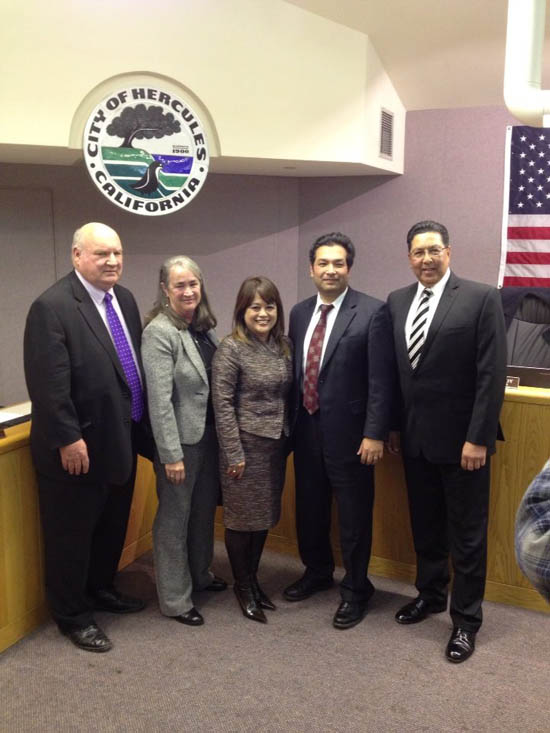 I remember when I helped her campaign in November 2010. Did it even occur to our family that she'd dabble with politics? I must give credit to the citizens of Hercules for helping her with the campaign, even raising funds. They say politics is a dirty game. I think it is a good game played by dirty people. The nature of politics scares honest people away. It did scare my sister many many times. First, it took time away from her family and business and secondly, the criticisms hurled her way the past 3 years.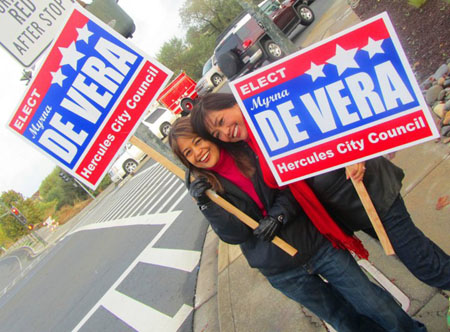 Having this second term just shows her dedication and hard work so she deserves this.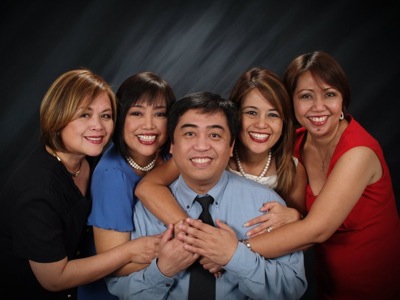 Visiting her , rallying during chilly mornings, helping out was so much fun. I didn't realize she would be a vice-mayor in 2011 then Mayor in the same year . And now Mayor for 2014. I am so proud of my dear sister.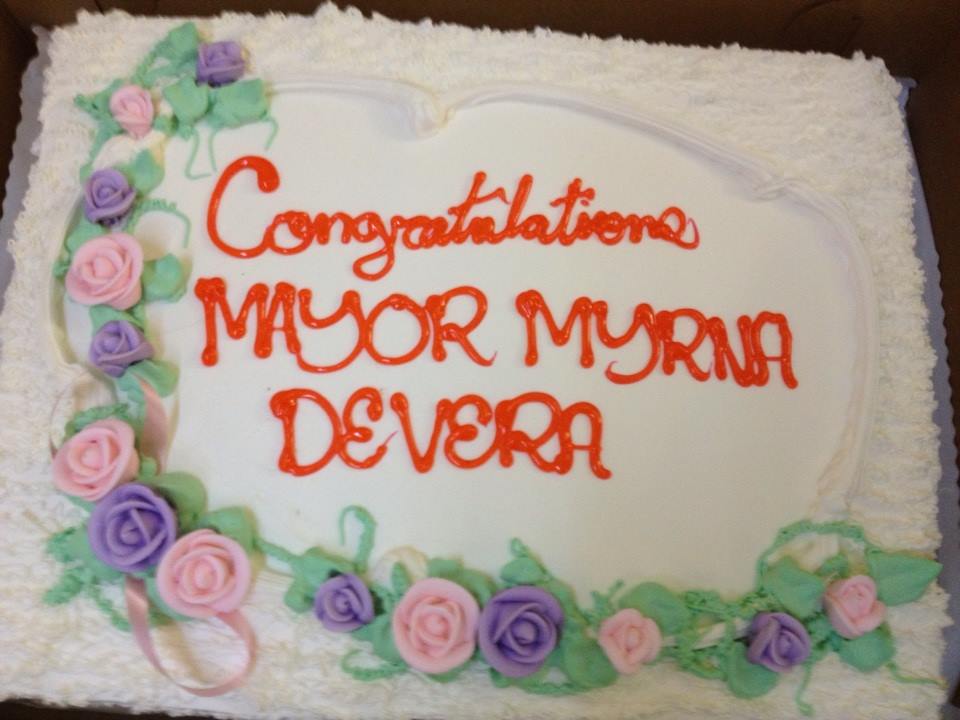 Hercules City is blessed to have such a devoted, hard-working, and beautiful Mayor! I pray God will keep her healthy and safe–and sane.
Let me share her 2014 Incoming Mayor's Speech
Our dynamic city, Hercules, was named after dynamite manufactured by the California Powder Works, a plant located in what is today the city of Hercules. The plant's leading product was called Hercules, which in turn was named after the greek demigod, Hercules.
Our city's namesake, Hercules, was the illegitimate son of the greek god, Zeus, and a mortal mother. Zeus' wife, Hera, hated Hercules so much that she tried to kill him, and when that didn't work, she made Hercules go crazy to the point of killing his wife and children. To make amends for his terrible crime, Hercules had to complete a series of heroic tasks, or 12 Labors. He completed the 12 Labors by using his strength and courage, then he died an excruciatingly painful death. After he died, Hercules became a god, rising up from earth to join the other gods in Mount Olympus.
I share this story tonight because greek myths do not just tell an entertaining story. They also teach us lessons. We can aspire to be like our city's namesake Hercules by facing our trials head-on, using our strength, resilience, and courage as a community. It is through how we handle our adversities that we grow stronger and evolve into the special community we have envisioned Hercules to become. Trials should be embraced as opportunities for growth. The other alternative is to give up, settle for mediocrity and mere survival. What will be our story be, community of Hercules? It is up to us for we are the authors of our story.
During the past three years, the city of Hercules has endured several trials. We were all stunned to learn many brutal truths. First, that the city wasn't flush with money, as our former city leaders had assured us. We discovered the magnitude of our financial crisis, the mismanagement of funds, the conflicts of interest and rampant nepotism and cronyism practiced in city hall, the rubber stamping of decisions. Then, on top of our local challenges, the State abolished Redevelopment. The city was slapped with lawsuits. Properties sold at fire-sale prices. City staff cut in half. Friday furloughs implemented. Community events cancelled. Turmoil and anger filled our council chambers as we scrambled to put bonfires out with band-aids.
Out from the fires of adversity, citizens stepped forward to volunteer, in finance and legal advisory committees and the Bayfront Task Force, organizing community events that staff once used to handle, raising funds to continue library hours. City staff members, who remained, continued working harder with less help and less pay. Residents voted to pay higher taxes to help fill our general fund deficit in the short term while the council and staff struggled to find long-term solutions. The smaller police force fiercely patrolled our streets and their efforts to keep us safe are proven with Hercules being named by Safewise as the 24th safest city in California. Council members, both past and current, sacrificed their time and energies and our families suffered along with us, too
To all of you — staff, community members, family — the Council and I thank you for your sacrifices.
But I'm sorry to say that our sacrifices are not ending anytime soon because in the coming year, we have many unfinished tasks to tackle.
The most visible unfinished task is Sycamore North. This is the third winter that it stands wrapped in Tyvek.
The $5.1 M Ambac lawsuit must be settled, and its resolution lies in the sale of three parcels of land.
The 3 properties, Sycamore Crossings, Parcel C, and Victoria Crescent, are currently tied up in purchase sale agreements and are in the early stages of planning. The development plans on these parcels will forever determine our city's character and future sales and property tax revenues.
The city's highest priority development project is our Intermodal Transit Center, planned for alternative modes of transportation: train, bus, and ferry, and a surrounding mixed-use waterfront development. We are fortunate the first phase is successfully moving forward with the help of William Silva and CCTA, but this important regional project still needs millions of dollars more to complete the next phases.
The Hercules Municipal Utility or HMU pending sale with PG&E must be completed so the HMU's deficits will stop leaking onto our general fund.
Our Pinole/Hercules Wastewater treatment plant requires that the city raise $22 Million for its upgrade.
And, you may all have heard, our current city manager and our planning director have decided to leave the City of Hercules. We thank both of them for their service and wish them well in their new endeavors. I cannot understate the importance of finding the right people to fill the critical roles of running the city and planning our community.
The good news is that all these challenges come at a great time. You have a city council with five highly opinionated members who care deeply for our city. In the nineties, our city council was so divisive that the TV camera had to be shut off at times. The city council members who replaced them vowed to keep a united front, but that resulted in a rubber stamp culture of decision making, leading to the city's fiscal crisis. I believe, this current council is finding the balance of arguing and debating in pursuit of the best answers yet unifying fully once a decision has been made by the majority. We are all pursuing the vision of our city's greatness while continually refining that path with valid facts of reality.
On a personal note, I am overwhelmed with mixed feelings for this appointment of Mayor. Only a year ago, there was a movement to strip me of my Vice-Mayor appointment, censure me, even get me to resign, and complaints were filed to civil and criminal authorities. That was one of the darkest moments in my life. I survived my trials through prayer and the stalwart support of loving friends and family. Instead of defeating me, I used last year's trials as an opportunity to grow and change. I had some sessions with a life coach, then every day I read books on leadership and self-improvement. I practiced whatever I learned during council meetings. I've made peace with myself and others for the sake of the greater good.
I'd like to thank my husband, Manny, who stood by my side like a rock. My son, Mark, who suffered along with me during those terrible months. My twin sons, Christian and Emmanuel, for their unwavering belief. My sister, Lorna, my cheerleader. To my friends, family, and supporters who expressed their unconditional love and trust, I love all of you. Most of all, I thank God, for his light and guidance. God Bless the City of Hercules!