Online shopping is quite tempting especially if one finds bargains. My sister in San Francisco tells me that she doesn't go to the mall anymore to buy her clothes, gifts and even appliances. Unfortunately our credit card's exchange rate is quite high. The only online shopping experience that is financially rewarding is buying at Amazon. All of my grief recovery books were purchased from Amazon. I often browse at myayala.com's online shop but their prices there are not bargain deals. You know how we moms love bargain shopping. Three years ago, my sister-in-law in the States urged me to try selling at Ebay. Her vintage jewelry and children's books raked in modest income. At that time, my online business was still at its infant stage. I thought maybe I should try selling some of my services at ebay.
Being an Ebay newbie, I didn't actuallly read the fine print. Maybe I did but I could not comprehend the listing rules. Ebay requires sellers to input your credit card and dollar account details which I readily supplied. A few days after a failed Ebay sale, my Wells Fargo statement said that $7.00 was deducted from my balance. Confused, I emailed Wells Fargo that I don't remember the sale and to investigate the matter. A few days later, Ebay emailed a strongly worded legal letter that I should pay $7.00 listing fee. OOh so that's where the money went , I thought. But Wells Fargo was a bit too hasty. They credited the $7.00 back to me just because I complained. I didn't tell the bank to do that. Now Ebay was breathing down my neck. In the next few days, I received frequent "nasty" notices until they wrote back that my credit card will be billed $30 something for collection fees plus listing fee. Ridiculous! Now I owe them $30.00. I quickly called Citibank to stop the transaction. They said they can't do that until the bill arrives and suggested that I talk to them. Thinking it was hopeless, I wrote a letter to Ebay apologizing that since I was an Ebay seller newbie to give me a chance. Happily, they did. I still had to pay the $7.00 though. My gosh, these Ebay guys can really hound you just for $7.00. Imagine the millions of sellers worldwide giving that income.
That Ebay seller experience prompted me to give up on Ebay selling. I know a lot of stay-at-home moms earn quite a living from it. I know I shouldn't judge Ebay for that first bad experience but it dampened my Ebay seller enthusiasm. Now being a bargain shopper, I thought I'd test out The Ebay stores. Last year , my daughter spent two months in the states so it was perfect to deliver any purchases to her. I found a second hand book that was out of print and cheaper than Amazon. Oh dear. I found out too late that once you click "purchase to buy", it's good as sold. But I didn't know that. I didn't push through with the sale because the delivery time was too long. It was scheduled to arrive around the time my daughter's return trip to Manila. To cut the story short and a few "nasty" emails later, I apologized once again to the buyer and Ebay for being such a clueless Ebay buyer.
Never again will I go to that darned Ebay site. Or so I thought.
To my horror, Lauren got herself a belly piercing. I comforted myself with the thought that the piercing will get covered by her clothes. However the belly piercing failed. My husband and I were happy but not for long. To my utter disbelief, she got an eyebrow piercing. My husband and I wailed! "How could you disfigure your pretty eyebrows?" My husband said he will get a metal ring on his nose. I nodded and added that I will get a diamond studded nose ring too. "You look too feminine for an eyebrow ring!" , I continued with my rant. My daughter was steadfast in her decision and said that she will order pretty eyebrow rings so she won't end up looking like a punk.
I don't know why she chose an ebay store but she found PiercingPal
, which is based in Thailand. She wanted these rings that cost $20.19 including shipping.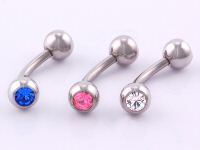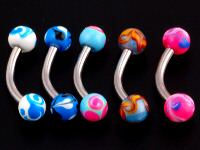 Not only was I stressed out with her eyebrow piercing, I suddenly felt heavy pit in my stomach . I recalled the past Ebay horrors as I waded my way around the Ebay site navigation. (Actually she could have done this herself but Paypal is weird. It doesn't like different Philippine IP addresses in a Paypal account)
Finally, I found the "PAY ME NOW" link glaring at me. Purchase was succesful.
My daughter awaits eagerly for her purchase. Let's see in the coming days if that Ebay experience is positive.