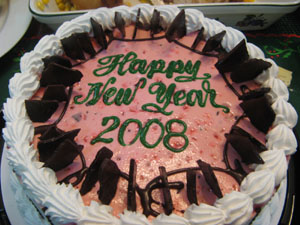 Happy New Year 2008! I greeted the New Year by taking a slice of this evil Dairy Queen Peppermint Ice Cream cake. Let's all greet the new year on a positive note by setting goals for ourselves. It's a good thing that my sister reminded me of my New Year goals last year. Yesterday, she read the Review of New Year Goals for 2007 and it reminded her to set her goals. Butch loved the idea of writing down my goals when I told him that I achieved 8 out of my 11 goals for the New Year.
I realize that goals need to be written down. It serves as an affirmation of myself, my life, and my ability to choose. Then I let it go. New Year goals are something we need to dig within and discover what we would like to happen in our life this year. It is an affirmation that we are interested in living life in the year to come.
So the questions evolved. What would I like to attain? Where would I like to go? What would I like to happen in my marriage and family life? I have to remember that I am not out to control others with my goals but rather giving direction to my life. So I continue on pondering. What problems would I like to be solved? What decisions would I like to make? What would I like to happen in my business?
These are my goals for 2008 that are for public consumption.
1. Be more healthy by losing 15 more pounds.
2. Travel abroad and visit my siblings who I haven't seen the past two years.
3. Have a profitable real estate brokerage with an income of at least _____ (secret) every month.
4. Buy a new server.
5. Help Lauren acquire her first real property.
6. Buy the last batch of furnishings for our new home.
7. Keep my files and folders in order.
8. Be a better writer by attending workshops to improve my writing skills.
9. Be a better blogger by attending more blog events, workshops and writing more relevant socio-political entries.
10. Continue to harness a loving relationship with God, my husband and children.
Things may happen that are not within our control. Sometimes these events are happy surprises and sometimes they are of another nature. The year 2008 looms before us like another chapter in a book just waiting to be written. We can help write that story by setting goals. We will do it not to control but to do our part in living our life.
May the year 2008 bring pleasant surprises, promises fulfilled and a whole year of prosperity and blessings to you and your loved ones. And here are hubby's New Year Goals.
Here's a [tag]New Year Celebration[/tag] Treat . An 11 seconds video of an exploding Sinturon ni Judas (Judas' Belt) type of [tag]firecrackers[/tag]. Pardon the shrieks.