Woe me, the hazards of an eload or auto load business or for cash transactions for that matter.
I have a small SMART Eload and Globe Auto Load Max business in the village. It doesn't really yield significant profits since one only gets 14% profit. But hey, 14% of anything is still something. You can't even get 14% a year in bank time deposits. You can just imagine how much money our telecom giants like GLOBE and SMART make a month.
Having an eload business pays for half the helper's salaries. With a profit sharing scheme, the helpers are happy. And happy helpers generate better work attitude. It also offers them a chance to socialize in our neighborhood.
Today, when I deposited some of the earnings for my SMART MONEY at the Banco de Oro, the bank teller immediately spotted a fake 100 peso bill.
I took the 100 pesos bill and it obviously felt counterfeit. Although the bill was old, you can feel that it was thin.
The manager took note of the serial number and wrote "COUNTERFEIT" on it.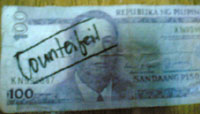 It's my fault. I forgot to train the new helper to detect counterfeit peso bills. ( our trusted helper is on vacation) I guess I am so used to [tag]cashless transactions[/tag] since my IT business requires payment through bank deposits, credit card , Western Union or paypal.
Cash transactions are the reality of retail transactions like our sari-sari stores and similar small businesses. What irritates me to no end is when a store sets a minimum purchase transaction when using a credit card. Only in the Philippines does this happen. I know that credit card companies take transaction fees out of their sales. But what happened in the end? Opportunity loss of 300 pesos.
*Edit- I am now using eNegosyo. Just email me so I can refer you to the right person or if you want to register online, just place my name (Noemi L. Dado). or under referral : cellphone number 09287922341