A parent's love knows no boundaries. Remember the movie, Lorenzo's Oil? Failing to find a doctor capable of treating their young son Lorenzo's rare disease, adrenoleukodystrophy (ALD), Augusto and Michaela Odone sought their own cure. Lorenzo died on May 30, 2008 at the age of 30 though but lived 16 more years when they found the cure.
I had the pleasure of meeting another loving mother, Vilma Dee (read her story) as one of our members in The Compassionate Friends Grief Support Group. No, she did not find a cure for her daughter's very rare disease called Wilson Disease, diagnosed at the late stage of the disease. Wilson disease is a genetic disorder that prevents the body from getting rid of extra copper. Through sheer research, she discovered contact persons abroad that provided medicines for her daughter. Her daughter didn't live long but Vilma continues to save lives by being the contact person for Wilson Disease in the Philippines. Mary Graper, president of Wilson Disease Association (WDA), praises Vilma, ""I never imagined she would be doing as much as she has been doing for the last seven years (since her daughter died) . . . . Despite her great loss, Vilma is determined to help others in the Philippines so that they would not suffer the same loss as she had."
Good thing her heart is big enough to accommodate all of them.
Another mother with a big heart is Cynthia Magdaraog, President of the Philippine Society for Orphan Disorders (PSOD). She had no idea back then that her 10 year old Dickoy had a rare disease called Pompe Disease. She was only told that her son had muscular dystrophy. Cynthia went as far as the USA for consultation and got the correct diagnosis, Pompe Disease, a disorder which causes the deterioration of the body's muscular system. She was told that her son won't live long but today, at 28, Dickoy goes about his day on a wheelchair, and aided by a breathing machine. He even managed to get a degree in Industrial Design as well as lead a productive life by forming and running a business of his own.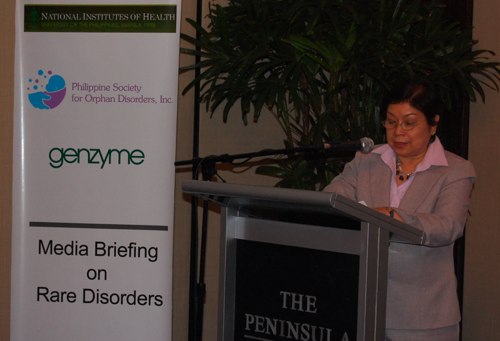 Cynthia Magdaraog, PSOD President and a parent of Dickoy, who at the early age was diagnosed with Pompe disease
So you might ask what is an orphan disorder? Rare disorders, also known as ""orphan diseases", are long-standing, life-threatening, progressive, and disabling diseases with require multi-disciplinary care. They are called ""rare" because they only affect 1 in every 20,000 individuals. These diseases include Gaucher disease, maple syrup urine disease, Prader Willi syndrome, Pompe disease, galactosemia, Fabry disease, and MPS I/II.
(Read more What is Orphan Disorder?)
The Philippine Society for Orphan Disorders, Inc. serves as a central network for the advocacy and effective coordination of all viable efforts to sustain a better quality of life for the individuals with orphan or rare disorders in the Philippines. Since the PSOD's organization, its founding chairman Dra. Carmencita Padilla and concurrently the head of the Institute of Human Genetics (IHG) and its president, Cynthia Madaraog, the mother of a Pompe patient, have worked tirelessly to promote public awareness and funding for patients with rare disorders.
PSOD aims to increase public awareness on rare disorders in the country, establish and develop a nationwide registry, promote and support relevant and timely research for a better understanding and treatment; participate in policy formulation, develop and strngthen the relation among involved institutions, develop and provide training for health professionals, and mobilize resources and funds for patients' needs.
Carmina Villaruel announced that she and Zoren recently became staunch supporters of the Philippine Society for Orphan Disorder or PSOD.
"Gusto nilang i-full blast na yung awareness ng mga tao. So they were looking for an artista as their spokesperson. Sabi ko, ay, gusto ko yan, wala nang bayad! So sobrang happy sila, kasi gusto nila with posters and everything. Sabi ko sobrang willing ako to do it for free. So na-touch sila. Sabi ko imbis na ibabayad niyo sa akin, gamitin niyo na lang for posters, leaflets, whatever," she says.
You can see Carmina here with Fatima and Erika, both suffering from Gaucher disease. Gaucher disease, as defined by PSOD, is an inherited illness caused by a mutation in the glucocere-brosidase gene leading to the deficiency of glucocereb-rosidase, an enzyme that breaks down a particular type of fat cell called glucoce-rebroside.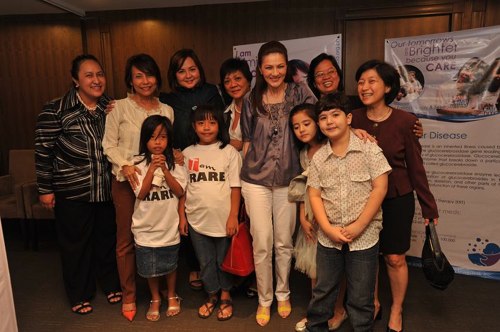 Carmina Villarroel and Gaucher twins Fatima Ligsay & Erika Sedeno
Fatima showed abnormal physical conditions such as a swollen abdomen when she turned two years old. She also had difficulty getting up and had constant nosebleeds. Doctors initially diagnosed that they were suffering from acute leukemia or beta thalassemia. They also examined Erika and found through bone marrow biopsy that the twins have Gaucher Disease. The parents were devastated. Fatima and Erika need at least P12 million a year for the therapy.
""What basically happens is they are not able to breakdown the components known as glucocere-broside," Dr. Slyvia Estrada, a pediatric endocrinologist, explained. ""Because the body cannot break it down, it gets accumulated in the liver and in the spleen."

Estrada, who is also the secretary of the PSOD, said the patient who is diagnosed with this kind of disorder has to undergo an enzyme replacement therapy. ""Without treatment, the normal function of the liver and the spleen is destroyed," she said.
(Source: Children with rare disorders get attention)
The twins' parents found hope. With the help and support of doctors from National Institute of Health (NIH), the Genzyme Corp. and PSOD, the girls' condition improved after several treatment and medication. What a relief!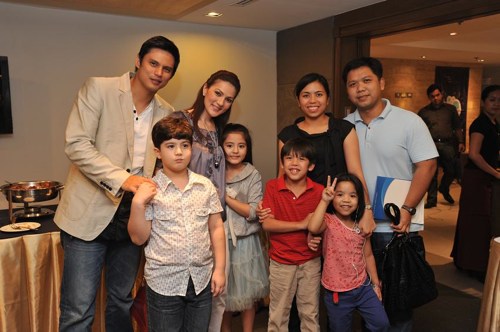 Carmina with Maple Syrup Urine Disease (MUSD) family

Filipino families with children with rare disorders and the Philippine Society of Orphan Disorders or PSOD, got a big boost last February 28, 2009 when Senator Edgardo Angara announced his support for " the right to life "by filing S.B. 3087, the "Rare Disorder Act of the Philippines."

The bill, as proposed by Senator Angara is intended to promote greater awareness for rare or orphan disorders which afflict Filipino children across different socio-economic classes, and determine ways of funding support , including fiscal regulation and providing incentives for medical research and aid.

Filing a bill is commendable and for it to be passed is another story.

Cynthia's love knows no boundaries. As a president of PSOD, she hopes to "generate compassion and generosity from government and private sectors to give people afflicted with rare disorders the chance to enjoy their right to life."

For more information on PSOD and how you can help , please log on to www.psod.org.ph or email info@psod.org.ph or call telephone +632- 636.4676


4th Photo: Gaucher family wïth donors Genzyme & Zonta

5th Photo: Atty Paras (grand father of MSUD boy), Dr. Carmencita Padilla (founding Director of PSOD), Cynthia Magdaraog (PSOD President) and MSUD boy family

6th Photo: Dr. Patrick Granjard, Regional Director Southeast Asia, Genzyme