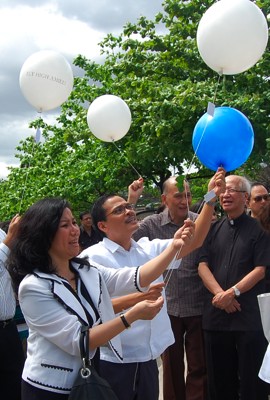 My husband refused to listen to me the night I first learned of Amiel Alcantara's death. As I narrated the sordid details on how Amiel Alcantara died, Butch clamped his ears, "Stop it, I don't want to hear anymore. It is just too much" All he knows is that Amiel got ran over by a van inside the Ateneo campus. He couldn't take in the violent nature of Amiel's death. (Edit March 8: My husband wrote A Grief Beyond Words) .So, when I visited the wake of Amiel Alcantara on February 25, I was all alone. No worries, I was there to offer comfort that a grief support group such as The Compassionate Friends is around if they needed it one day. Good thing Cathy was around too. I kept staring at Pepe Alcantara. He looked familiar to me but I couldn't place his face. That night, I told Butch that I met the father, Pepe Alcantara. The name rang a bell to Butch but it was only the following day that we got confirmation in the papers that he is the same Pepe Alcantara he knew back then in his UP student days. Pepe was the UP Student Council President in the early 80's with Lean Alejandro as his vice. Pepe and Butch belonged to the same student organization in the UP student days. Surely now, Butch will want to see Pepe.

Without much convincing, Butch knew he just had to be there for Pepe on Amiel Alcantara's funeral. There is comfort in knowing friends are there for you. There are no easy answers, no standard approaches that are universally helpful. There are no magic formulas that will make the pain go away. It is natural to feel helpless when the child of a friend dies. Remember that showing your loving concern can be very comforting to a grieving family. We know that so we just had to be there for them.
Butch and I thought we would just stay till we said our hi's and hello's to Pepe but we stayed on for Amiel's funeral-mass. It was very beautiful and meaningful to us because we too lost a son. During Luijoe's funeral-mass, I was just in a daze and not really understanding the words of comfort from the priest. What struck me the most is Pepe Alcantara's message which rings true in the hearts of most newly bereaved parents.
Here is Pepe's message: (transcribed from my cellphone video but snippets only…)
"We are wounded and in so much pain. We must heal. I have four messages. One is for Amiel. One is for myself. One is for family and the last to the community.
For Amiel
Forgive me. I am sorry, I would have wanted to be there. I would have wanted to be there, to hold you, to protect you.

Three boys, all Atenistan take off for school , it was around 6:45 in the morning and they were already off, almost outside the gate when Amiel asked the driver to stop, and he opened the van, ran towards me and gave me a very tight hug. I am not superstitious but now I do understand that there was message, a message of a hug. In fact, I thought Amiel was a "pilyo or pilosopo" and wanted to ask more money for "baon". The next moment, I shared with him that day when, finally we were done with the hospital, the crime lab for autopsy and Arlington. And very kindly, Arlington gave us a holding room where we were alone. That was the last. And was how the day ended, that began with the tight hug of a much beloved son and ended with him inside a coffin.

The lesson here is that when someone hugs you, make sure you hug the person back and that you do it well because you'll never know if it will be your last."
For myself
Woody Allen once said "I am not scared of death. I just don't want to be there when it comes". I don't know but there is a message here. Appreciate life, more…and that part of life which we never understood, and it is called death…

I have to tell you this . For the last couple of days, I have been told "God works in the mysterious ways"…again and again… But I have to say this and I have to say this…God is a poor warehouse man. First in First out. It is not fair. It's not fair. First in First out. That should be the rule of God…

I have to understand. (I am still trying to understand)
For my Family
In particular I have to say this to Amiel's brother, Avie. Avie was on ground zero when it happened. And that boy has courage. I would like you to keep that courage not only to your family but people out there. You were out there, pulling out…even though there was blood, you were there. That is a big expression of courage.

Of course, Yaya Tata who saved everyone. It would have been more disastrous and tragic. Yaya Tata has been with us more than you can imagine. I have to share you this…Tata has been with us for 40 years, Yaya was also the yaya of my wife from day 1, the second mother of all the children. And I thank you forever…

For our relatives and friends. . I don't have to thank you because you are part of this mourning, this pain. Especially to those, my friends out there. My goodness, Ngayon lang tayo mag-reunion, Friends that I haven't seen for 20-25 years, UP days and they would say Pre, akala namin patay ka na. Buhay ka pa pala.

Thank you for the reunion. Thank you for the love. Thank you for thanks I can't even describe for the couple of days.
For the community
It ended as concern. I have 241 missed calls before I came over here. Text messages. Media My friends from the media. We wanted to be quiet. Father Nebres and Father Kit knew about that to make it private. That very day when that sandwich was not finished, it became and symbolized a sense of concern. There is more to that. How can we regenerate, or even begin the process of regeneration if you are unable to protect the seeds that you have here?" Magpakatotoo tayo. How can regeneration happen if a child cannot even finish his sandwich…"

Amiel will be your angel, but I am sure he will not haunt you. You will always be with us, every moment of every single day.

How I wish I could join the Father and son's night tonight but we will have our own celebration tonight.

Thank you.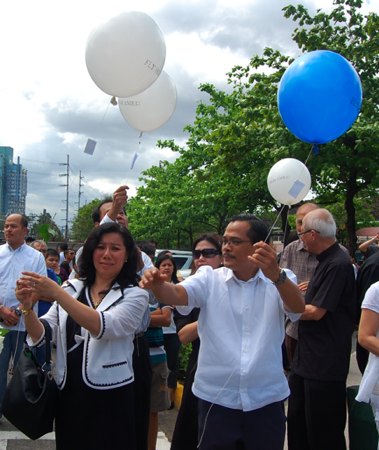 My husband and I can only nod in agreement on Pepe's message to himself. We understand the grief. Grief is a process and questions will certainly rise "Why God?".
A child's death may raise serious questions about God's role in this event. I cannot presume to offer answers. If the parents like Pepe Alcantara raise the issue, it would be better to listen and allow them to explore their own feelings. They will need to arrive at an individual philosophy about this.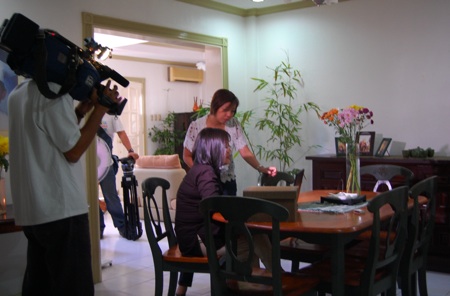 I am grateful to GMA News 7 for featuring our grief support group, The Compassionate Friends (TCF) as part of their lead story in yesterday's 24 Oras news report. In this video is my friend, Cathy who is also a co-founder of The Compassionate Friends. Part of TCF's mission is grief education and to offer suggestions on giving continuing support and understanding to the bereaved family friends and relatives.
For the latest Philippine news stories and videos, visit GMANews.TV
I shared to the public on how they can help the grieving parents. I offered many suggestions but the one that was featured was :
Avoid using ""It was God's will" and other clichés that attempt to minimize or explain the death. Don't try to find something positive in the child's death, such as, ""At least you have other children." There are no words that make it all right that their child has died.
At first, I didn't realize why that particular tip was selected among the others. After I heard Pepe Alcantara deliver his message this afternoon, I understood.
Clichés are said with the intent of making the parent or family members feel better……to find something positive in the loss. When we care about someone, we hate to see them in pain. To try to minimize their hurt people we'll often say things like, ""I know how you feel……" ""It was God's will……" ""Perhaps it was for the best" or ""you can always have another child." While this can work in some instances, it never works with grief. Don't try to make sense of the death or find a reason.
When Ma. Theresa Torres issued an apology statement for the Alcantara family, I feel it is presumptuous.
""I express my deepest sympathy for the (Alcantara) family for the loss of Julian, I know the pain in their hearts."

""I could also feel the anguish and painful trial they are suffering at the moment."
How can Theresa really know or feel their pain? She has not lost a child. Theresa surely has her own anguish and pain but it is not the same as that of losing a child. She can only imagine the pain of the Alcantara's family. It is very difficult to comprehend the depth of the loss when a child dies, and to say you do may seem presumptuous to the parents.
In the Official Statement of Amiel Alcantara's Family,
"We note the expressions of concern and sympathy, artfully conveyed in the statement of Ms. Torres. Our loss is indeed irreplaceable, and our pain, beyond imagining.

But her statement fails to assuage; her words fail to comfort. For even as she seeks
sympathy also for herself, Ms. Torres studiously avoids acknowledging any culpability for this terrible tragedy.

The Alcantara family owes it to Amiel, as well as, to our wounded community to see to it that justice is done."
I know we all want to minimize their pain.
In his own time, Pepe Alcantara and the rest of the family will search for their own meanings.
View Photos of Amiel Alcantara's Last day
News and Video
Video tribute

Outpouring of grief at cremation of Amiel Alcantara

For the latest Philippine news stories and videos, visit GMANews.TV
Amiel Alcantara cremated at Arlington

For the latest Philippine news stories and videos, visit GMANews.TV