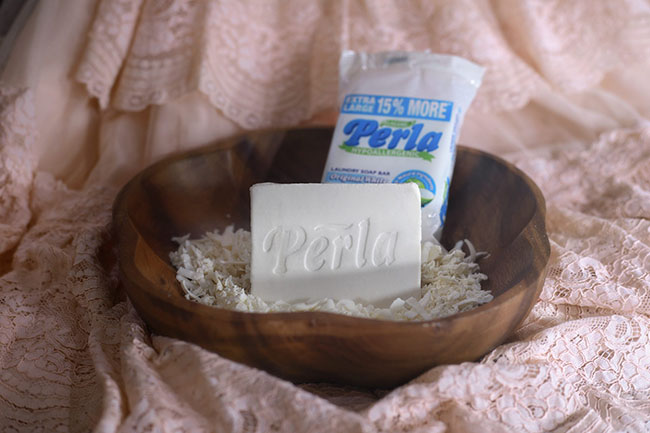 Each Perla laundry soap is 50% Coconut Oil (CNO), while the synthetic counterparts are petroleum-based. CNO contains lauric which is an excellent natural cleaning agent. Lauric traps oil and dirt and makes it easy to wash away.
While covering a Perla event a few weeks ago, I posed a question on my facebook wall.
Did you know each Perla bar is around 50% coconut oil ? Who uses Perla laundry bar ?
The feedback and engagement was amazing . I have been using Perla soap for delicate fabrics but I was not aware that the soap can be used for the face and body. It is that good. No matter what a brand  says about its products, it is the testimonials of friends and relatives that make it more believable. Let the comments of my friends and relative speak for itself.
1. It is what I have been using to wash my face, the past 40yrs or so. It is the secret of my clear, smooth skin. (an auntie)
– It was my mom's secret to her beautiful skin. It was also recommended by my OB for washing my delicates. Love it.
– Back in High School, i even used that to wash my face ???? I was going thru a bad skin phase
– My face bestfriend 🙂 mura na maganda pa
– I like Perla because my skin doesn't react badly to it. Wish they'd come up with a powder or flake version for washing machines, though.
2. Last time I went to an Ecowaste presscon. They said we shouldn't be using "antibacterial" soap because of the chemicals. Off cam they said Perla is a good alternative (not just for the laundry). (A journalist)
– Oh, awesome. Coconut based, so friendlier to the ecosystem…
3. We dermas recommend Perla for the laundry of patients with irritant contact dermatitis to other laundry detergents. We know it to be the mildest detergent bar:) more Eco friendly too:) (My sister, a dermatologist)
4. Me, for my delicates that needs hand washing. (My sister-in-law)
– I use it for hand washed delicate items!
– I use Perla for delicate clothes and white
– Use it for my son's clothes
– For baby clothes, sya!
– Kaya nga maliban sa ginagamit for delicate fabrics at baby clothes, diba ang iba ginagamit yan sa katawan .
5. I use it as my white floof dog's pre-shampoo soap to get his coat super clean!
– We initially use Perla to bathe our dogs before applying anti flea soap/shampoo.
– I use it on my dog every time I bathe him…nawawala ang amoy ng aso
– Used it before to bathe our then maltese; made his coat really clean and shiny.
6. I love Perla, too! Gentle on the hands saka mabula.
– I do. Different from other detergent. It doesn't dry my hands when I hand wash.
7. We do. And I wash my greasy mechanic hands with Perla.
8. I use it to pre-wash whites.
– We use it before perla and papaya leaves effective whitening soap
– Me! Still use it to wash white clothes and undies
9. Bath soap ko iyan dati. Buhay pa pala.
– Sometimes, I use it as body soap. An uncle prescribed it to my sister who had pimples.
– I'm using Perla as bath and laundry soap
– My dad uses it as bath soap though haha
– Actually, in my mom's province, I remember women using Perla as bath soap.
– Perla pampaligo ko paminsan-minsan
11. We do. I use it to wash my swim gears.
Some didn't know Perla is made from 50% coconut oil "Oh wow didn't know that Perla is 50% coconut oil! Will buy it now instead of Perwoll for our delicate clothes" and one asked "Why don't they just create powder for machine wash use?" I found out you can grate Perla laundry bar (60 grams or 1/2 bar for a 2-2.5 kgs load ) for washing machines.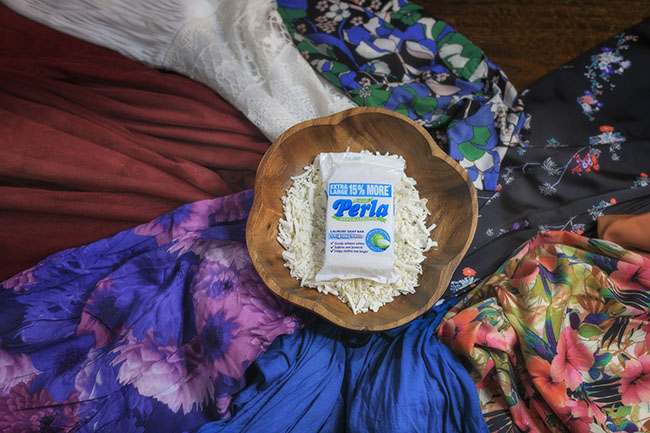 Here are Perla 5 care signs
Now you have read the comments from my facebook post. Indeed, Perla laundry bar soap is made from coconut oil and other natural ingredients that are excellent in cleaning clothes without the harmful chemicals. I didn't even know Perla is composed of 50% coconut oil. Now you know, Perla is the premium laundry soap that cares for your clothes and skin. There are five good reasons on why Perla is such a premium brand
1. Perla is made from PURE COCONUT OIL
Each Perla bar is 50% Coconut Oil (CNO), while the synthetic counterparts are petroleum-based. CNO contains lauric which is an excellent natural cleaning agent. Lauric traps oil and dirt and makes it easy to wash away.
Recent studies also show that coconut oil has strong antibacterial properties. Studies have also shown that coconut oil has potent antifungal capabilities
2. Perla is made from natural ingredients and has NO harmful ingredients, which are found in its synthetic counterparts
Laundry soaps have a much higher PH, and are less acidic and therefore gentler. Synthetic detergents (syndets) contain substances designed for cost effective cleaning that can be harsh to the skin. Syndet bars are made rougher and more abrasive, while Perla is soft and smooth to the hands.
3. Perla cares for your skin too!
Each bar contains glycerins – natural moisturizers! Perla makes clothes much softer. The perfume in Perla, made from essential oils like Lavender, is very minimal compared with much more fragrant syndets. Syndets have anti-redeposition agents which can be harmful to
the skin. Perla does not.
Did you know that Dermatologists actually recommend Perla?
4.  Perla is a brand built on decades of trust.
The caring Perla experience has been passed on from our grandmothers to mothers to us. Perla is the first and oldest laundry brand in the country. It has helped our grandmothers and mothers take care of our clothes.
5.  Perla supports Filipino farmers! Proudly Pinoy!
Perla supports the Philippine Coconut Oil industry (The Philippines is second-largest coconut-producing country, next to Indonesia). Every bar of Perla sold helps provide livelihood to Filipino farmers. There are no plans to alter the unique Perla formulation It is ONLY AVAILABLE IN THE PHILIPPINES.
Would you believe, I am now using Perla soap to wash my face?