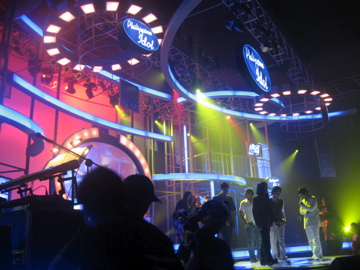 I can still feel my heart pounding–kabog-bog-bog. My husband and I were seated at the left side of the spectacular [tag]Philippine Idol[/tag] stage, just below Mel Villena and his band. Gosh, the bass sounds made my heart go thumpity-thump after the show and my throat searing with thirst. As a live audience we are constantly reminded to continue the rooting, raving and cheering throughout the show. I don't think we have to be reminded as the fans were screaming their heads off. The Wildcard performance photos will explain more on the inside story of the live show as I am already sleepy and tired.
My favorites are for the girls:
IRA and MAU while for the guys, it's GIAN and ONYX
View the behind the scenes Philippine Idol Wildcard Performance photos and if you missed watching it, here are some youtube videos
View videos of Mau, Gian, Onyx, Ken, Suey , Ramirr , Joseph and Ira , Ting, Stef and click for more youtube videos of the Philippine Idol Wildcard Performance
Edit- September 17 (Philippine Idol Wildcard Results– and the winners of the wildcard round are: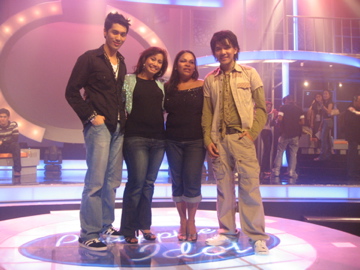 Gian, Stef, Mau and Ken
I am so disappointed that Ken Dingle won. I know it's unfair to base his performance on this song but he didn't do well in top 12 male performance night either. The Filipinos are not objective enough to vote for the real talent. Sometimes I think it is money (to buy text load) that can assure you of the votes. What about Onyx and Joseph who have more talent than the rest but have limited resources? I wish the judges can make a plea to the TV viewers to vote on talent and not because that contestant is from their city or town. I know it's a long shot. American Idol had its growing pains when it first started but after 5 seasons, the voting audience has become more discriminating. Bring the true winner based on talent, star quality and that x-factor.
Anyway, watch out for my Philippine Idol entry when the top 12 sing their hearts out at the Aliw Theater in Roxas Boulevard on September 30.
More Exclusive photos of the top 12 finalists and the Wildcard Results Night at the [tag]Philippine Idol Photos[/tag] WebSite