The [tag]Photo Hunt[/tag] theme for this saturday is anything on Classic. What does "classic" mean?
"of or characteristic of a form or system felt to be of first significance before modern times" As an adjective, classic means ""belonging to the highest rank or class" as well as ""having lasting significance or worth." As a noun, classic means ""a superior or unusual example of its kind"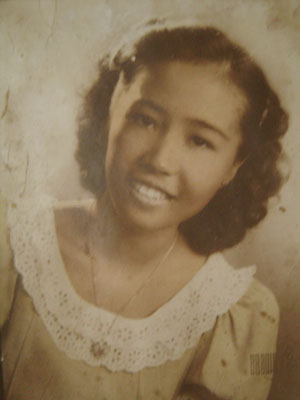 Mine is a classic [tag]1940s photo[/tag] of my mom as a teenager. She must have been sixteen here in this photo, roughly taken sometime in 1947. I found this photo as my sister Belen (who happens to look like my mom) and I packed up our things from our ancestral home in Cebu. Though a bit worn, we were able to capture the photo with our digital camera.
I like gazing at [tag]retro photos[/tag]. A glimpse of the past is captured forever. I get to see the fashion trends during the good old days. One thing I notice about this old photo is the way she positioned their upper torso. It's like mom is leaning to one side and her eyes aren't focused on the camera as if gazing to someone behind the photographer. It's great that she beamed a stunning smile though.

The eyelet collar on her dress is still a classic in today's ladies wear. And look at mom's hair. Obviously they were curled in the vintage 1940s hair-dos using hair-rolls. In true 1940s fashion, the sides aof her hair are pulled up and held into place with bobby pins. The bangs are curled up and secured with bobby pins as well.
Looking at my mom's photo, I can see where I got my eyebrows and teeth. Haha.
I think mom is pretty in true classic beauty that doesn't fade through the years.