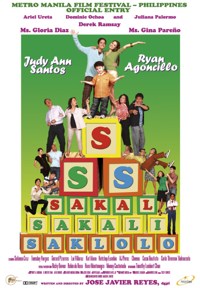 My husband and I watched the sequel to the hit movie
Kasal, Kasali, Kasalo
called
Sakal, Sakali, Saklolo
which stars Judy Ann Santos and Ryan Agoncillo. It is also the official entry of Star Cinema for [tag]Metro Manila Film Festival[/tag] (2007). I wanted to watch it for the simple pleasure of having a good laugh. I particularly enjoyed the character played by Gina Pareño, mother of Angie (Judy Ann). Gina is just so adorable and funny whenever she spews out her no-nonsense philosophy of life and other wisecracks.
Butch and I had to move to the Eastwood Cinema as the first two cinemas near our home was "standing room" only. It looks like this movie is a blockbuster. The thing is the movie brought a bit of controversy on its second day.
Today, Senate Minority Leader Aquilino ""Nene" Q. Pimentel, Jr in Visayans Unite! (Or Why They Should Boycott 'Sakal Sakali Saklolo') expressed concern over a wrong message to Filipinos by denigrating the use of the Visayan language, which is most widely spoken in the Visayas and large parts of Mindanao.
The portion of the film in which a grandmother (played by Gloria Diaz) was telling a nanny (yaya) in Tagalog: ""Bakit pinapalaki ninyong Bisaya ang apo ko?" (Why are you rearing my grandchild as a Bisaya?)
The mother butted in by telling the yaya: ""Speak to the kid in Tagalog. Parang Pinoy. (So that he grows up like a Pinoy)."
Being a Cebuano myself, I am already used to these ethnic slurs and was not offended with the above conversation. Why? I don't know about Senator Pimentel, but I am confident of myself. Imagine, I can speak Visayan, Tagalog and English? Can most Tagalogs speak Visayan? So get over it, Senator Pimentel. True, Filipino humor is cruel. It has been that way even during Dolphy comedy days. Maids are stereotyped to be Visayans speaking in long "e" vowel sounds. I wouldn't burst an artery over this but it would help to educate the public that Visayans are just as smart as Tagalogs. What I find disturbing is how they obviously poked fun to the "Bronson" character (brother of Angie), emphasizing his enormous crooked teeth and perfect English grammar and diction. Poking fun of the Visayan accent is funny (in the movies' plot) because Tagalog and Visayans say it differently but making fun of physical appearance is not a comedy act to me at all. It is just wrong.
Despite some flaws in the movies like that PLDT phone directory lying on the bedside table of their Barcelona Hotel, the movie has all the elements of commercial success. First, it stars Judy Ann who enjoys a huge fan base. Second, the Judy Ann/Ryan team evokes great chemistry. Third, the theme offers the elements of Filipino romantic comedy like mother-in-laws and the son.
Strong mother-in-laws are often the butt of jokes in our Filipino shows that it is definitely a sure-fire way to bring comic relief. In real life, not all mother-in-laws come out strong and authoritative. They can be quiet and manipulative to their sons. My husband is so lucky that he never had a mother-in-law (mom died before I got married) or an interfering father-in-law (Dad had a stroke then). Unfortunately, I had a few issues in the past with my in-laws that's not even funny at all or fit to be in a movie scene. Haha but that's all water under the bridge when boundaries were set. The thing we all have to remember in marriage is that the husband and wife belong to each other and not to their family of origin. It took a long time for Butch to realize that. I knew that from the start of our marraige that my first responsibility is my husband. Thank goodness, my dad is very understanding and knew that. I must say Butch is very lucky to have married me. One day, when I will be a mother-in-law, my son-in-law is going to be proud of me and love me just as much as his own mom. Ahem.
If you want a light comedy, feel-good movie and relax for the rest of the evening, Sakal, Sakali, Saklolo is a movie to watch. I can smell a sequel for 2008 Metro Manila Film Festival.