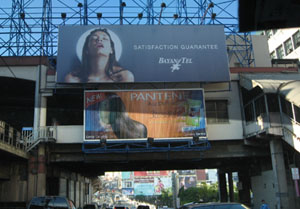 Edit (July 8, 2006)- This ad has been changed (see this entry). On our way from Makati to Quezon City, my daughter quickly took a photo of this BayanTel billboard on the Guadalupe MRT station. They were mortified to see this billboard which shows a semi-naked woman with a "pleased expression" , to put it mildly. SATISFACTION GUARANTEE (sic)? BayanTel is supposed to be a telecommunications company but nowhere in the ad does it show any sign of a phone or internet service.
Connie already blogged about responsible advertising. In her entry, the Hush Puppies billboard showed a woman with her Hush Puppies sandal but the picture portrayed more than that. The model exposed a plunging neckline with legs spread apart and exposed thighs. Irrelevant and irresponsible advertising. Now take a look at the Bayan Tel Billboard. What kind of [tag]advertising[/tag] is this?
At least Hush Puppies showed their product inspite of the sexy model in the ad. When motorists pass by the Bayan Tel billboard, will they remember the word "Satisfaction Guarantee" and relate it with the model or the brand name, BayanTel? It clearly shows the desperate nature [tag]BayanTel[/tag] is doing to push their products and services. They use imagery to capture their target market. Sex in advertising creates controversy. Sex sells. BayanTel knows that this kind of ad might create some waves. Why does our government allow this kind of advertising to be posted where even children question it. At least my girls were disgusted at such irrelevant ad.
There is more in Pinoy Underground .