"In the long history of humankind those who learned to collaborate and improvise most effectively have prevailed."~ Charles Darwin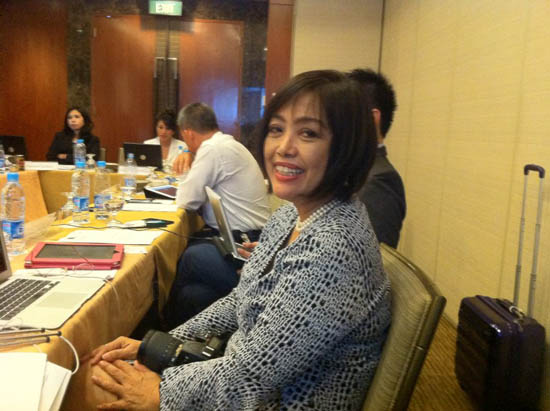 David Hatcher's email popped up on my iphone as I stopped to read my inbox while stalled in traffic. He said he was working for the GIZ, a German development organisation that is facilitating a meeting about Social Media Strategy on behalf of ASEAN on October 27-28 in Jakarta.
Whoa, I had to laugh. Two weeks before a meeting? He must be kidding. This must be a scam. I couldn't resist being more investigative.
Curious about the GIZ, I fired up my browser and read the website. It seemed GIZ was legitimate and impressive. Okay, I could risk talking to David via Skype as he suggested. Well, well…David called via Skype and a smiling handsome German appeared on the screen of macbook laptop. I instinctively fixed my rumpled hair as I talked to him. Funny I did that. Our 20-minute conversation convinced me even more that this invitation was not a scam.
I asked David how he found me because I never get invited to blogger forums or workshops abroad. He said he did a search using various metric tools. They were looking for power users in social media. I wonder what those tools were. I agreed to be there at the meeting to share my experiences.
Let's face it , Social Media is everywhere today. Social media is being social but I like that it has also influenced positive change in the community I live in. Stories that traditional media picked up from my twitter timeline and that first broke in Twitter include many relevant issues"
The 1st ASEAN Social Media Exchange and Social Media Communication Strategy for ASEAN became a reality as I flew in Jakarta on October 26. I warned David that I have no abstract theories about social media. Everything I learned about social media came from my own mistakes, the engagement and just being true to myself. Sharing my experience is definitely something I can do but don't ask me to talk about principles of social media.
Lessons learned in social media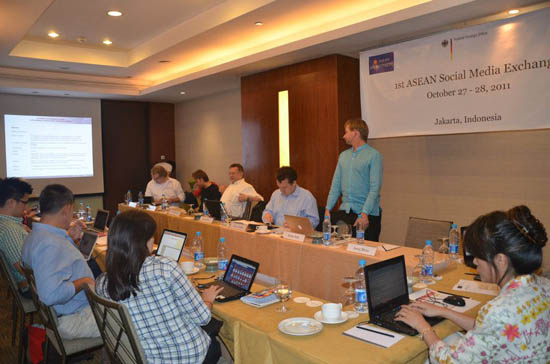 I cannot share the discussion in this meeting. Suffice it to say that the overall objective is to facilitate a reasonably informal exchange about Social Media Strategy for ASEAN. It is likely that various formal outcomes and implementations would emerge from the meeting and be rolled out in 2012, probably as a suite of related projects which may include internal training at ASEAN, follow up initiatives addressing topics that emerge from the meeting, etc.
Being there with other social media personalities in the ASEAN region was a learning experience. The sharing meant also an exchange of ideas that can be also replicated in my sphere of influence. What did I share? There is no secret to SOCIAL MEDIA except to listen, connect, share and engage and be passionate about the topics shared. The informal meeting also inspired me to consider writing more about the ASEAN instead of just concentrating about Philippine issues. The progress in ASEAN integration and the ongoing community building efforts is something that everyone should know.
There were many insights I shared along the way.
1. Action speaks louder than words. . Walk the talk. All those tweets and status notes are utterly useless without action. Actions and hard work speak for themselves. At the end of the day, these matter because they are what people use to judge you. The rest does not matter.
2. Treat others the way you would like to be treated. Always take the high road even if someone is rude to you. Mistakes happen but be willing to acknowledge them and try not to repeat it again.
3. Be interested in people's lives. Create bonds between your social media friends even if you think this is just an online friendship.
4. Continue learning from your own mistakes or from others.
5. Forget the numbers. Forget quantity. Real influence is measured by the way others look up to you.  No matter how big or small your circle is. ( I didn't know quite how to phrase this but I found tips from How do I become influential?)
One cannot claim to be influential unless others tell that about you.
ASEAN: ""One Vision, One Identity, One Community"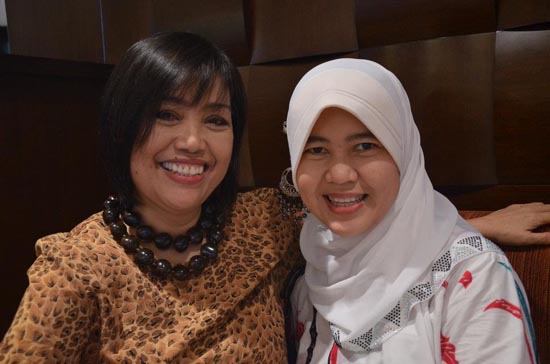 "Asia is a major driver of global growth, and ASEAN is right in the center of the action. Our countries offer complementary advantages to businesses, and a neutral core around which the rest of Asia can build economic ties, and a regional framework of cooperation. To sustain this, ASEAN has to become more integrated and cohesive. Only thus can we keep up with larger and stronger economies like China and India," said Singapore Prime Minister LeeHsien Loong when addressing the opening ceremony of the ASEAN Business and Investment Summit held here on Nov. 17.
The vision of "One Vision, One Identity, One Community" benefits all the ASEAN neighbors but how many of us know exactly what ASEAN stands for. It is about time ASEAN reaches out to the member states. Social media is still a new way to communicate. One has to jump into the pool to be in it. It is just natural that people who are in the institutions have a natural fear of it. But the scary part is not being there at all.
Pete Cashmore once shared that "We're living at a time when attention is the new currency. Those who insert themselves into as many channels as possible look set to capture the most value."
To achieve the historic collective leap of ASEAN countries towards ASEAN's goal of "One Vision, One Identity, One Community" starts from communicating this charter acros the ASEAN.
How can you squander even one more day not taking advantage of the greatest shifts of our generation? How dare you settle for less when the world has made it so easy for you to be remarkable?
I believe ASEAN needs to be there, to be seen, to listen and be heard in social media. It might seem overwhelming but baby steps will do at the start. Even those delving in social media still know nothing.
#Twitter is where 40% of users spam, 5% share/interact & 55% are social media experts.
I continue to learn about social media.
"Social Media is about being open, being a connector, being supportive and being yourself." ~ Michael Q. Todd, @mqtodd, 12Most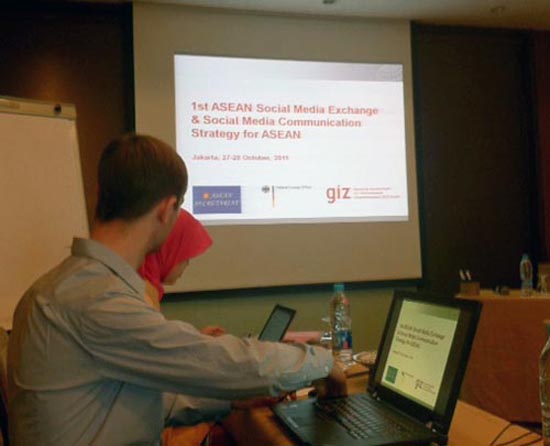 Thank you for the company and the experience, my fellow co-participants:
Durudee Sirichanya, Assistant Director, Head of Public Outreach and Civil Society, ASEAN: http://www.asean.org/, http://www.facebook.com/aseansecretariat, http://twitter.com/#!/ASEAN2015
Nuraini Soulisa, Public Outreach Officer, ASEAN
Chris Tan, consultant, ASEAN Web team
Delwin Keasberry, Brunei's most prolific tweeter: http://twitter.com/#!/BruneiTweet and Founder of ProjekBrunei.com: http://www.projekbrunei.com/
Prof John Ure, Economist and consultant based in Singapore with consultancy in Hong Kong: http://www.trp.trpc.com.hk/, also Executive Director of the Asia Internet Coalition, http://www.asiainternetcoalition.org/
Melina Chan, Founder of Kinyei in Cambodia: http://www.kinyei.org/, extensive experience with development, peer-to-peer education, unconferences and social enterprises
Ong Hock Chuan, Technical Advisor at Maverick, protagonist behind Pesta Blogger and this year's ON|OFF: http://www.maverick.co.id, http://theunspunblog.com and http://www.onoffid.org/
Danny Butt, Member of Editorial Board at Digital Review of Asia Pacific (joint project of the International Development Research Centre (IDRC) and the ORBICOM Network of UNESCO Chairs in Communications, Member of Creative Industries Advisory Group for Auckland City: http://dannybutt.net/